Pillar's defense as advertised for SF in 2019
Outfielder also a bright spot at the plate, leading Giants in several offensive categories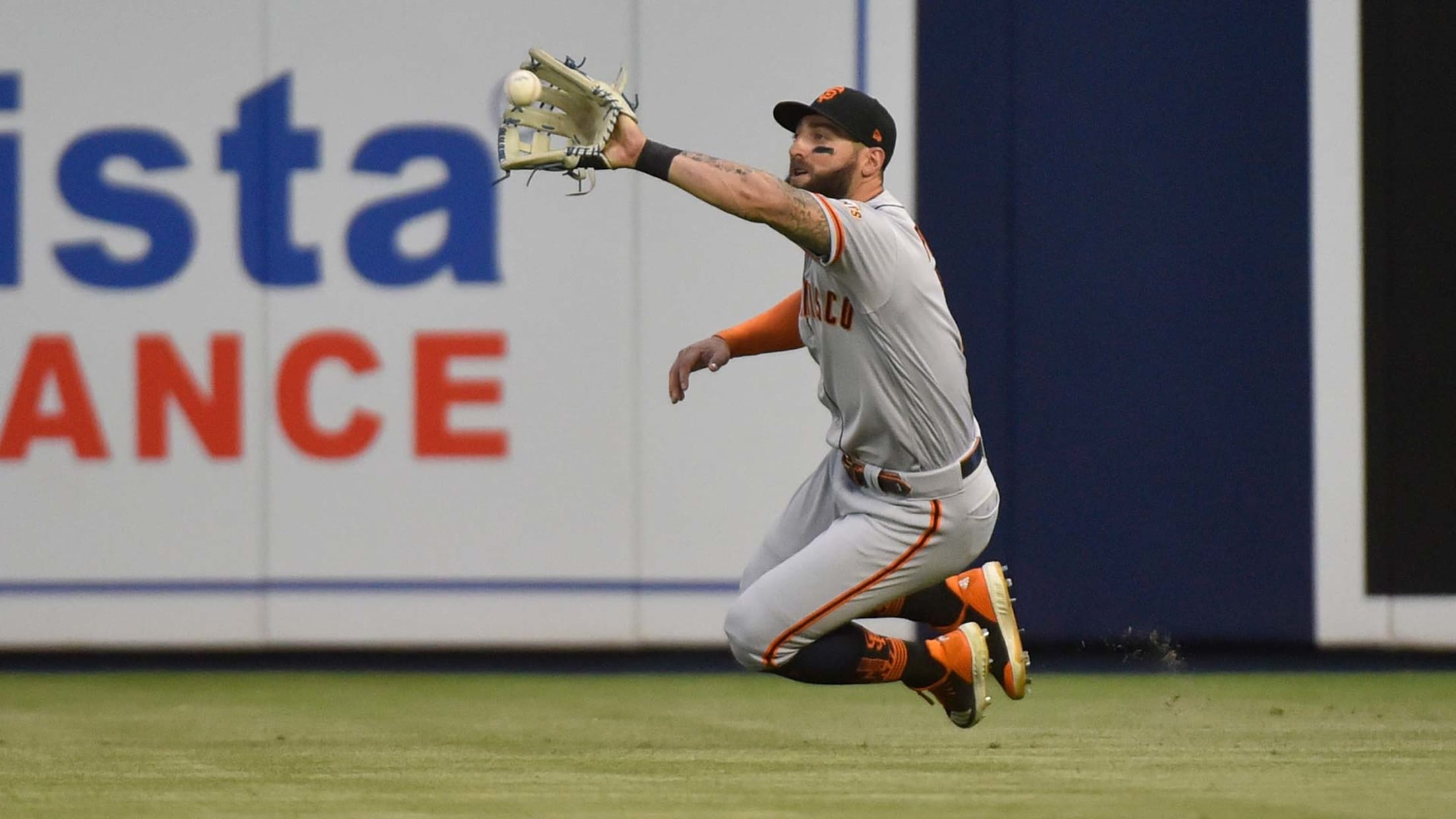 SAN FRANCISCO -- One week into the regular season, Kevin Pillar received a call uprooting him from the only team he'd ever known. In early April, Blue Jays general manager Ross Atkins informed Pillar that he'd been traded to the Giants, who quickly realized their Opening Day outfield, which included
SAN FRANCISCO -- One week into the regular season, Kevin Pillar received a call uprooting him from the only team he'd ever known.
In early April, Blue Jays general manager Ross Atkins informed Pillar that he'd been traded to the Giants, who quickly realized their Opening Day outfield, which included a pair of rookies in Connor Joe and Michael Reed, was in need of reinforcement. Pillar soon boarded a cross-country flight to Los Angeles and made his Giants debut that night at Dodger Stadium.
Despite the upheaval, Pillar enjoyed a career season in his first year with the Giants, batting .264 with a career-high .735 OPS, 21 home runs and 87 RBIs over 156 games. The 30-year-old veteran quickly became a respected figure in the clubhouse with his desire to play every day and his willingness to put his body on the line while making dazzling catches in center field, qualities that earned him the 2019 Willie Mac Award as the team's most inspirational player.
"They used to say baseball players entered their prime between 30 and 32," Pillar said. "I know the game statistically is getting younger, but to me, age is just a number. I take care of myself. I eat the right foods. I believe in nutrition. I believe in stretching. I believe in working hard and working out. I think it's no coincidence that at age 30 I'm having my best year. I think mentally, I'm just a little bit more mature."
What went right?
Pillar led the Giants in virtually every offensive category, including hits (157), extra-base hits (61), runs (82) and RBIs (87), and tied with Mike Yastrzemski for the team lead in home runs (21). He was one of the few Giants to hit for power at home, with 11 of his 21 homers coming at Oracle Park. Pillar also shored up the outfield defense, consistently supplying a stream of run-saving catches in center field.
"That Pillar [trade] might have changed our season big time," right-hander Jeff Samardzija said. "I think we might have been looking at a little bit different of a year if we didn't bring that guy over. He's been by far the most consistent force on this team."
What went wrong?
Despite his overall production, Pillar did not perform as well in the areas that tend to be favored by data-driven front offices. He posted the lowest walk rate (2.8 percent) and fourth lowest on-base percentage (.293) among qualified Major League hitters, with an OPS+ (89) that pegged his hitting at slightly below league average (100) when adjusted for park factors. And while Pillar routinely dazzled with his catches, the defensive metrics rated him closer to average in center field.
"I'm a little bit more old school," Pillar said. "I do get how important getting on base is. Obviously, that's an area that I need to improve on. Potentially walking a little bit more, getting my on-base percentage up.
"Defensively for me, it's more about feel. How did I feel like I performed every day? How did I run down balls? I kind of judge myself. I don't really dive into the numbers a little bit. I don't fully believe that the defensive statistics -- the advanced analytics -- are fully accurate. So I don't really put a lot of stock in that. I just think about how I felt, how my teammates feel about me, how my coaches feel like I can improve."
His teammates, for the record, were thrilled with Pillar's fielding.
"We kind of joke about his defensive metrics," Samardzija said. "That dude can play on my team any time, anywhere, and I want him when I'm pitching to be playing center field."
Best moment?
Pillar's reputation as a stellar defender preceded him when he joined the Giants, but it didn't take long for them to get a first-hand look at his impressive playmaking. On May 4, Pillar made a jaw-dropping catch to rob the Reds' Nick Senzel of a home run at Great American Ball Park. Pillar scaled the center-field wall and adjusted his glove midair to take away a homer from Senzel, delivering one of the top defensive plays of the year for the Giants.
2020 outlook
Toward the end of the regular season, Pillar was asked if he was looking forward to playing with emerging players like Yastrzemski and Mauricio Dubón in 2020.
"Obviously, I'd love to comment on that because I'd like to think I'm back here," Pillar said. "But until I get tendered a contract, my future is kind of up in the air."
Pillar is under team control for one more season, but he will be due a significant raise from his $5.8 million salary in 2019. His projected arbitration salary for next season is $9.7 million, according to MLB Trade Rumors, so the Giants will have to decide whether they are willing to commit that sum to Pillar despite his flaws, or attempt to strike a deal slightly below that figure.
Pillar's comments revealed his own concerns about potentially being non-tendered this offseason, but it seems likely that he'll remain in the fold in 2020. With Steven Duggar rehabbing from a left shoulder injury and top outfield prospect Heliot Ramos still developing at Double-A Richmond, it would make sense for the Giants to hold onto Pillar and head into next season with an established option in center field.
Maria Guardado covers the Giants for MLB.com. She previously covered the Angels from 2017-18. Follow her on Twitter.