Giants non-tender outfielder Pillar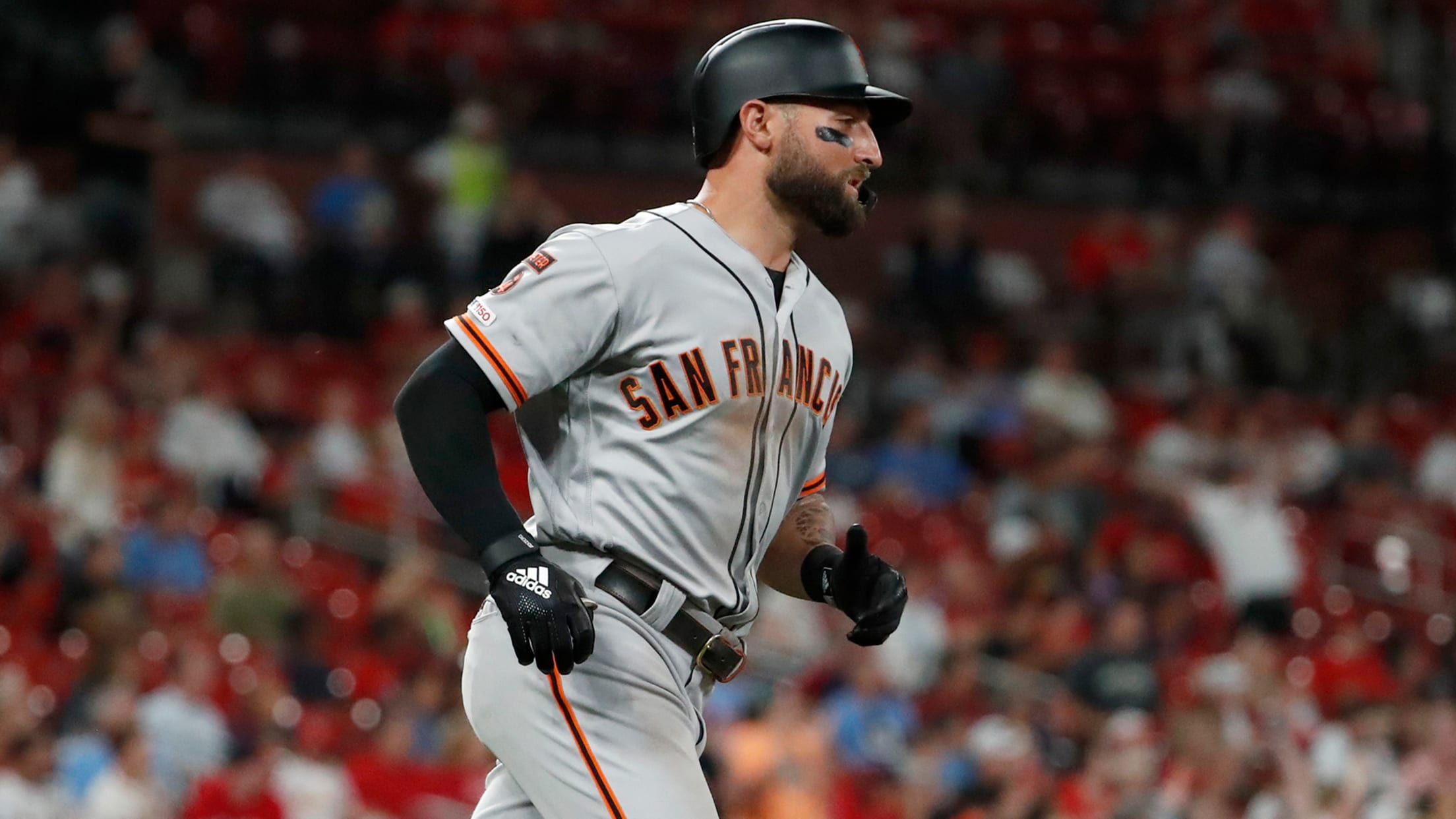 SAN FRANCISCO -- Kevin Pillar, the Giants' co-leader in home runs this past season and a popular figure in the clubhouse and among fans, will be manning the outfield elsewhere next season. The Giants declined to tender Pillar a 2020 contract ahead of Monday's 5 p.m. PT deadline, making the
SAN FRANCISCO -- Kevin Pillar, the Giants' co-leader in home runs this past season and a popular figure in the clubhouse and among fans, will be manning the outfield elsewhere next season.
The Giants declined to tender Pillar a 2020 contract ahead of Monday's 5 p.m. PT deadline, making the 30-year-old a free agent for the first time in his career.
Left-hander Tyler Anderson, right-hander Rico García and outfielder Joey Rickard were also non-tendered. On Tuesday, though, the Giants agreed to terms with Anderson on a one-year deal for 2020.
The Giants' three other arbitration-eligible players -- outfielder Alex Dickerson ($925,000), left-hander Wandy Peralta ($805,000) and infielder Donovan Solano ($1.375 million, according to the San Francisco Chronicle) -- agreed to one-year contracts for 2020, leaving 36 players on the 40-man roster.
Acquired from the Blue Jays in April, Pillar led the Giants in several offensive categories in 2019, including home runs (21, tied), runs (82), hits (157), doubles (37) and stolen bases (14), but he also possessed some flaws that the organization felt would have him as a bit of an awkward fit for a team in transition. Pillar had been projected to earn $9.7 million in his final season of arbitration, per MLB Trade Rumors.
"It's a tough decision because he had a nice year for us and clearly connected with the fans with his production and his style of play," president of baseball operations Farhan Zaidi said. "We certainly wish him the best, but with where we are as an organization, we've got to be in a little bit of a development mode."
OFFICIAL: The #SFGiants have declined to tender a 2020 contract offer to Tyler Anderson, Rico Garcia, Kevin Pillar and Joey Rickard, while agreeing to terms with Alex Dickerson, Wandy Peralta and Donovan Solano on one-year contracts for 2020. pic.twitter.com/g5Acgjuz0H

— SFGiants (@SFGiants) December 3, 2019
With Pillar no longer in the fold, the Giants will look to give more opportunities to some of their younger outfielders in 2020, including Mike Yastrzemski, Steven Duggar, Jaylin Davis, Austin Slater and Dickerson. Yastrzemski could shift to center field next year to create an opening for an impact bat at a corner outfield spot this offseason. Duggar, who ended the season on the injured list with a left shoulder injury, and Davis will also enter Spring Training as center-field options.
Pillar won the 2019 Willie Mac Award as the team's most inspirational player after appearing in 156 games for the Giants and delivering a steady stream of highlight-reel catches in center field, but he posted the lowest walk rate (2.8 percent) and fourth-lowest on-base percentage (.287) among qualified Major League hitters, with an OPS+ (89) that pegged his hitting at slightly below league average (100) when adjusted for park factors. While he regularly made stunning plays in center field, the defensive metrics viewed him less favorably, as he finished the season with -5 Defensive Runs Saved in center field, according to FanGraphs.
Pillar was aware of his status as a non-tender candidate and had expressed some uncertainty about his future in San Francisco toward the end of the season. The Giants surveyed the trade market for Pillar, but no matches materialized before Monday's deadline.
Zaidi said the decision to non-tender Pillar was not financially driven, as he expects the Giants to be active in free agency and the trade market to address other areas of need on their roster this offseason.
"This isn't a financial decision," Zaidi said. "We have the ability to reinvest in the Major League roster. Between now and Spring Training, there's going to be plenty of opportunities to improve the Major League team, and we're going to explore all of those. As we talk about creating opportunities for young players, we're going to do that with high standards. Even as you look back on 2019, we gave a lot of guys opportunities, but those opportunities weren't endless or without some standard of performance. I think our goal is to put players out there who have a chance to be productive and be with us for a long time. This just creates a little more opportunity to do that."
Maria Guardado covers the Giants for MLB.com. She previously covered the Angels from 2017-18. Follow her on Twitter.