Each AL East club's most indispensable player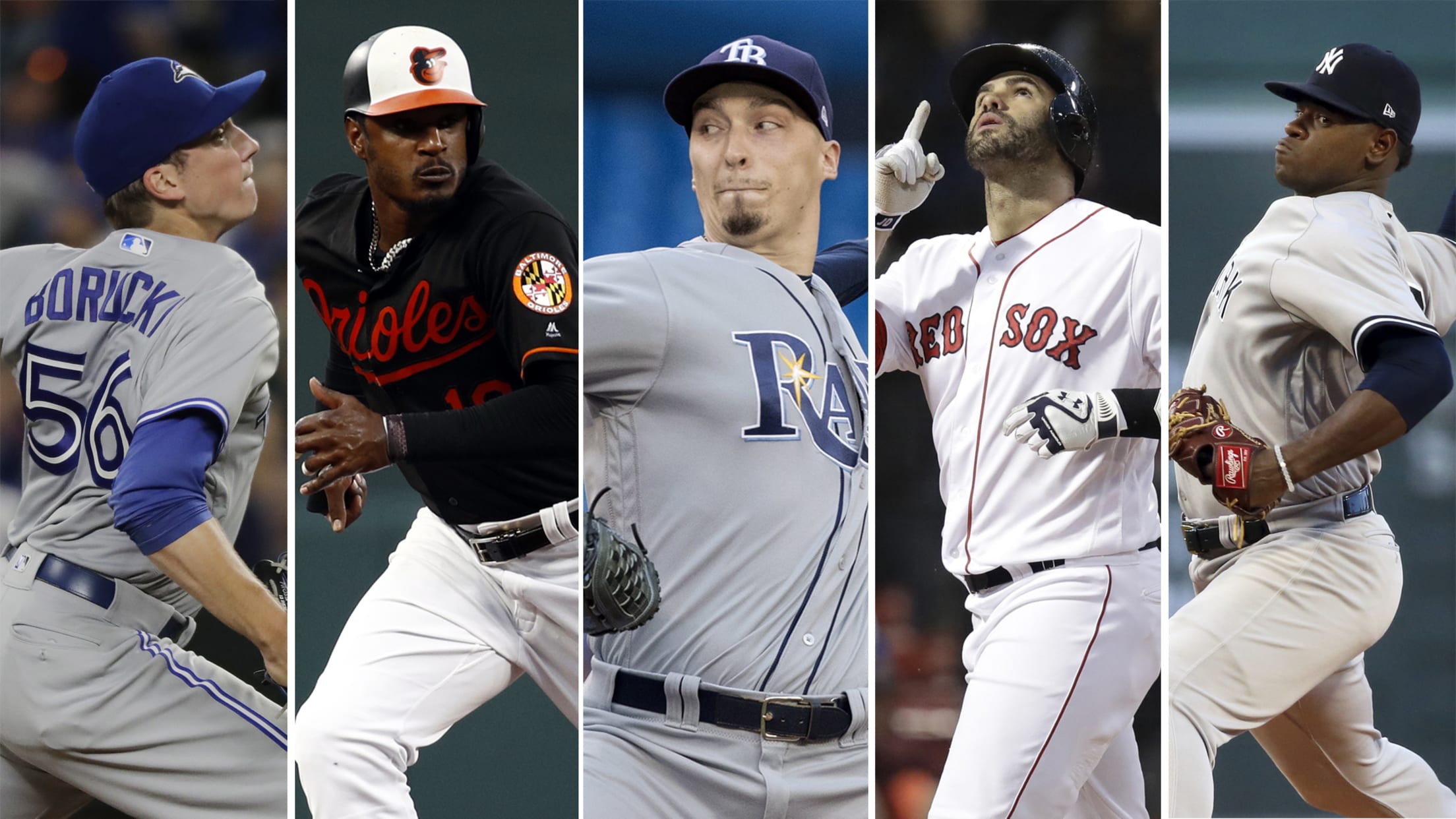 Over the course of a 162-game schedule, nearly every team needs to tap into their reinforcements at some point, viewing trades or assignments to the disabled list as opportunities for the next wave to contribute. Yet Yankees manager Aaron Boone would acknowledge that some players are more replaceable than others."We've
Over the course of a 162-game schedule, nearly every team needs to tap into their reinforcements at some point, viewing trades or assignments to the disabled list as opportunities for the next wave to contribute. Yet Yankees manager Aaron Boone would acknowledge that some players are more replaceable than others.
"We've certainly been tested with some of the people we've lost for periods of time," Boone said earlier this week. "I also think we've responded pretty well. This continues to be a tough stretch for us, having faced a little bit of adversity along the way. I feel like we've also handled it well, and the guys that we've asked to step up have."
With that in mind, MLB.com surveyed the scene in the American League East as we attempted to identify each club's most indispensable player -- a task that ultimately carried different meanings, depending on the current mindset of each organization.
Blue Jays: Ryan Borucki
Vladimir Guerrero Jr. will claim this title soon, but Toronto's most crucial piece on the current 25-man roster likely falls to Borucki. The rookie left-hander is expected to be a future cornerstone of the rotation and has already shown flashes of why he was ranked one of the Jays' top prospects by MLB Pipeline prior to his debut, surrendering two earned runs or fewer in all but one of his first seven starts.
Orioles: Adam Jones
While the struggling O's have been decimated by trades, Jones remains a mainstay. The heart of the team and a fan favorite, Jones' future is uncertain -- he is a free agent at the end of the year and recently moved over to right field. Still, the 33-year-old's impact continues to be felt in Baltimore, even with a changing cast of characters.
Rays: Blake Snell
Snell has developed into one of the best pitchers in the AL. He has command of four pitches, his stuff is electric and his confidence is sky high. When Snell is on the mound, the Rays always feel like they will win. In other words, it's a total turnaround from the beginning of the 2017 season. Despite missing a couple of weeks this season due to left shoulder fatigue, Snell has pitched his way into the AL Cy Young Award conversation.
Red Sox: J.D. Martinez
David Price put it best recently when he said that Mookie Betts will probably win the AL MVP Award, but Martinez is the MVP of the Red Sox. Martinez changed the dynamic of the lineup by being a fierce presence in terms of power and average. He has also imparted his knowledge of hitting to the rest of the team and become a team leader. It's no coincidence that so many hitters are having better seasons than they did last year, thanks to guidance from Martinez. Boston is likely to win 20 to 25 games more than it did a year ago, and the only major addition since then is Martinez.
Yankees: Luis Severino
There are arguments to be made for several Yankees, but Giancarlo Stanton has helped them survive Aaron Judge's longer-than-expected absence. Meanwhile, the trepidation surrounding Severino's second-half swoon serves as evidence of the right-hander's value. If Severino cannot regain his first half form, there is a real debate to be had over whom the Yanks would trust in a do-or-die playoff game. Boone is hoping the Yankees can find the Severino who was 14-2 with a 2.31 ERA in 20 first-half starts.