Khrush logs 2 hits in return to lineup
Wendelken optioned to Triple-A; Chapman gets a rest day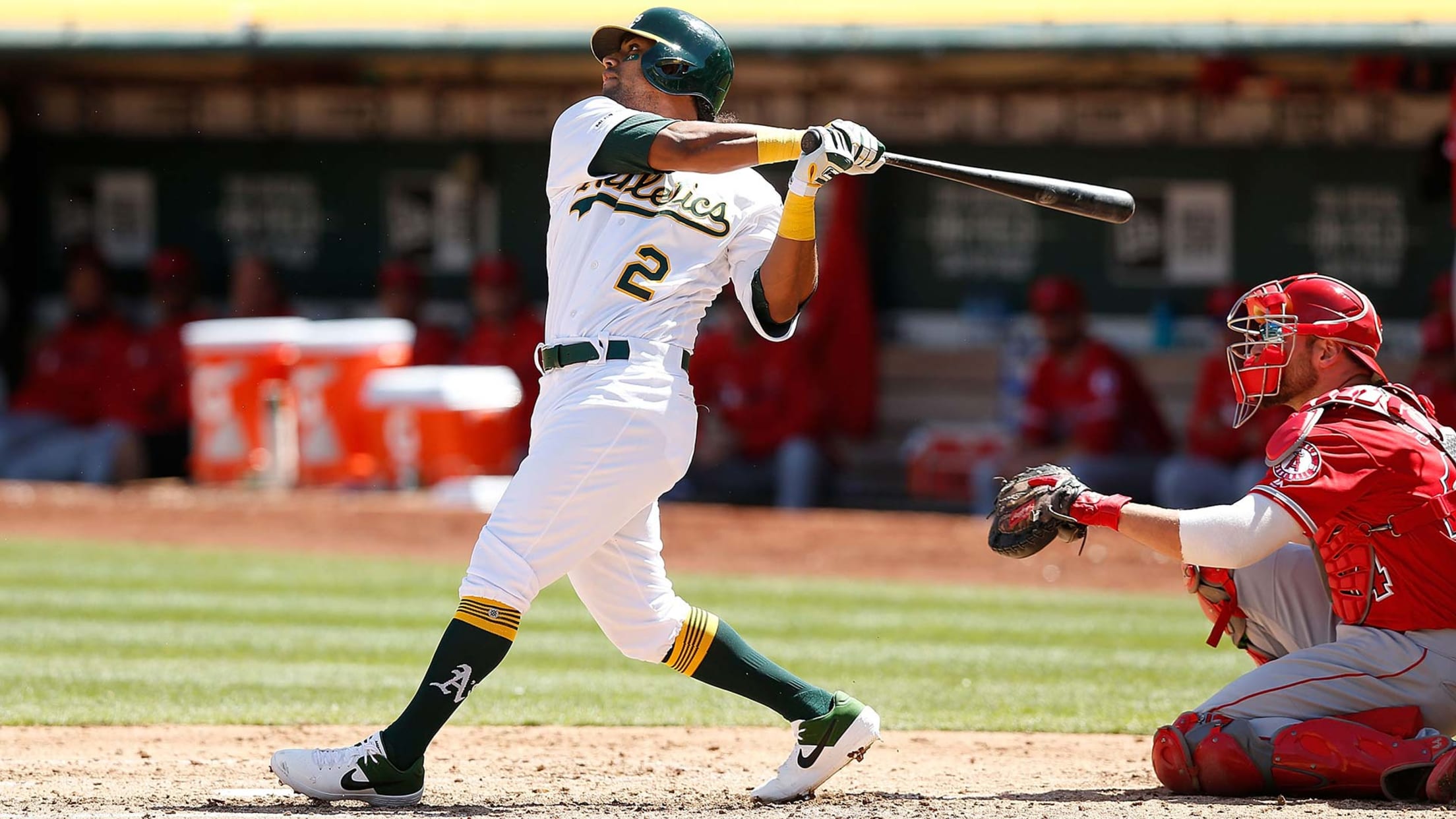 OAKLAND -- Khris Davis still is not at full strength from his left hip contusion, but after missing the past three games, he gave it another shot. Davis was in the starting lineup and batted fourth in Sunday's 5-3 loss against Cleveland, and he was able to record a couple
OAKLAND -- Khris Davis still is not at full strength from his left hip contusion, but after missing the past three games, he gave it another shot.
Davis was in the starting lineup and batted fourth in Sunday's 5-3 loss against Cleveland, and he was able to record a couple hits with a 2-for-4 performance. He tried playing in Wednesday's game against the Reds, but he was pulled after the fifth inning due to lingering effects from the contusion.
"He's still going to probably feel it a little bit in the cage," A's manager Bob Melvin said. "But today is that day we had targeted. We'll see how it goes. Hopefully it goes well."
Davis is still looking to end his current power drought. He has not homered since April 12.
Wendelken optioned to Las Vegas
In order to make room on the roster for Daniel Mengden, who was called up to start Sunday's game, the A's optioned right-handed reliever J.B. Wendelken to Triple-A Las Vegas.
Over 18 appearances this year, Wendelken posted a 5.57 ERA, which was inflated recently after a few rough outings. He impressed the A's last year by pitching some big innings during their run to the playoffs, and is expected to return to the Major Leagues at some point.
"He went through a bit of a tough stretch, but he's a guy we weren't afraid to pitch in late games and that's going to be the case with him," Melvin said. "He's going to be a big-time contributor for us. He's the guy to go down right now, but we'll see him again."
Day off for Chapman
After playing in each of the club's first 41 games, Matt Chapman will get a break on Sunday. He was listed as a bench player, with Chad Pinder getting the start at third base.
"At some point in time, you just need a day off," Melvin said. "The way he plays, it's pretty significant. It's up to me to try to get a schedule for him where he can get some days off, and today is one of those. We have an off-day coming up, so hopefully he gets a little rejuvenated."
Chapman is off to a nice start at the plate, entering Sunday's game batting .280 with 10 home runs and 24 RBIs.