Allard, Brinson among top prospect performers Monday
Braves' No. 4 prospect tosses six scoreless frames; Rangers' No. 2 homers in third straight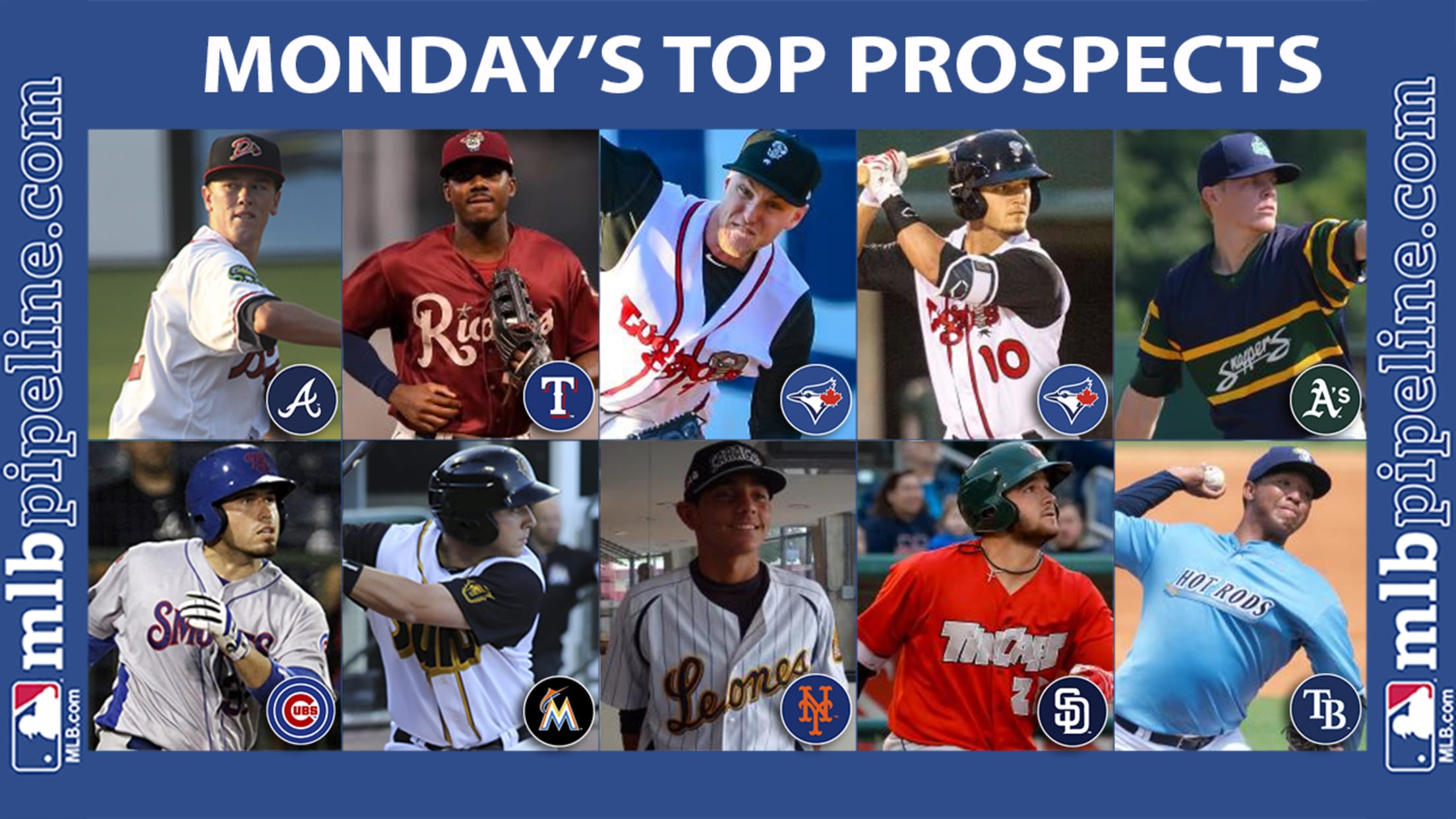 (Paul Sancya/AP)
Kolby Allard continues to put up zeros for the Rookie-level Danville Braves. After throwing six scoreless innings Monday in a 7-2 win, the Braves' No. 4 prospect (No. 79 overall) has given up two earned runs over his past three starts and four earned runs over his last five.The 18-year-old
Kolby Allard continues to put up zeros for the Rookie-level Danville Braves. After throwing six scoreless innings Monday in a 7-2 win, the Braves' No. 4 prospect (No. 79 overall) has given up two earned runs over his past three starts and four earned runs over his last five.
The 18-year-old lefty fanned seven, gave up two hits and saw his ERA drop to 1.69 in four starts with Danville.
"I was going out there trying to establish the fastball to both sides of the plate," Allard told MiLB.com. "Everything just worked off of that. When you can command your fastball to both sides of the plate, it sets up your curveball. I felt pretty good."
Allard began the season with Class A Rome and struggled in his first two outings, but settled down and threw five scoreless frames in his third start. The 2015 first-round pick then went to Danville and has been carving his way through lineups since.
The rest of the best performances from top prospects Monday
• Rangers No. 2 prospect Lewis Brinson (No. 13 overall), notched his first four-hit game of the season for Double-A Frisco, going 4-for-6 with a homer in a 15-9 win. The big day was the latest in Brinson's recent offensive surge. The outfielder has homered in three straight games, bringing his season total to 10 and is 7-for-14 with four RBIs in that stretch.
MILB Video - Title: Brinson blasts a solo homer - Url: http://www.milb.com/r/video?content_id=922876083
• Athletics' No. 29 prospect Brett Graves had one of his best starts this year for Class A Advanced Stockton. Graves, who has struggled a bit and has an ERA of 5.09, limited San Jose to just one hit in six scoreless innings in a 9-0 shutout.
MILB Video - Title: Graves finishes sixth with a K - Url: http://www.milb.com/r/video?content_id=922845483
• For the seventh time this season, Blue Jays' No. 4 prospect Jon Harris left a start without allowing an earned run. Harris spun another gem for Class A Lansing, throwing 56 of his 89 pitches for strikes and allowing four hits in seven frames in a 5-0 win. The right-hander has given up three earned runs over his last 20 innings -- three starts -- and has a 2.28 ERA in 79 innings.
• Max Pentecost (Blue Jays' No. 7) doubled, homered and drove in three runs as part of a 3-for-4 day for Class A Lansing. The catcher missed the 2015 season due to injury, but now that he's healthy, it's easy to see why Toronto selected him in the first round in 2014. Pentecost is hitting .298 with six homers and 27 RBIs in 47 games.
• Cubs' No. 25 prospectVictor Caratini went deep for the third time this year in Double-A Tennessee's 7-6 win over Chattanooga. The catcher singled in the fourth and hit a three-run homer out to right in the fifth inning, finishing 2-for-3 with three RBIs.
MILB Video - Title: Watch: Caratini goes yard - Url: http://www.milb.com/r/video?content_id=923934283
• Austin Dean (Marlins' No. 6) has put together consecutive three hit games after going 3-for-4 for Double-A Jacksonville. Dean drove in four runs, his third game with at least four RBIs this year, and added a pair of doubles in an 11-8 win over Birmingham.
MILB Video - Title: Watch: Dean drives in two - Url: http://www.milb.com/r/video?content_id=923481883
• Mets' No. 18 prospect Andres Gimenez continues to rake in the Dominican Summer League. The 17-year-old bumped his average up to .356 with a 3-for-4 and knocked in three runs
• The West Michigan Whitecaps are in need of some stadium repairs after Austin Allen (Padres' No. 25) shattered a window with his sixth inning homer for Class A Fort Wayne. The homer, a solo shot, was the seventh of the year for Allen, who finished the game 3-for-5 and is hitting .303 through 73 games of his first full professional season.
MILB Video - Title: Allen's homer smashes a window - Url: http://www.milb.com/r/video?content_id=922813183
• Jose Mujica (Rays' No. 24) extended his scoreless streak to 13 innings with six scoreless frames for Class A Bowling Green in a 10-3 win. Mujica threw 56 of his 93 pitches for strikes and walked three, which tied his season-high, but gave up just two hits.
MILB Video - Title: Watch: Mujica notches K - Url: http://www.milb.com/r/video?content_id=923933883
• Gavin LaValley drove in a season-high four runs in Class A Advanced Daytona's 9-2 rout of Charlotte. The Reds' No. 26 prospect doubled in the first and singled in the fifth and seventh in his 3-for-4 night.
• Mike Gerber (Tigers' No. 5) extended his hitting streak to seven games with Class A Advanced Lakeland. The outfielder went 2-for-4 with a homer and four RBIs as he continues to drive in runs at a rapid pace. After collecting a career-high 76 RBIs in 135 games last year, Gerber has 58 through 83 games, including 15 in his past seven games.
•. Tigers' No. 12 prospect Zac Shepherd only connected for Class A Advanced Lakeland once, but he made the most of it and blasted a two-run homer, his eighth of the year, in his club's 14-3 win over Palm Beach. Shepherd showed great patience and drew a trio of walks in his other plate appearances. He also scored three runs.
2016 Draft
• Conner Grey, the D-backs' 20th-round selection, carried a no-hitter into the eighth inning in Rookie-level Missoula's 7-1 win over Great Falls. In just his fifth professional start, Grey threw 65 of his 99 pitches for strikes and struck out eight over 7 1/3 innings. He gave up one run and one hit.