Wong day to day with hamstring issue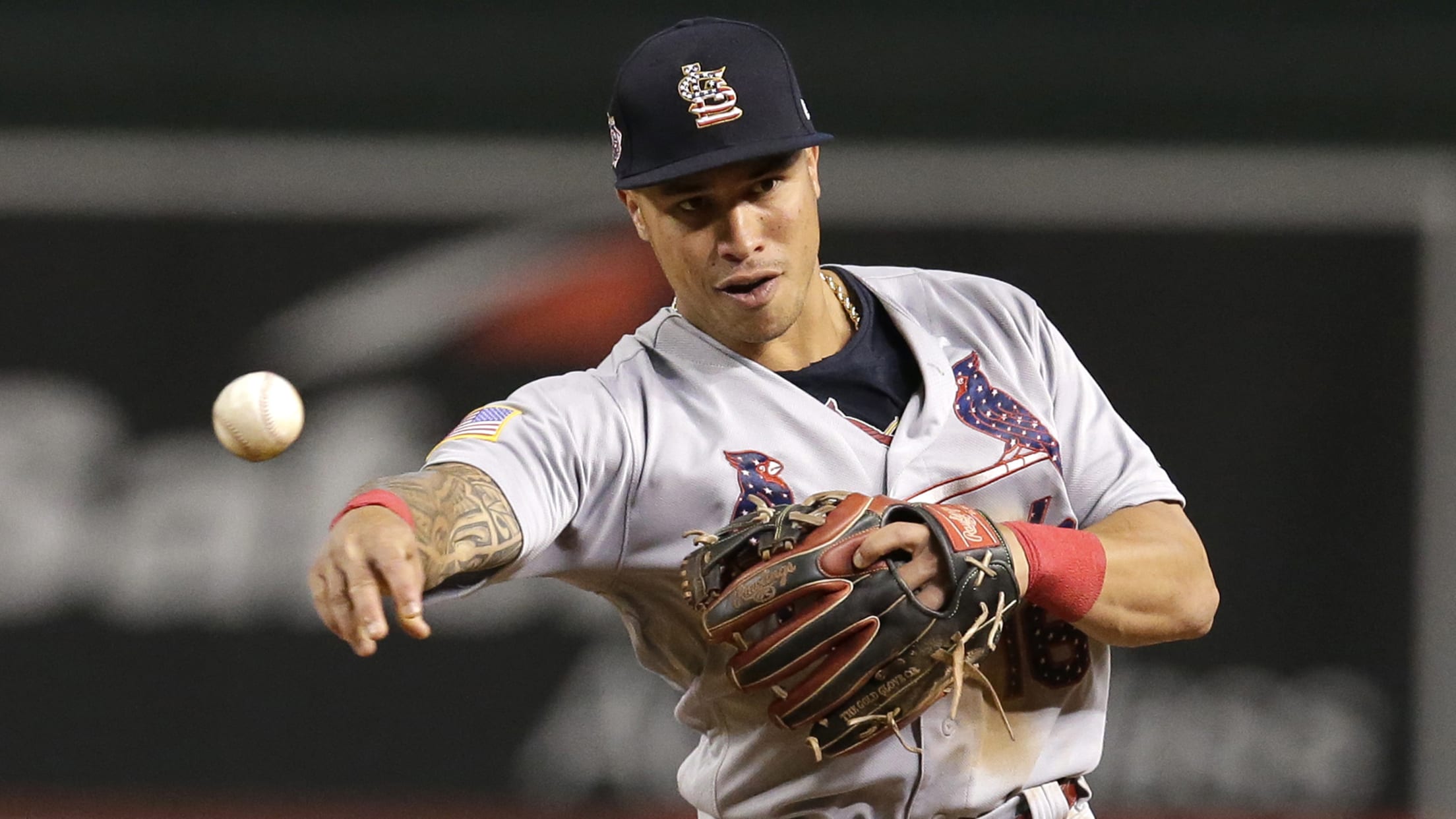 St. Louis Cardinals second baseman Kolten Wong (16) in the second inning during a baseball game against the Arizona Diamondbacks, Wednesday, July 4, 2018, in Phoenix. (AP Photo/Rick Scuteri) (Rick Scuteri/AP)
ST. LOUIS -- Though the Cardinals don't believe Kolten Wong's latest hamstring issue is serious, Saturday's quick turnaround forced them to be cautious with their second baseman, at least for a day. Wong was not in the lineup a morning after cramps in both hamstrings forced him out of Friday's
ST. LOUIS -- Though the Cardinals don't believe Kolten Wong's latest hamstring issue is serious, Saturday's quick turnaround forced them to be cautious with their second baseman, at least for a day. Wong was not in the lineup a morning after cramps in both hamstrings forced him out of Friday's 5-3 win over the Giants.
Cardinals manager Mike Shildt said Wong could be available off the bench, and that he projects Wong's absence to be a short one.
"The good news is we feel like we've gotten ahead of it," Shildt said. "It would've been a push to get him in the lineup today."
That, Shildt said, could change Sunday, when the Cardinals conclude their three-game set with San Francisco at Busch Stadium. Shildt said he's "hopeful" Wong can return to the starting lineup by then, confident that Wong's cramping was the result of dehydration, not a muscle strain.
Wong characterized the "tightness" as different from the left hamstring injury that forced him to the disabled list last month, saying Friday, "I knew it wasn't serious, I wanted to push it, but not too far."
Severity aside, at least mildly concerning is how the cramping adds to a growing list of lower-body injuries for Wong, who took up yoga last winter in an effort to increase his flexibility and counter his history of leg issues. The second baseman has now been hampered thrice this season by hamstring issues, and will require offseason surgery to remove floating cartilage in his left knee.
The ailments have done little to slow him down when on the field, with Wong hitting .327 with a .394 on-base percentage in the second half. He's hit .300/.391/.425 in 12 games since returning from his latest stint on the DL.
"I want to be in there," Wong said Friday. "We have [seven] games left. There's no sense in sitting back and waiting for an injury to go away."
Rotation plans
The Cardinals have set their rotation for what's shaping into their biggest series of the year, the three-game set at home against Milwaukee, starting Monday. The club will tab Jack Flaherty on Monday, Austin Gomber on Tuesday and John Gant on Wednesday to face the Brewers, who entered play Saturday three games up of St. Louis for the first NL Wild Card spot. The series figures to go a long way toward determining that race, and could serve as a preview for the Wild Card Game itself, should neither team catch the Cubs atop the NL Central. The Brewers have not announced their starters for the series, but Chase Anderson would be on turn to oppose Flaherty on Monday, Giovany Gonzalez on Tuesday and Jhoulys Chacin on Wednesday.
That alignment, though, remains subject to change. The Cards did as much, flipping Flaherty and Gomber in a move that gives them flexibility as well as Gomber, who is approaching his career high in innings, an extra day of rest.
By pushing Flaherty up, the Cards give themselves the option of pitching him in either of the season's final two games against the Cubs at Wrigley Field. It would also make him available to start a Wild Card Game on a full week's rest.
MLB debut
The Cardinals welcomed a special kind of September callup Saturday when Steven Selby, the longtime radio voice of the Memphis Redbirds, will make his Major League radio debut. Selby, who has called more than 4,000 games in his career (including more than 2,500 for Memphis), will hop on KMOX to do play-by-play for the fourth and fifth innings. He has been part of the Redbirds broadcast team since 2000.
"I'm going to want to hit the pause button, because I know it's going to go by way too fast," Selby said.