Wong proud to rep Hawaii on Players' Weekend
Flaherty dons tribute to late friend Tyler Skaggs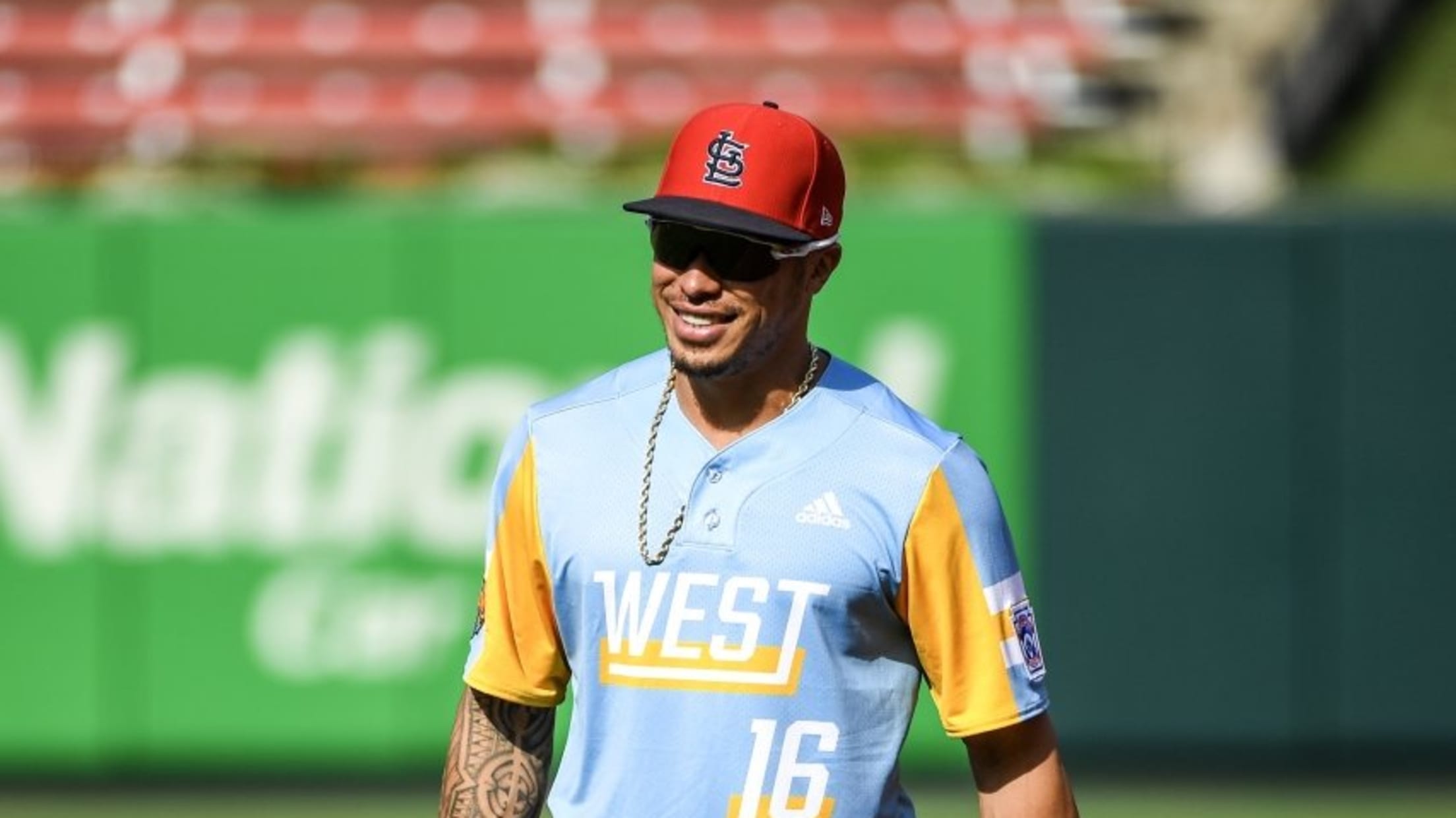 ST. LOUIS -- The all-white jerseys, all-white hats and all-white batting helmets that the Cardinals are wearing for Players' Weekend allow the players to bring the pop of color and personality they want with their other equipment. And Kolten Wong is all in on showing his personality. Wanting to represent
ST. LOUIS -- The all-white jerseys, all-white hats and all-white batting helmets that the Cardinals are wearing for Players' Weekend allow the players to bring the pop of color and personality they want with their other equipment.
And Kolten Wong is all in on showing his personality.
Wanting to represent the place he grew up, Wong's accessories are all Hawaiian-themed with bright colors. His nickname on the back of his jersey is "THEWONGONE808," his Instagram name and the "808" Hawaiian area code. His bat is dark blue with tropical flowers engraved on it. He has two pairs of cleats to use over the weekend, one which has the Hawaiian flag and landscape, and one which was made for him by the East Maui (Hawaii) Little League team playing in the Little League World Series. The shoes have the players' names and decorations in colorful writing.
"It'll be cool to wear," Wong said. "I'm proud of being from Hawaii, and I always try to represent my Hawaiian ties."
Wong took batting practice Friday night wearing a jersey from Hawaii's Little League team and posted a good luck message to the team -- which plays in the Little League World Series on Saturday against Louisiana.
Wong is on pace to have his best season since 2017 and has provided much-needed offense for the Cardinals this month. Since May 31, he's batting .322 with an .820 OPS, prompting Cardinals manager Mike Shildt to move him from the No. 8 spot to the No. 2 spot in the lineup, and he hasn't slowed down since then. He's starting to see his process and preparation turn over with the results he's been seeking, he said.
And Players' Weekend is another way to bring his spark on the field.
"It's always cool to allow us to show our individuality and express who we are as people. Everyone just sees us in these uniforms and hats, they don't really see the people we are."
🤙 Showing love for the Hawaiian Little League! #PlayersWeekend pic.twitter.com/ce6ZyFw4aL

— St. Louis Cardinals (@Cardinals) August 23, 2019
Other Cardinals are using the opportunity to accessorize the white jerseys this weekend against the Rockies, who are wearing all-black jerseys. Friday's starter Jack Flaherty is honoring the Angels pitcher Tyler Skaggs, who died unexpectedly in July, with "LOVE YOU TY" on the back of his jersey and cleats made as a tribute to Skaggs.
Dexter "Dex" Fowler is wearing bright pink and green Jordans designed by his daughters Naya and Ivy. Fowler asked them what colors they wanted their dad to wear, and he obliged.
"It's a fun weekend," Fowler said. "I wish we could do it all year."
Most of the Cardinals are using their everyday nicknames, like Tommy "Eddie" Edman and Paul "Goldy" Goldschmidt. Some got creative, like Miles "5280's" Mikolas, Harrison "Tots" Bader and Dominic "Dominator" Leone.
Shildt didn't elect for a wacky nickname -- he's just going with "Shildty" -- but is perhaps planning next year's shoe design after seeing some of his players' shoes.
"I didn't get on the shoe-designing train, although I would have, if I had thought about it," Shildt said. "I've got my standard-issued shoes.
"I think it's great that guys have the ability to express themselves, connects them a little more with the fans and lets people see what they're thinking and doing and what they're called, all that fun stuff."
Gomber begins rehab assignment
Left-hander Austin Gomber (left biceps injury) will throw an inning for Class A Advanced Palm Beach on Friday night as he begins to work his way back to the Cardinals. The maximum amount of pitches Gomber throws will hover around 25. Shildt said there is no script for Gomber's return this season, although the Cardinals hope to have him back as a reliever in September.
Gomber hasn't pitched in a game since May 13 with Triple-A Memphis.
"We'll take an evaluation after tomorrow," Shildt said. "It's unfair to say -- what ends up happening is you'll say, 'Well, we need you here by X day in September.' Then you start to push toward that, and you're pushing instead of evaluating and taking it as it comes. We would love for that to happen, but all we can do is evaluate where he's at and where he's at today and how he recovers. Then take the next step that makes logical baseball sense for him."
Fantasy football is back
Adam Wainwright will host his seventh annual Big League Impact Fantasy Football Live Draft at Busch Stadium next Friday. Participants will draft their own fantasy football team, compete with Wainwright, Michael Wacha, Miles Mikolas and Jack Flaherty, and manage their fantasy team throughout a 13-week season with head-to-head matchups against Cardinals players.
All proceeds from Wainwright's event at Busch Stadium will benefit Cardinals Care and Big League Impact's Global Initiative Fund as well as player-selected charities: IDADEE Hospital (Wainwright), Crisis Aid (Mikolas), Food for the Hungry (Flaherty), and Special Olympics and Boys & Girls Club of Texarkana (Wacha).
Participants can sign up here.