Lee Smith leads Game 2 festivities at Wrigley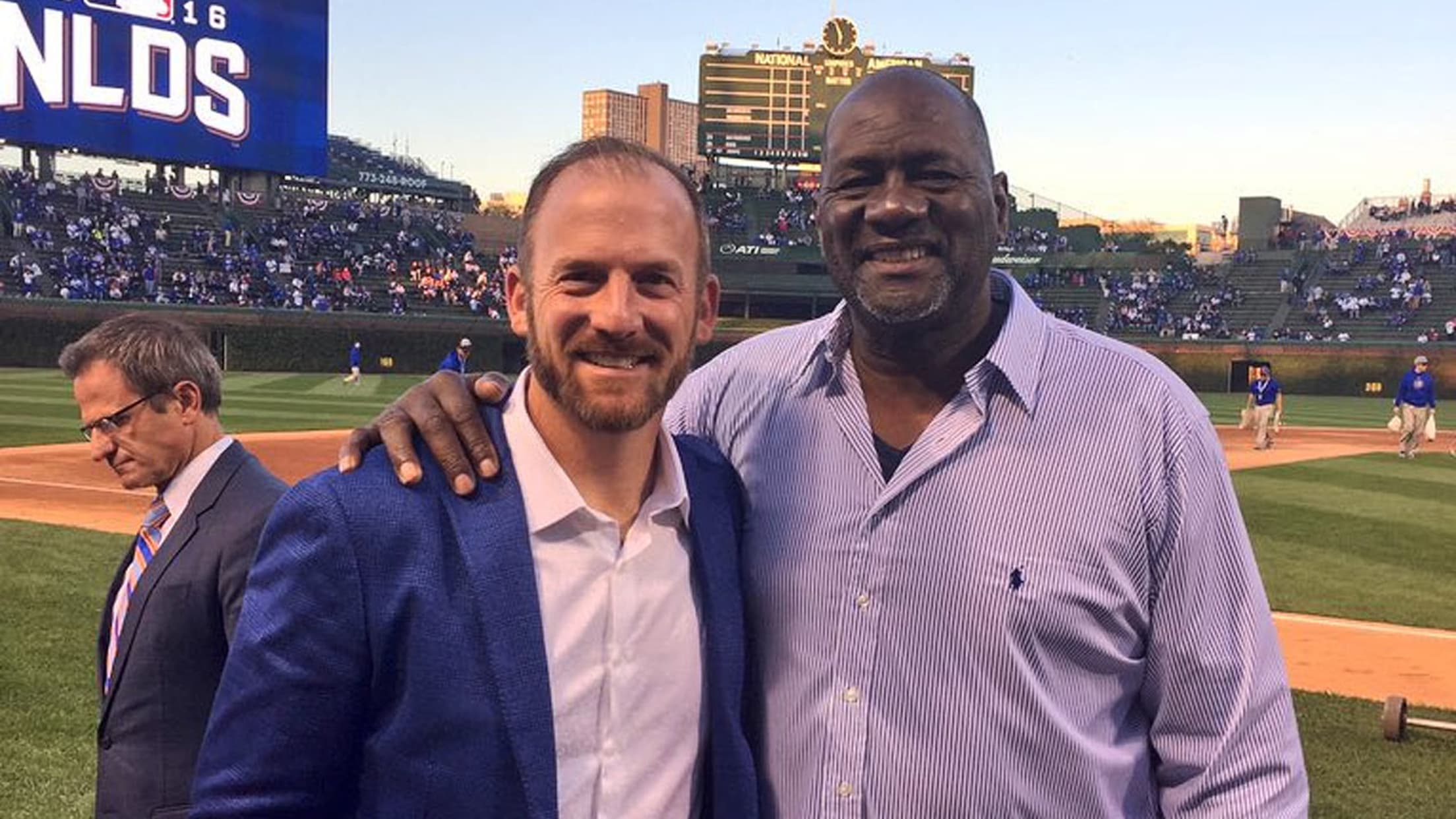 Former Cubs Ryan Dempster and Lee Smith before Game 2 of the NLDS on Saturday. (Cubs)
CHICAGO -- The Cubs invited their all-time saves leader, Lee Smith, to Wrigley Field on Saturday night to deliver the ceremonial first pitch before Game 2 of the National League Division Series. However, his allegiance in this best-of-five series between the Cubs and Giants may not be as expected.That's because
CHICAGO -- The Cubs invited their all-time saves leader, Lee Smith, to Wrigley Field on Saturday night to deliver the ceremonial first pitch before Game 2 of the National League Division Series. However, his allegiance in this best-of-five series between the Cubs and Giants may not be as expected.
That's because Smith has spent the last 17 seasons working within the Giants' organization. He currently serves as San Francisco's roving Minor League pitching instructor.
:: NLDS: Giants vs. Cubs coverage ::Thus, said Smith, when somebody asked him who he was pulling for, he had a ready answer: the Giants.
"Who do you think I'm pulling for? Whoever's name is at the top of my check," said Smith, who spent the first eight years of his Major League career with the Cubs.
Smith's affiliation with the Giants began shortly after his 18-year playing career ended, and his work doesn't take a break during the postseason. Smith was set to fly back to Phoenix late Saturday so he could resume his duties at the Giants' Instructional League camp.
Smith joked that if he didn't return as soon as possible, "[Farm director] Shane Turner would fire me."
Smith's ceremonial strike came after Chicago crooner John Vincent performed the national anthem. CM Punk, a former WWE star and current UFC competitor, delivered the "Play Ball" pronouncement.
Actor and comedian Jeff Garlin got the nod to lead the home crowd in "Take Me Out to the Ball Game" during the seventh-inning stretch.