Mets option Verrett to Triple-A, call up Goeddel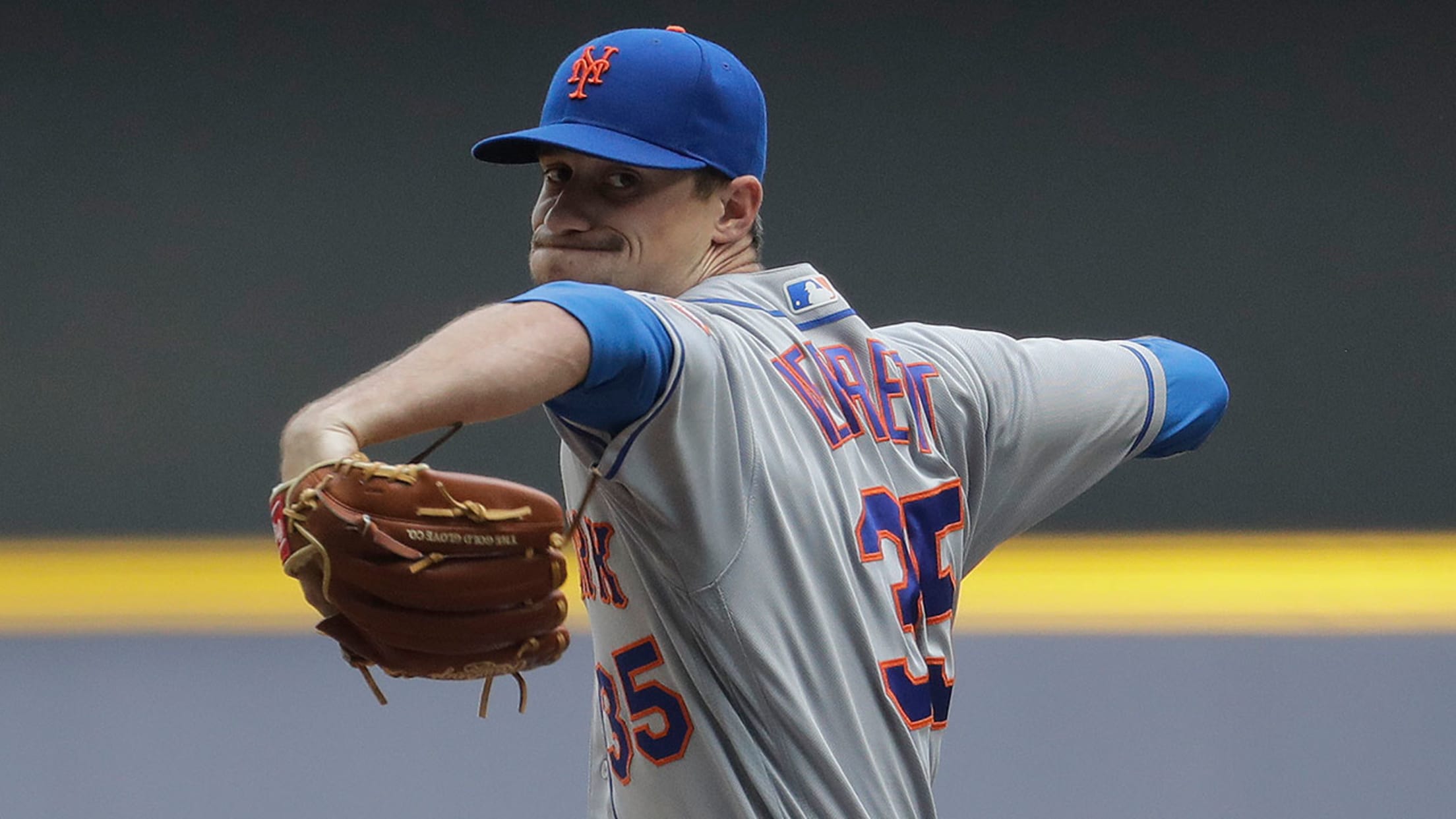 Logan Verrett allowed five runs in four innings in Saturday's spot start. (AP)
MILWAUKEE -- Needing a fresh bullpen arm, the Mets optioned right-hander Logan Verrett to Triple-A Las Vegas and called up reliever Erik Goeddel prior to Sunday's series finale vs. the Brewers.Monday's rainout in Pittsburgh caused a Tuesday doubleheader, which forced the Mets to use Verrett as a spot starter Saturday."It
MILWAUKEE -- Needing a fresh bullpen arm, the Mets optioned right-hander Logan Verrett to Triple-A Las Vegas and called up reliever Erik Goeddel prior to Sunday's series finale vs. the Brewers.
Monday's rainout in Pittsburgh caused a Tuesday doubleheader, which forced the Mets to use Verrett as a spot starter Saturday.
"It is really just a matter of making sure we are covered pitching-wise," Mets assistant general manager John Ricco said. "We've had some guys who have had to go a bunch of innings the last two days. Just to make sure we are covered and have enough pitching, we decided to make a move."
Verrett is 3-4 with a 4.02 ERA in 19 outings for the Mets. He has pitched much better as a reliever, posting a 2.49 ERA in 15 relief appearances and a 5.79 ERA in four starts. Verrett lasted just four innings against the Brewers on Saturday, surrendering five earned runs.
Goeddel appeared in 41 games with a 2.48 ERA from 2014-15 with the Mets. He had a 4.94 ERA in 23 2/3 innings with Las Vegas in 2016. He entered the Mets' 5-3 loss to the Brewers on Sunday, pitching a perfect seventh inning.
"His performance of late has been a lot better," Ricco said. "He struggled early on. It is hard to get those numbers back down. But his pitching of late has been better."
Worth noting
• After serving as the designated hitter for four games, Mets catcher Travis d'Arnaud caught for the first time on his Minor League rehab assignment Saturday.
d'Arnaud, who was placed on the disabled list May 3 with a right rotator cuff strain, is expected to continue to rotate between catcher and DH over the next week with Class A Advanced St. Lucie before the next step is determined.
"He's been getting a lot of at-bats at DH," Ricco said. "Now, he'll catch off and on and DH the next week. We'll see how he progresses. He had two hits last night. We probably want to get him behind the plate for a few games, at least."
• Mets outfielder Michael Conforto was out of the lineup Sunday with wrist soreness, but he did enter the game as a pinch-hitter in the ninth and struck out swinging.
"It doesn't really bother his swing, but he's scuffling enough where I thought to let him have [Sunday] and [Monday's off-day] to let him catch his breath," Mets manager Terry Collins said. "We'll have him back in there on Tuesday."
Andrew Gruman is a contributor to MLB.com based in Milwaukee.