Giolito, Anderson shine, but bullpen falters late
Abreu matches career high in RBIs; Palka's offensive woes continue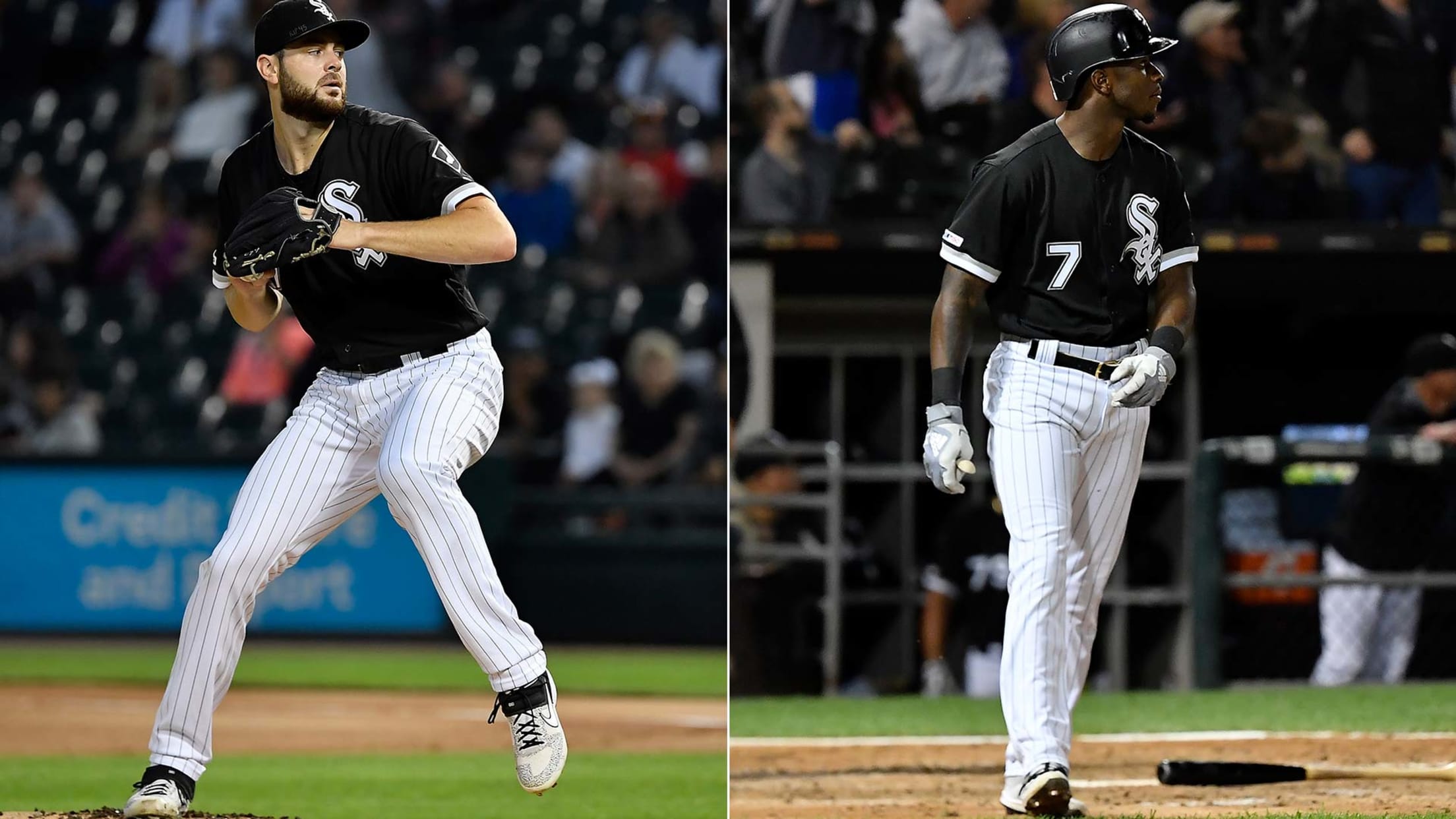 CHICAGO – A potential third win in four games for the White Sox quickly turned into the team's 10th loss in their last 13 games, as the Angels rallied for a 5-4 victory Friday night during the series and homestand opener at Guaranteed Rate Field. Here's a look at six
CHICAGO – A potential third win in four games for the White Sox quickly turned into the team's 10th loss in their last 13 games, as the Angels rallied for a 5-4 victory Friday night during the series and homestand opener at Guaranteed Rate Field.
Here's a look at six significant numbers for the South Siders from Friday's action.
216
With six strikeouts recorded over seven innings, Lucas Giolito raised his single-season total to 216 over 170 2/3 innings covering 28 starts. That number ranks as the eighth-highest in franchise history, with Chris Sale (three times) and Ed Walsh (four) the only White Sox hurlers to strike out more in a given year.
"It's pretty cool. I knew that I was a high strikeout pitcher and it was in there somewhere," Giolito said. "I just had to make the necessary adjustments to get it to come out. It feels good that I'm putting together a season like this, and I just want to continue to keep doing it and finish strong."
"He's been off the charts. You guys see it," said White Sox shortstop Tim Anderson of his All-Star teammate. "Just playing behind him every day is great. He's been doing his job, and it's been fun to watch."
Giolito topped out at 97.7 mph and recorded 16 swinging strikes, per Statcast, while employing mainly a fastball-changeup mix. It was an important step for Giolito to pitch well in a start in which he didn't feel his best.
"This is me, the type of pitcher that I am, something I'll be able to repeat for years," Giolito said. "I want to continue to get better. I think that there's things that I'm going to continue to get better at.
"I'm happy with tonight, because tonight's a night I felt out of sync, but I was able to kind of battle and grind through it, and make the adjustments to turn it into a quality start. That's the plan. Just keep going and keep improving."
107
José Abreu's first-inning run-scoring double -- his 107th RBI -- was the third of three straight hits against Angels starter Dillon Peters to open things for the White Sox. Those 107 RBIs equal Abreu's single-season best (2014), and also ties him with Boston's Rafael Devers for the American League lead.
Abreu's 33rd double of 2019 produced career RBI No. 595, surpassing Ray Schalk for 13th place in franchise history.
.333
A first-inning single and a two-run home run in the fifth, with an understated bat drop at home plate, raised Anderson's average to .333. With 21 games remaining and having qualified after missing June 26 to July 28 with a high right ankle sprain, Anderson leads the AL in hitting.
"It'd be a huge accomplishment," Anderson said. "We made it this far, so why not give it a shot? I think I've just got to keep being consistent, and keep enjoying and keep having fun with it. I think the rest will take care of itself.
"The main thing was just getting good pitches to hit, and laying off all the stuff that they were throwing me last year, which was sliders in the other batter's box. I'm able to pick out a good one and get the barrel to it."
49-2
The White Sox bullpen has been a strong suit for the entire campaign, but the team's record dropped to 49-2 when leading after seven innings following a rare off-night for Aaron Bummer and closer Alex Colomé.
Bummer missed a chance to end the eighth unscathed when he threw high to Danny Mendick at second after a David Fletcher grounder back to the mound, resulting in a forceout instead of a double play. Brian Goodwin followed with a game-tying home run. Colome gave up Justin Upton's game-winning blast on the first pitch of the ninth.
"Can't say enough about how much they have kept us in games, and allowed us to win games throughout the course of the year," said White Sox bench coach and acting manager Joe McEwing of the late-inning relievers. "Everybody's going to have them. They both have nasty stuff and they capitalized on a few mistakes."
"One of those nights. Especially the back end, they've been lockdown all year," Giolito said. "Nights like these are going to happen. It's part of the game."
62
Last year's White Sox win total was not surpassed on Friday. The White Sox fell to 62-79 overall, 0-4 in their last four home games and 1-9 against the Angels over their last 10 matchups.
.019
It's tough to continue pointing out the struggles of someone such as Daniel Palka, who's a solid young individual, and has handled this year's offensive woes with dignity. But Palka's game-ending strikeout Friday left him at 1-for-54 with 23 strikeouts for the season.