Giolito aims to break through in 2016
Top prospect at Nationals camp to gain experience, prepare for Minor League season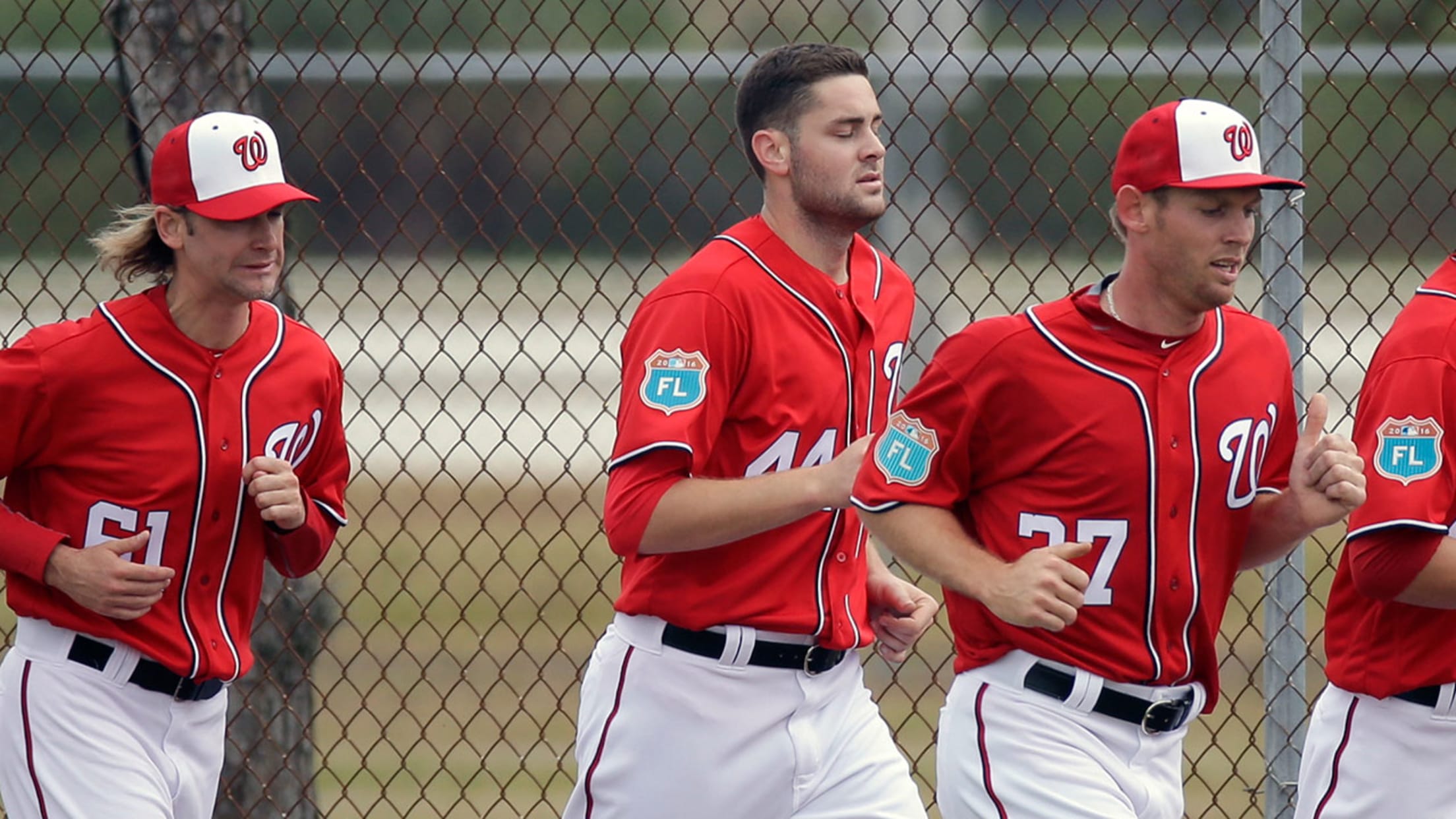 Lucas Giolito (center) runs sprints after the pitchers' workout Saturday at Nationals camp in Viera, Fla. (AP)
VIERA, Fla. -- Lucas Giolito could not wait to meet Nationals manager Dusty Baker for, well, the second time. Back when Giolito was around 5 or 6 years old, he remembers meeting Baker at an Electronic Arts event where his father, Rick, worked at the time; he figured that did
VIERA, Fla. -- Lucas Giolito could not wait to meet Nationals manager Dusty Baker for, well, the second time. Back when Giolito was around 5 or 6 years old, he remembers meeting Baker at an Electronic Arts event where his father, Rick, worked at the time; he figured that did not count.
"You start feeling old after a while," Baker said with a laugh. "He was 6 years old, now he's 6-foot-6."
• Spring Training:Schedule | Tickets | Gear
On the eve of the first workout of his first Major League camp, Giolito -- the Nationals' No. 1 prospect and No. 3 overall as rated by MLBPipeline.com -- outlined his main goal for the 2016 season.
"My goal is to definitely reach the big leagues," he said. "Baseball is a business, but at the same time, I feel like if I continue to progress the way I want to, I'll have a good shot."
Giolito, 21, can consider all the young pitchers around the Majors last season who had success right away -- including teammate Joe Ross, who began last season in Double-A but made his Major League debut by June 6 -- as reasons his goal is attainable. And this despite having only made eight starts at the Double-A level.
But the Nationals have already communicated to him that this spring with the Major League team is more about experience. He gets to watch the way Max Scherzer and Stephen Strasburg prepare for their season, and Giolito plans to be a proverbial fly on the wall while watching them work.
Instead, the focus for Giolito is fastball command. He wants to locate that pitch more effectively in and out of the strike zone and stop missing over the middle of the plate. He says he does not plan on trying to wow anybody out of camp.
"The main thing is to get prepared for the season," Giolito said. "I want this to be a big year for me. I want to make a lot of strides in my game as well as my progress through the system. So it's just to get prepared, honestly, and enjoy the experience of big league camp."
.@dbaker_12 taking it all in at practice this morning. #NatsSpring #ItAllStartsHere pic.twitter.com/6ZKgNGLR3Y

— Washington Nationals (@Nationals) February 20, 2016