Maddon wants Cubs to keep same approach for playoffs
Manager: 'There's nothing different to do right now except play the game'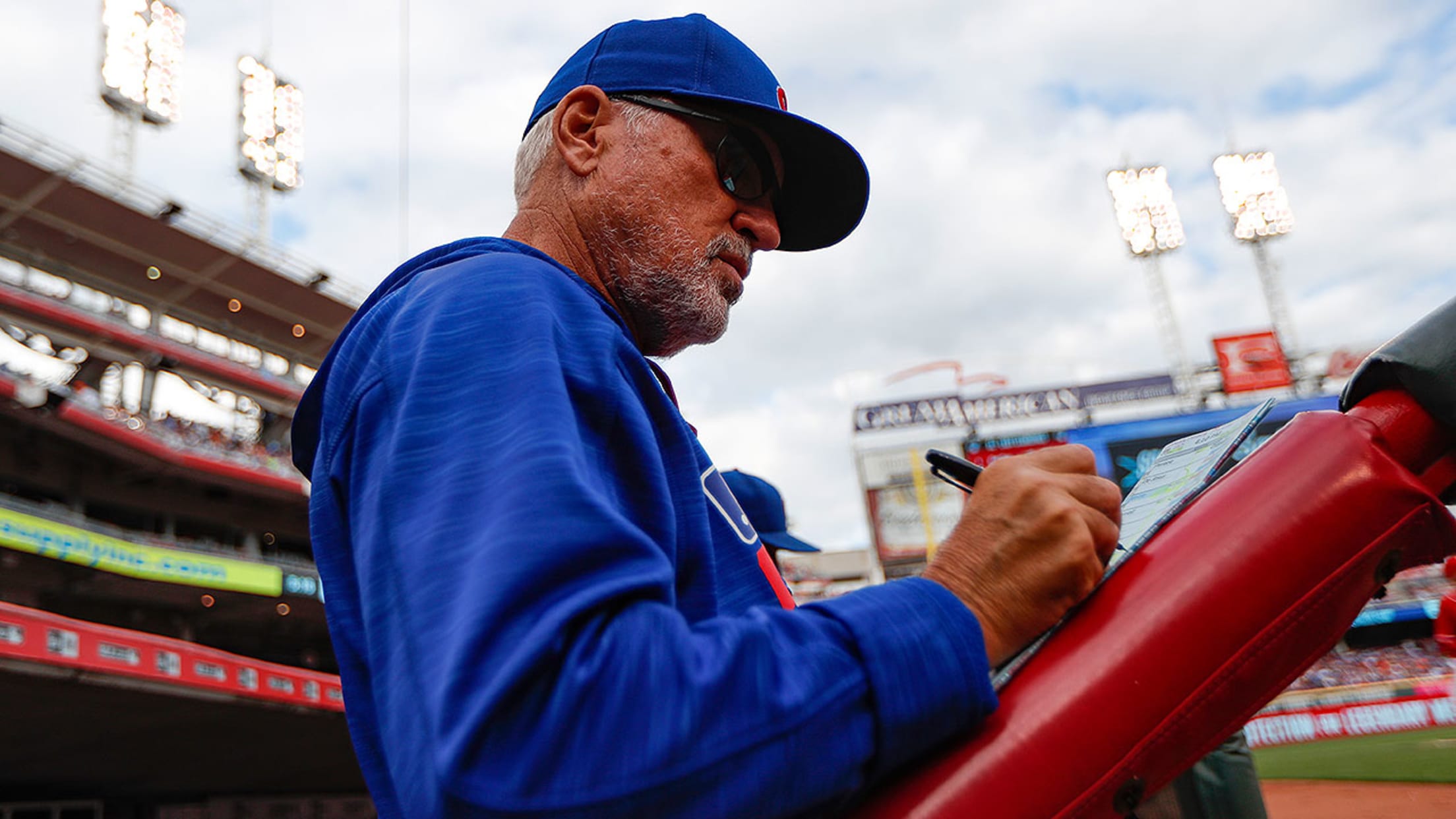 "I want us to prep the same way we've been playing," Joe Maddon said. (AP)
CINCINNATI -- The Cubs checked all the boxes during the regular season, and they went above and beyond by winning more than 100 games. Because of that, manager Joe Maddon doesn't want the players to change a thing in the postseason."That's the threat now, is that you have to do
CINCINNATI -- The Cubs checked all the boxes during the regular season, and they went above and beyond by winning more than 100 games. Because of that, manager Joe Maddon doesn't want the players to change a thing in the postseason.
"That's the threat now, is that you have to do something more or greater than or know more or there's more tricky stuff to do," Maddon said Sunday. "I want us to prep the same way we've been playing."
• Postseason schedule | Gear
:: NLDS: Wild Card winner vs. Cubs coverage ::
The Cubs, who finished with a 103-58 record, tops in the Major Leagues, will open the postseason by hosting Game 1 of the National League Division Series on Friday (FS1, 9 p.m. ET/8 CT) against the winner of the NL Wild Card Game on Wednesday between the Mets and Giants at Citi Field. Maddon didn't have a preference over either team.
"That has to be organic," Maddon said. "The moment you start wishing for something, be careful what you wish for."
The Cubs went 2-5 against the Mets and 4-3 against the Giants this season, but they also know how different the postseason can be after last season. They went 7-0 against the Mets in the regular season in 2015, but they were swept in four games by them in the NL Championship Series.
"It doesn't really matter," Kyle Hendricks said about who the Cubs play. "[The Wild Card Game] will be a fun one to sit back and watch and not be involved in it this year. It's going to be a different experience for us, so like I said, they're two really good teams, obviously. They're playing well. Both have got good pitching, pretty even. So whoever comes our way, we've just got to get ready for that matchup either way."
Anthony Rizzo is well aware of the even-numbered year and the Giants' track record, as they have won the World Series in 2010, '12 and '14.
"This is 2016, so [the Giants] are going to be tough to beat, no doubt," Rizzo said. "And with the Mets, the experience they gained last year -- so that'll be a fun game to watch, especially with [Noah] Syndergaard and [Madison] Bumgarner, I'm sure they're both going to throw 200 pitches each if they have to. It's fun for baseball, those Wild Card Games, and we're happy we're not partaking in that this year, that anxiety and stress level."
The Cubs were expected to announce their postseason rotation on Tuesday.
Maddon said they have their scouting reports and have faced everybody. As they have done most of the season, batting practice will be optional on Friday. The Cubs will have a simulated game on Tuesday so some of the pitchers can get work in, and then they will work out Wednesday and Thursday.
"There's nothing different to do right now except play the game," Maddon said. "It's about whether your pitcher pitches better, if we catch the ball. I don't want us to do anything differently."
It's been a wild ride for the Cubs, who have reached 102 wins for the first time since 1910.
"We won our division -- the one that was a little above and beyond was 100 wins," Maddon said of the regular-season goals. "We stayed relatively healthy. The pitching and defense has been outstanding. All the stuff we talked about in camp [regarding] embracing the target and utilizing the words 'pressure' and 'expectations' in a positive way, I think we've done all those things. Going into camp, with all those words attached to you, it can lead to a bad result during the season, but our guys have handled it well."
Maddon will meet with the team on Tuesday for a postseason pep talk, but it won't be long. The topic? How to keep your focus when things go wrong.
"When things are going well, it's easy," Maddon said. "I want to remind them to maintain their focus, maintain their methods even if something goes awry."
How have the Cubs maintained such an even-keel approach? Maddon feels the postgame parties after each win may have contributed.
"This might sound crazy, but the way we celebrate every victory helps," Maddon said. "The game's over, we've won, we go inside, and it's like we just did get into the playoffs every night. It's for 30 minutes at the most. If we lose, contrarily, we don't sulk or become gloomy the next day. The sun does come up.
"I think we've been able to strike a nice balance. I don't think it's very complicated. I want to believe the guys feel they can be themselves. ... I think a lot of that leads to a nice, fresh approach."