Maddon plans 2nd 'onesies' trip home for Cubs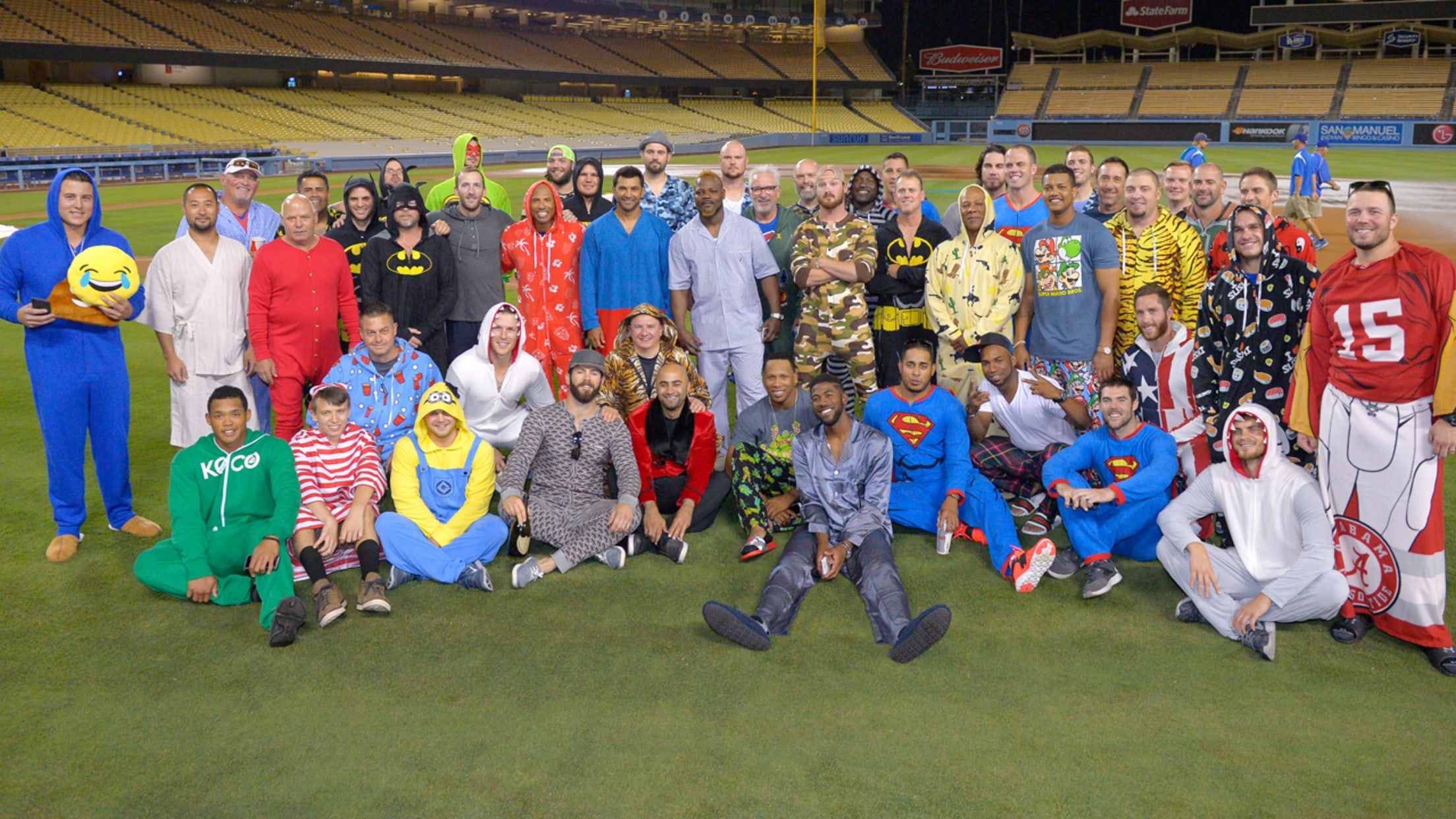 The Cubs donned pajamas after Jake Arrieta's Aug. 30, 2015, no-hitter at Dodger Stadium. (Cubs)
CHICAGO -- The Cubs will open a nine-game National League West trip on Friday, and they packed their pajamas for the flight home from Los Angeles. Manager Joe Maddon has revived the "onesies" trip, requiring players to wear sleepwear for the flight back to Chicago on Aug. 28.Several of the
CHICAGO -- The Cubs will open a nine-game National League West trip on Friday, and they packed their pajamas for the flight home from Los Angeles. Manager Joe Maddon has revived the "onesies" trip, requiring players to wear sleepwear for the flight back to Chicago on Aug. 28.
Several of the players and members of the coaching staff say they'll wear the same onesies they wore on Aug. 30, 2015. That turned into quite the pajama party because Cubs pitcher Jake Arrieta threw his first career no-hitter that night against the Dodgers.
Arrieta is not scheduled to start the Aug. 28 game at Dodger Stadium.
Maddon said he bought a new onesie for the trip, as did Kris Bryant, who picked a storm trooper-style outfit. Bryant left the onesie he wore last year at home.
"I didn't know we were going to do it again," Bryant said.
Pitcher Justin Grimm planned on keeping it simple. He was going to wear a robe and slippers, and nothing else.
• John Lackey, who is being given extra time after feeling some tightness in his right shoulder on Sunday night, has yet to throw a side session. Lackey, penciled in to start on Tuesday in San Diego, was expected to throw in the bullpen this weekend, Maddon said.
• Tommy La Stella, who ended his holdout and reported to Double-A Tennessee on Wednesday, was day to day after being hit by a pitch on the foot in his second at-bat with the Smokies. La Stella had opted to go home rather than report to the Minor Leagues when he was optioned in late July. He singled in his first at-bat on Wednesday, then was hit by a pitch and did stay in the game. However, he was lifted as a precautionary measure.