Ozuna thanks fellow All-Star Cano for guidance
Mariners' second baseman preached patience to Marlins' center fielder in offseason school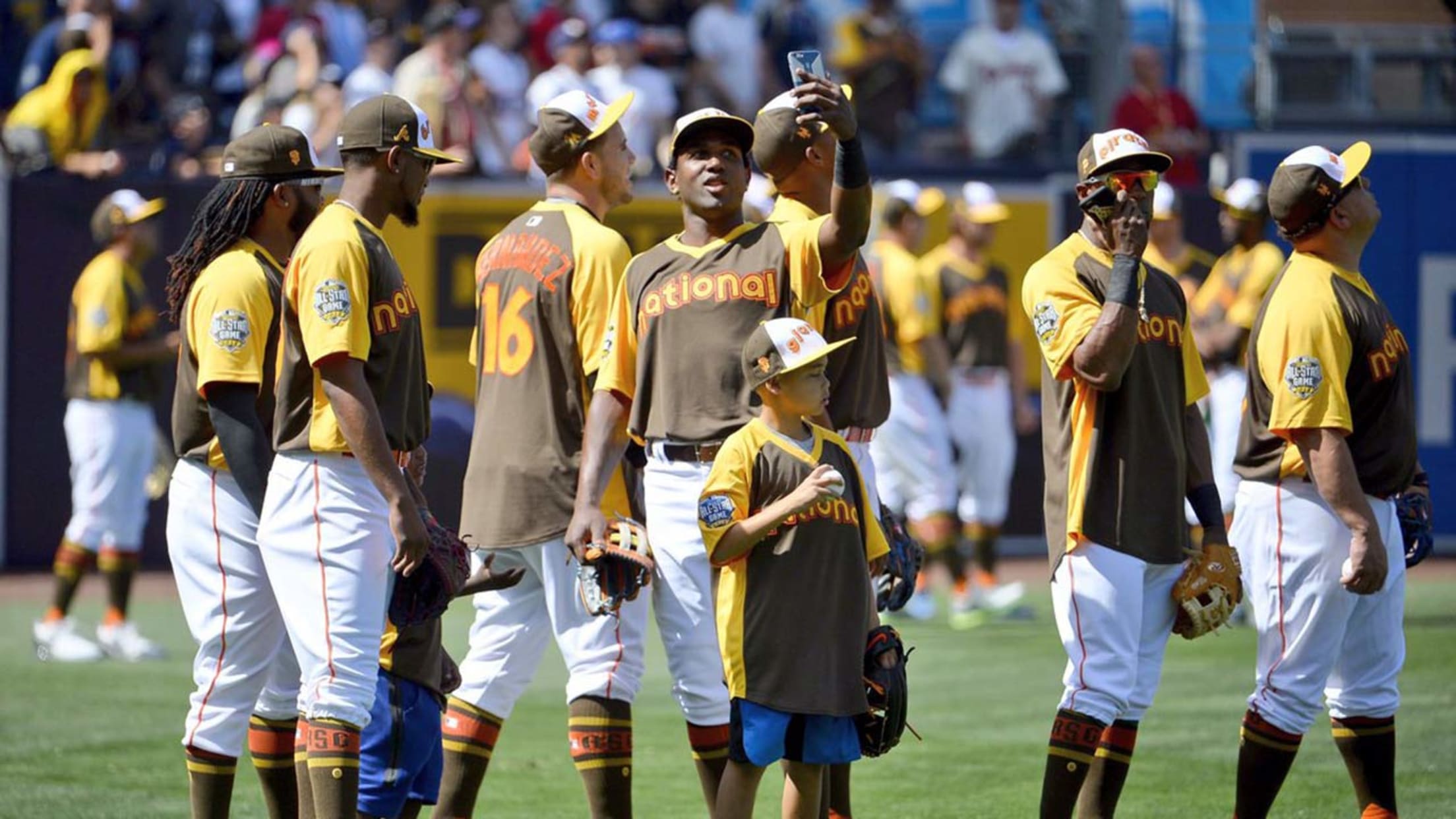 Marcell Ozuna takes in the sights and sounds at Petco Park on Monday. (Marlins)
SAN DIEGO -- A little patience is going a long way for Marlins center fielder Marcell Ozuna. The 25-year-old has made tremendous strides in one season, and he attributes part of his progression to a perennial American League All-Star.In the offseason, Ozuna worked out regularly at Robinson Cano's baseball school
SAN DIEGO -- A little patience is going a long way for Marlins center fielder Marcell Ozuna. The 25-year-old has made tremendous strides in one season, and he attributes part of his progression to a perennial American League All-Star.
In the offseason, Ozuna worked out regularly at Robinson Cano's baseball school in the Dominican Republic. Cano preached patience, and it is hard to dispute the results, because Ozuna will be representing the Marlins tonight in the National League starting lineup for the All-Star Game presented by MasterCard at Petco Park (7:30 p.m. ET on FOX).
:: Complete All-Star Game coverage ::
"We were hitting in batting practice, and Cano told me, 'You're rushing too much. You're going too fast. Go easy,'" Ozuna said. "'See how I do. I put my foot down early and just relax. When the pitcher sees you have too much intensity, they're going to make bad pitches, and you're going to swing.'"
An All-Star for the first time, Ozuna has been Miami's most productive player, batting .307 with 17 home runs and 47 RBIs. His peers noticed, and he was voted in by the players. And after Yoenis Cespedes was scratched from the game due to injury, Ozuna was named the NL's starting center fielder, and he is scheduled to hit seventh on Tuesday.
Oso is my pick for #ASG2016 MVP calling a double to right center and a deep homer on a bad breaking ball. https://t.co/ltwxyppREz

— Tom Koehler (@TKREFRESH22) July 11, 2016
Joined in San Diego by three other Marlins All-Stars -- pitchers Jose Fernandez, A.J. Ramos and Fernando Rodney -- Ozuna was able to catch up with Cano.
"He talked to me about patience," Ozuna said. "Like [Marlins hitting coach] Barry Bonds tells me all the time, 'You have to be patient and you wait for your pitch. If they're not there, don't swing. Take your walks.'"
Cano has the "RC22 Dream School" in San Pedro in the Dominican Republic. In the offseason, Ozuna, Eduardo Nunez (Twins), Jean Segura (D-Backs), Junior Lake (Blue Jays) and Pedro Ciriaco (Braves) all trained at the field.
"I'm so excited for him," Cano said on Monday. "[Ozuna] got sent down last year. To bounce back this year, he was able to put up those numbers in the first half, I'm really happy for him.
"If I would have learned back then how to be patient, I'm not going to say I would have had better numbers, but you don't know how you would do. When you have patience, you can have more walks. That's something I try to pass along and see if he can get that early in his career."
Like Ozuna, Ramos also is an All-Star for the first time. The 29-year-old closer has converted 27 of 28 save chances and has a 2.25 ERA.
"It's kind of surreal," Ramos said. "You're trying to take care of everybody that's around you, your family, and make sure they are having a good time. Now it's cool. But I think once I get to the offseason, or maybe my flight back, I'll be like, 'Wow, this is really happening.'"
Rodney, 39, is a newcomer to Miami, but no stranger to the All-Star Game or San Diego. The Marlins acquired the veteran reliever from the Padres on June 30, and he has enjoyed a terrific season, sporting a 1.04 ERA in 34 2/3 innings. Before the trade, he converted all 17 of his save chances.
"Now I'm a Marlin guy," Rodney said. "I'm happy to be back in San Diego."