Gonzales returns to form to top Halos
Left-hander records his first win since April 25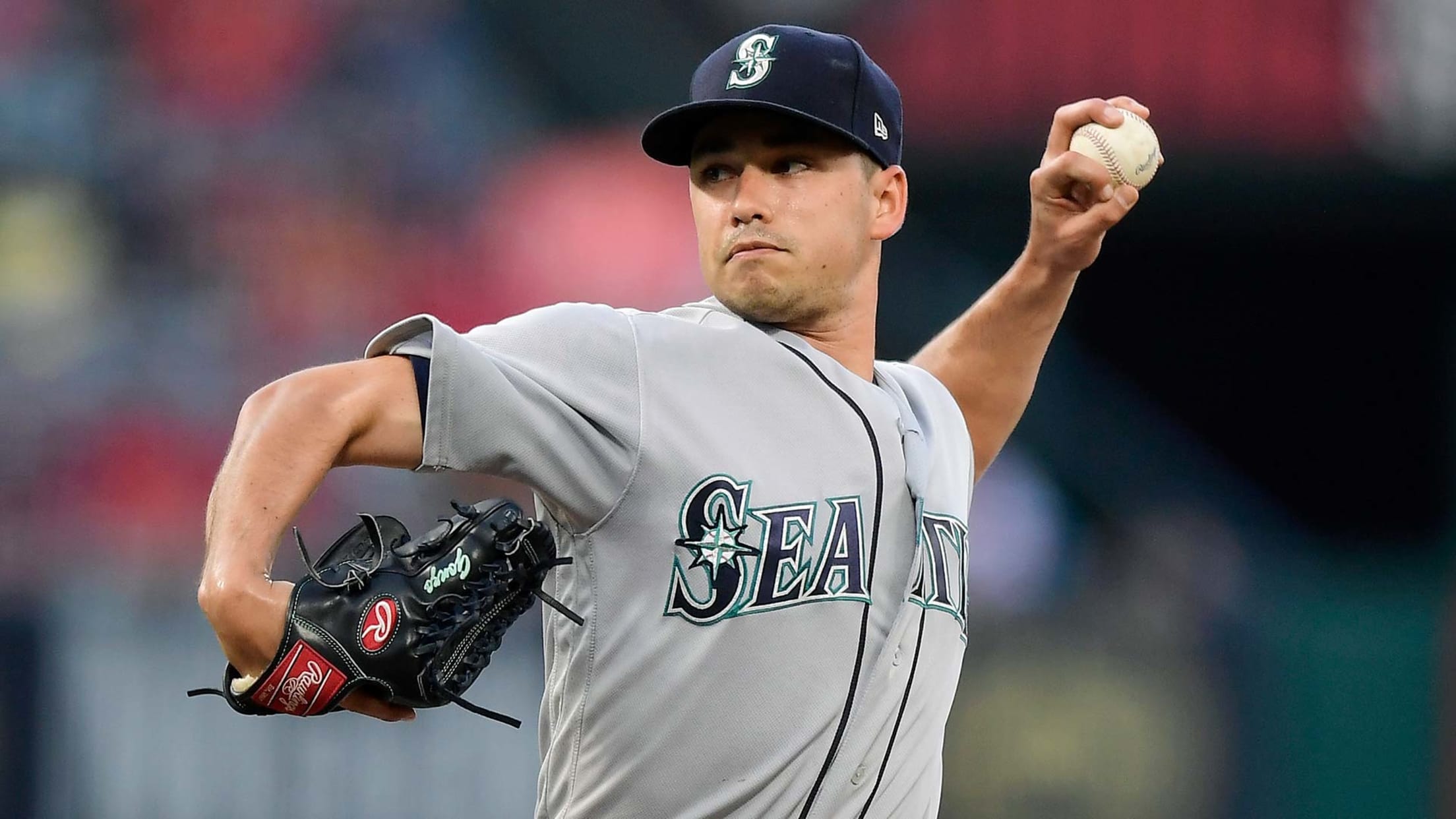 ANAHEIM -- Marco Gonzales raised a call for accountability -- starting with himself -- after a rough outing last weekend against the Angels. Then he went out and did something about it Friday in a second chance against the Halos, picking up his first win in more than a month
ANAHEIM -- Marco Gonzales raised a call for accountability -- starting with himself -- after a rough outing last weekend against the Angels. Then he went out and did something about it Friday in a second chance against the Halos, picking up his first win in more than a month in a 6-2 victory.
Gonzales' challenge came after he'd given up a career-high 10 runs on nine hits over 4 2/3 innings in a 13-3 blowout on Sunday in Seattle. He said that performance was unacceptable and he needed to be better, then went out and backed it up by allowing just two hits and two runs over 5 2/3 innings to even his record at 6-6 with a 4.77 ERA.
This performance was more like the Gonzales who opened the season going 5-0 with a 2.80 ERA in his first seven starts, as opposed to the guy who went 0-6 with a 7.79 ERA in his next seven.
"Marco is one of our leaders and he takes a lot of pride in trying to do the right thing," manager Scott Servais said. "It's frustrating when you're not producing and helping the team, and he takes it as hard as anybody. He and a few other guys in there are like that as well, which is great to see. Marco isn't afraid to step up and hold himself accountable. His stuff was really good tonight."
Gonzales worked this week to get back to making all his pitches come out of the same arm slot and get late movement, and the difference was apparent.
"Especially against the same team," Gonzales said. "It was a really similar lineup. I just wanted to correct a few things, be a little more consistent, be in the zone with all my pitches and just compete."
The Angels were left wondering what changed in five days time.
"It's hard for me to say [why he was different this time]," said Angels manager Brad Ausmus. "He pitched really well at their place early in the season, we got to him last week and he pitched well here again tonight. I don't know if we solved him a week ago or if he just had an off day. And if we did solve him, we clearly forgot what it was."
The 27-year-old got plenty of help in this one, with catcher Tom Murphy blasting a three-run homer, Domingo Santana adding a pair of solo shots and the defense stepping up behind him with an error-free game.
Those gloves had been an issue in Gonzales' previous starts, but Mallex Smith made a nice running catch in center, Santana out-wrestled a fan for a foul ball down the right-field line and rookie utility man Dylan Moore continued providing a steady hand at shortstop as he's done since taking over there for the last seven games.
It all added up to a nice start to a nine-game, 10-day road trip for a club that has struggled badly of late, and now is starting to get hit with a rash of injuries. The Mariners are now 7-4 on the season against the Angels, but just 27-40 overall. Friday's win was their fifth in the last 22 games.
"We were on all cylinders tonight," Gonzales said. "We swung the bats well and made some great plays. It was a very good team win tonight."
More pop from behind the plate
Murphy has proven to be a strong addition at backup catcher since his acquisition from the Giants in late March. His three-run homer was a critical blow in this game and he now has five home runs and is batting .297 in 23 games.
"Murph has played really good," Servais said. "He's got power and is a real competitive, intense guy. We talk about how hard he works. He's done a lot of things to change up his swing with Tim Laker and our hitting coaches and it's paid off. It's great to see."
Murphy played sparingly in four previous seasons with the Rockies and is taking advantage of his new-found opportunity.
"It means the world to me," said the 28-year-old. "It's an opportunity to go out and play in the big leagues every day. Whether I start or back up, doesn't matter to me. I'm going to come here and make the most of that opportunity."