Gonzales evolving into rotation cornerstone
Mariners counting on left-hander as major piece of rebuilding effort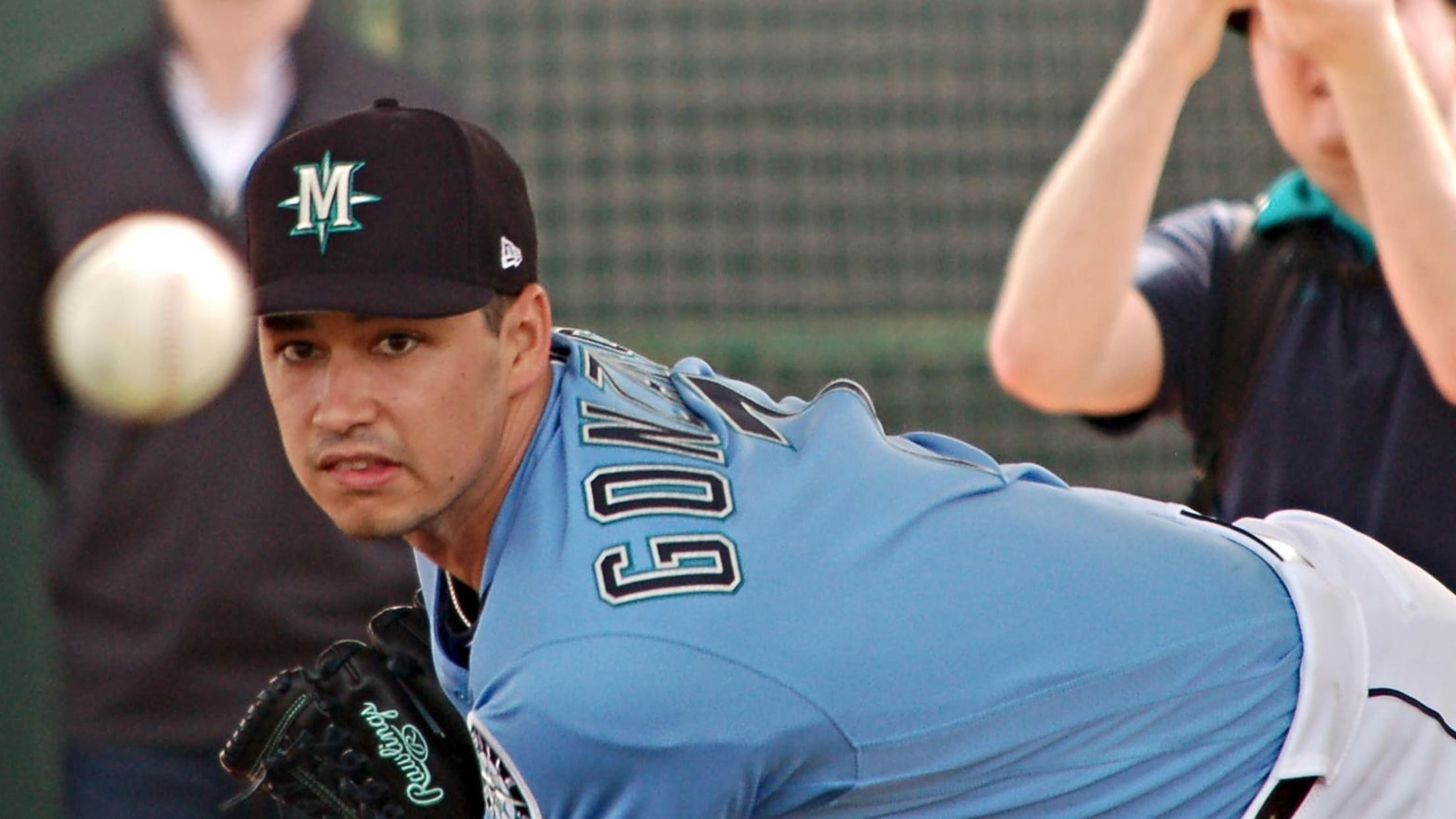 PEORIA, Ariz. -- A year ago at this time, many were wondering whether Marco Gonzales even belonged among Seattle's starting five pitchers. It seems like a lifetime ago now, but indeed, things have changed.Fast forward to 2019, as the Mariners open preparations for a new season with a fresh core
PEORIA, Ariz. -- A year ago at this time, many were wondering whether Marco Gonzales even belonged among Seattle's starting five pitchers. It seems like a lifetime ago now, but indeed, things have changed.
Fast forward to 2019, as the Mariners open preparations for a new season with a fresh core of players, the 27-year-old southpaw finds himself regarded as a cornerstone of Seattle's rebuilding process and perhaps the No. 1 pitcher now atop that rotation.
James Paxton was traded to the Yankees. Félix Hernández is coming off a difficult 2018. And Gonzales?
After leading the Mariners in wins with a 13-9 record in his first full year in the Majors and establishing himself as one of the up-and-coming lefties in the American League, the former Gonzaga standout was earmarked by general manager Jerry Dipoto as one of building blocks for the future.
Pressure? Of course. But Gonzales is more focused on further developing his array of pitches this spring than carrying the weight of the world on his shoulders.
"I'm just trying to do my part to be a part of it," he said. "I think the mission and direction we're going is the right one. I just want to help in any way I can to keep the train on the tracks. Just keep doing what I've been doing. Stick to the process, keep working hard, and I think the pieces will fall into line after that."
Gonzales finished last season with a 4.00 ERA in 29 starts, but that number was skewed by a rough August when he tried pitching through a sore arm. Take away that 0-4, 10.35 ERA month, and he went 13-5 with a 3.13 ERA in his other 25 starts, including a strong September finish.
That August blip is one of the things motivating Gonzales this spring.
"I'm trying to establish a good routine in the weight room and training room, to be able to take it with me through the whole year," he said. "I need to do a little better job of maintaining, so I can keep my steam throughout the entire season this year and finish strong. I think I had in it me, but I learned a lot about it last year. A first full season in the big leagues definitely gave me some perspective."
Clearly Gonzales finds himself in a different place this spring. Instead of a question of whether he'll be on the team, the curiosity now is whether he'll be the Opening Day starter on March 20 in Japan.
But Gonzales is quick to note he hasn't changed his approach and is taking nothing for granted.
"You don't want to feel too comfortable," he said. "You never want to settle or be content here. I'm coming in with the mentality that I've got to be prepared this camp, be ready to work. We've got games coming up fast, so I think that's where our attention is going.
"I feel more comfortable in the organization, just because I know everybody a little better. Maybe not the new players, but I know what to expect out of this camp and going forward in Seattle. I'm just excited to grow from that."
Gonzales' strength is his variety of pitches. While he doesn't blow hitters away with his 91-mph fastball, the ability to mix the heater with a quality slider, curve and changeup serves him well.
Adding to that repertoire as he gains experience can only help.
"It's more fine-tuning now, making up more stuff," he said. "I think I just need to fill up the bag of tricks and be able to mix and match however I need to be unpredictable. That's my game, so I'm just going to find new ways to get guys out and keep fine-tuning. I think that gives me a lot of creativity."
Gonzales said he loves watching and learning from veteran teammate Mike Leake.
"He's as effortless and smooth as it gets as far as mixing pitches," he said. "I want to be a guy like that. I want to be a guy who can paint, like he can."
With 43 career starts on his Major League resume, Gonzales is far behind veteran teammates Hernandez (403 starts), Leake (264) and Wade LeBlanc (106). But that youth and upside is why Gonzales and All-Star right fielder Mitch Haniger are suddenly the new nucleus.
Manager Scott Servais doesn't want that label to become a burden, however.
"I think it's really important for him just to be Marco," Servais said. "With both Marco and Mitch, guys who kind of had breakout years for us last year, there's been a lot of talk that these are the guys you want to build around. But just be who you are.
"They are starting to establish themselves in the league and they had nice seasons. Can they do it again? I know how Mitch is driven to be a little bit better. He's looking at his weaknesses. Marco is the same way. That's how they are wired. But don't lose sight of what you do well. I think both of the guys are very good competitors. I don't expect that to change."