Cy 5: Felix among aces on mound today
Arrieta, Greinke, Keuchel, Kluber also slated to pitch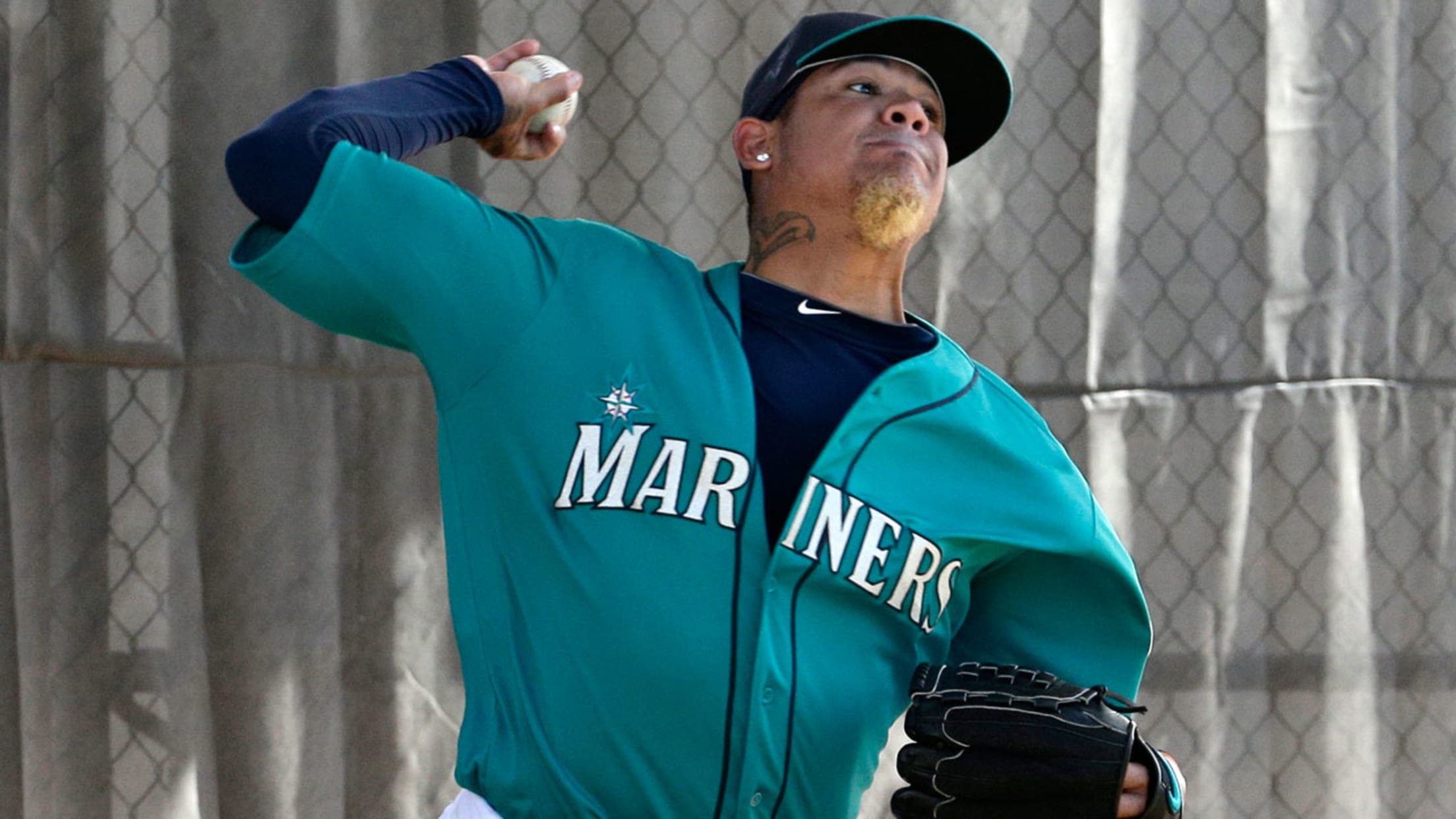 Mariners ace Felix Hernandez tossed two innings in a simulated game against Minor Leaguers last week. (AP)
Another week of Spring Training is in the books. As we inch closer to the regular season, fans can continue to get their baseball fix with all the action in the Cactus and Grapefruit Leagues.Monday's 14-game slate -- with four available for streaming live on MLB.TV -- features some of
Another week of Spring Training is in the books. As we inch closer to the regular season, fans can continue to get their baseball fix with all the action in the Cactus and Grapefruit Leagues.
Monday's 14-game slate -- with four available for streaming live on MLB.TV -- features some of the game's elite pitching talent. Five former Cy Young Award winners will toe the rubber, including Seattle's Felix Hernandez, who will be making his spring debut.
Arizona's Zack Greinke and Cleveland's Corey Kluber are also scheduled to start, along with both of last season's Cy Young Award winners: Jake Arrieta and Dallas Keuchel for the Cubs and Astros, respectively.
Here's what to watch for throughout the day (all times ET):
King Felix's spring debut: COL@SEA, 4:10 p.m., MLB.TV
The Mariners will have their ace on the mound when they host the Rockies in Peoria, Ariz. It'll be the first of four tuneups for Hernandez as he prepares for his Mariners record ninth Opening Day start.
The 29-year-old right-hander tossed two innings in a simulated game against Minor Leaguers last week, striking out five of the seven batters he faced. First-year manager Scott Servais said he's eager to finally see Hernandez in game action.
"I've always seen it from the other dugout or on TV in a different uniform," Servais said. "I'm excited and I'm sure he is as well to get it rolling."
Battle of the Bay in Mesa: SF@OAK, 10:05 p.m. MLB.TV
Bay Area clubs will meet for the first time this year under the lights at Hohokam Stadium. The evening contest features an enticing pitching matchup between ace Sonny Gray and Giants free-agent acquisition Johnny Cueto. Cueto, who signed a six-year, $130 million deal in the offseason, struggled in his spring debut last week, surrendering five runs in 1 1/3 innings.
"There were a few mistakes," Cueto said through an interpreter. "The ball was not breaking the way I wanted. But that's what Spring Training is for."
As expected, Gray was officially named the A's Opening Day starter last week, earning the assignment for a third consecutive year. Catcher Stephen Vogt will be behind the plate for the first time this spring. He's been limited to designated hitter duty as he recovers from offseason elbow surgery.
Arrieta takes the hill: SD@CHC, 4:05 p.m., Padres.com, Cubs.com
It may only be mid-March, but Arrieta already appears to be in midseason form. The reigning National League Cy Young Award winner was perfect in his Cactus League debut last week; Arrieta struck out four batters in two innings, and his fastball registered at 96 mph on the stadium's radar gun. The 30-year-old will face the Padres on Monday and is hoping to continue where he left off last year when he posted a 0.75 ERA through 15 second-half starts.
"I'm at exactly where I thought I would be," Arrieta said.
Greinke looks to stay spotless: SEA@ARI, 4:10 p.m.
Greinke will make his third start in a D-backs uniform on Monday when his new club hosts a split-squad Mariners team at Salt River Fields. Greinke, who signed with Arizona for six years, $206.5 million in December, has yet to allow a run through five Cactus League innings. For the Mariners, right-hander Taijuan Walker will make the trip to Scottsdale, Ariz., for his third outing of spring.
Kluber gets the ball: TEX@CLE, 4:05 p.m., Rangers.com, Indians.com
The Indians will send Kluber to the mound for the first of back-to-back contests against the Rangers on Monday. Kluber impressed his last time out, tossing three scoreless frames and striking out four batters. The Rangers will counter with righty A.J. Griffin as he competes for the club's No. 5 starting spot. Another Texas rotation hopeful, left-hander Cesar Ramos, is also scheduled to pitch.