Dyson hopes to be in Wednesday's lineup
Outfielder (hamstring) had 10 ABs in Monday's Minors games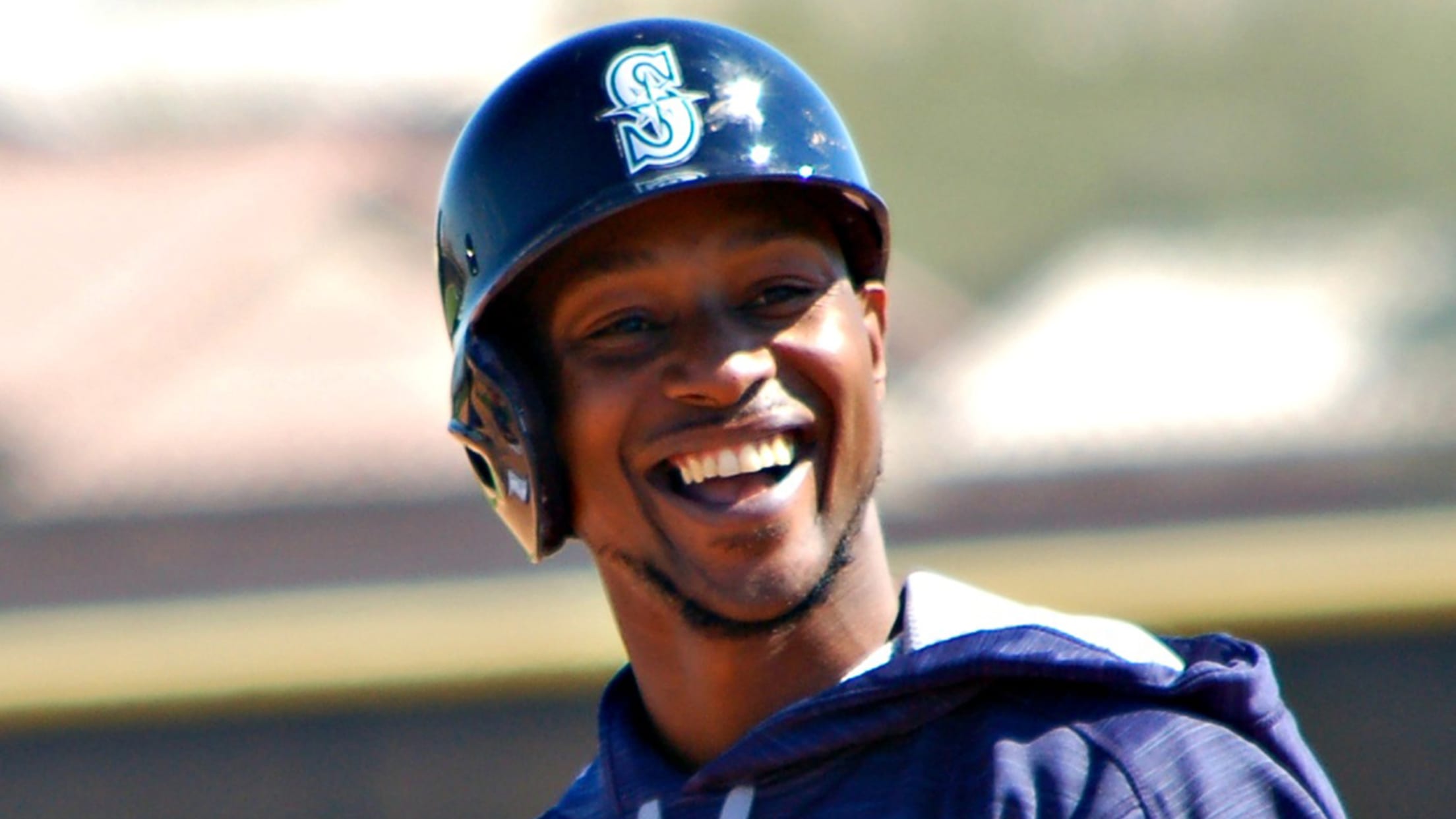 Jarrod Dyson has 176 career steals over seven seasons. (Greg Johns/MLB.com)
PEORIA, Ariz. -- The Mariners are counting on Jarrod Dyson's speed this season, so the 32-year-old left fielder is looking to get his legs as healthy as possible before Opening Day on Monday.That meant sitting out the past six days to rest a sore right hamstring before taking to a
PEORIA, Ariz. -- The Mariners are counting on Jarrod Dyson's speed this season, so the 32-year-old left fielder is looking to get his legs as healthy as possible before Opening Day on Monday.
That meant sitting out the past six days to rest a sore right hamstring before taking to a back field for 10 at-bats in Minor League games on Monday.
Dyson jogged to first on his at-bats as he led off each inning, then he was immediately replaced by a pinch-runner in the controlled environment. But he said he got six hits, including a home run on his last swing, and pronounced the day a nice step forward.
"It was a productive day," said the 5-foot-10, 165-pounder, who will lead off for the Mariners this year. "Even if I hadn't got six hits, it was still productive because I got to see live pitching. We'll see how it goes tomorrow, when I'll probably get about 10 more at-bats. I'll maybe run a little bit more and Wednesday be in the [Cactus League] lineup."
Dyson said the hamstring issue is the result of pain from his lower back extending down to the top of his right leg, which he feels when running. He has been resting and treating the injury with anti-inflammatories.
"I'm just trying to make sure I'm healthy by Opening Day," Dyson said. "It's time to go to work after that. I don't have to be 100 percent, just get me close to it. I don't think anybody plays this game at 100 percent. Just get close, where your mind isn't worried about the hammy. That's where I want to get."
Dyson also wants to be in the lineup every day, or as much as possible, which is something the Mariners are looking to do after he strictly played a platoon role with the Royals over the past seven seasons.
"I'm very pumped," Dyson said. "This is a shot for me, and I just have to take advantage of it. I do believe I can help these guys if I'm healthy, and that's the goal, to bring my game to the table every day. I want to show everybody I can play every day and they can count on me."
Manager Scott Servais has been impressed by Dyson's approach against left-handers this spring and is ready to give him that shot, if the speedster shows he can battle the southpaws better than his career numbers (.231 average) indicate.
"I never worry about that," Dyson said. "It's always thrown out there in the media that you can't hit lefties. Well, it's hard to hit anybody when you're sitting on the bench."
Greg Johns has covered the Mariners since 1997, and for MLB.com since 2011. Follow him on Twitter [
---
@GregJohnsMLB]() and listen to his podcast.