Benoit, Nuno named Mariners' setup men
Roach, Guaipe, Parker in running for final bullpen spot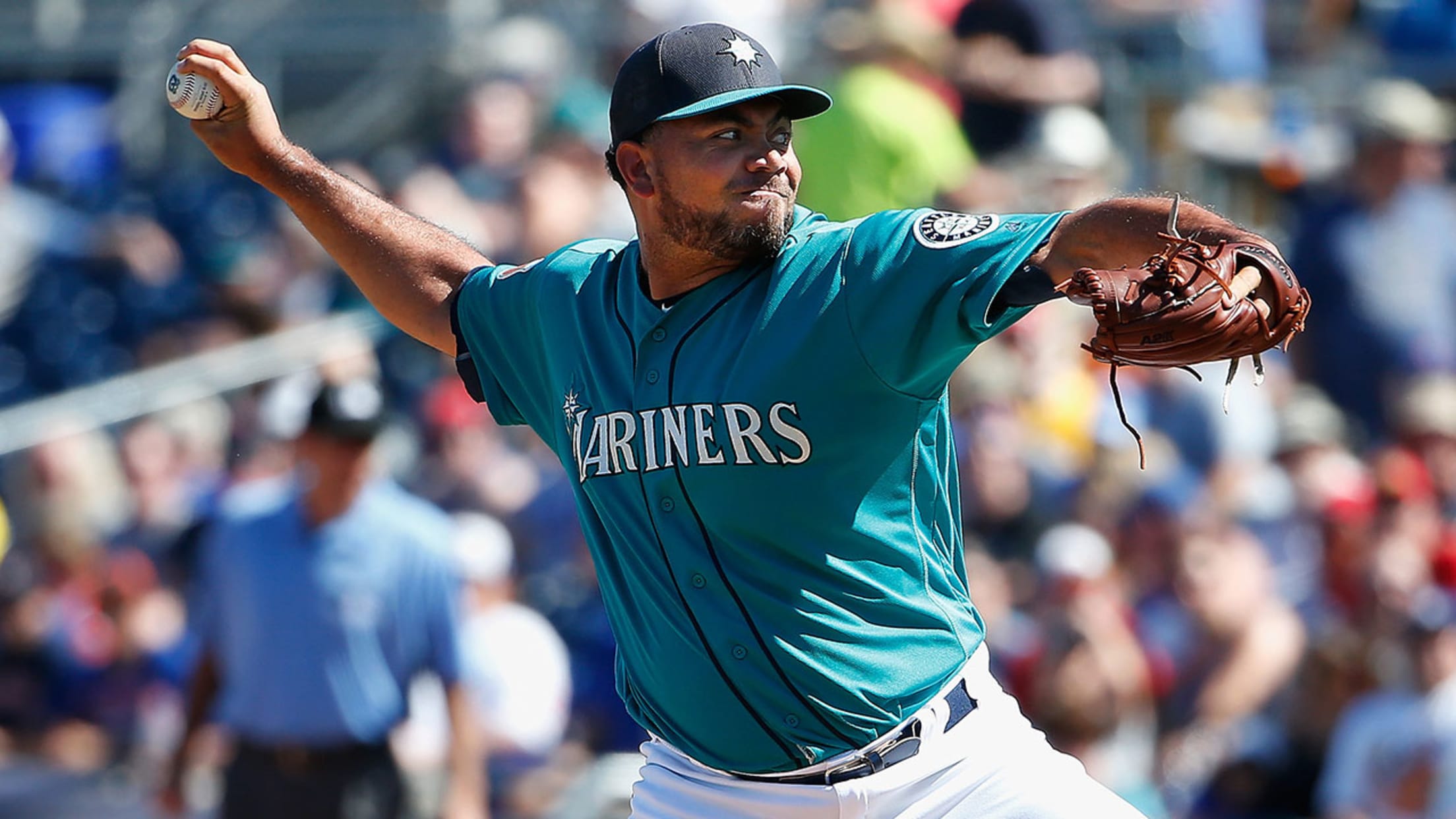 Joaquin Benoit had a 1.80 ERA through five Cactus League appearances for the Mariners this spring. (Getty Images)
PEORIA, Ariz. -- Mariners manager Scott Servais said Tuesday that Vidal Nuno will be his left-handed setup man with Charlie Furbush opening the season on the disabled list, while Joaquin Benoit will be his right-handed eighth-inning option in front of closer Steve Cishek.The Mariners bullpen has taken some hits this
PEORIA, Ariz. -- Mariners manager Scott Servais said Tuesday that Vidal Nuno will be his left-handed setup man with Charlie Furbush opening the season on the disabled list, while Joaquin Benoit will be his right-handed eighth-inning option in front of closer Steve Cishek.
The Mariners bullpen has taken some hits this spring with injuries and underperformance, but Servais said he likes how the group is setting up while acknowledging there are a couple of questions still to be answered.
Second lefty Mike Montgomery is just transitioning from a starting role, and the Mariners are looking to 40-year-old non-roster invitee Joel Peralta to fill one of their right-handed roles, along with hard-throwing rookie Tony Zych.
"I feel good about our bullpen," Servais said. "We're going to need some guys to step up, and again, it's Spring Training and everybody has had their hiccup, which typically happens. We don't know how Mike Montgomery is going to handle things if he's in that spot. Obviously Joel Peralta has been through the wars, and we're hoping we've got a few more bullets left in his gun. But I think we're in a good spot there."
The Mariners also are still sorting out their seventh bullpen spot. Right-handers Donn Roach, Mayckol Guaipe and Blake Parker are the remaining candidates, and general manager Jerry Dipoto is keeping his eye on the waiver wire and trade possibilities as other teams make their final cuts.
"Roach was the surprise of camp," Servais said of the non-roster invitee who has posted a 1.15 ERA this spring in 15 2/3 innings. "He's thrown the ball very, very well. It's been awesome.
"As you know, at the end of Spring Training, there are a lot of transactions, lots of movement among clubs. So we could have some additions yet to come in. I don't know. That's not really my job. But our right-handed bullpen, Guaipe has been good, Roach has been outstanding. There's a spot there yet to make."
Worth noting
• Third-base coach Manny Acta was the latest victim of the flu bug that continues working through Mariners camp. First-base coach Casey Candaele moved over to Acta's spot for Tuesday's game, with quality-assurance coach Chris Prieto coaching first.
• How hot is Robinson Cano? The Mariners second baseman has hit .500 (13-for-26) with seven runs, two doubles, one triple, five homers and 12 RBIs during an eight-game Cactus League hitting streak.
• The Mariners will enjoy their second -- and last -- off-day of the spring on Thursday, though Hisashi Iwakuma will be working that day with two innings in a Minor League start against the Padres' Double-A squad at the Peoria Sports Complex.