Notes: Intrasquad info; Marco starts '20 opener
Adams on mound after surgery; Nola taking reps at third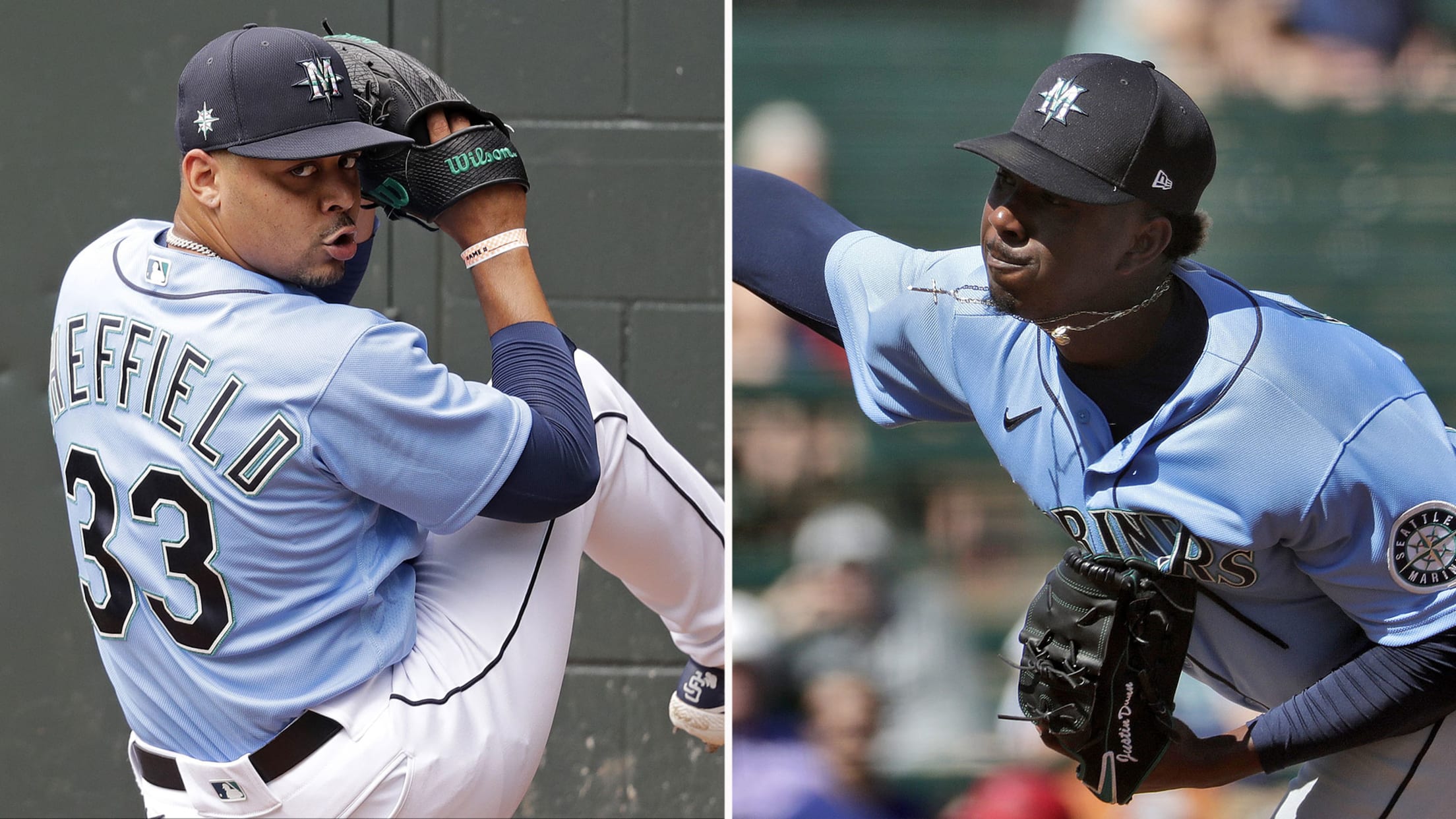 SEATTLE -- It's been four months since they last suited up for a Cactus League game, and it'll be two more weeks until their abbreviated 60-game regular season kicks off, but the Mariners will finally gear up on the field for some intrasquad competition on Friday at T-Mobile Park. Manager
SEATTLE -- It's been four months since they last suited up for a Cactus League game, and it'll be two more weeks until their abbreviated 60-game regular season kicks off, but the Mariners will finally gear up on the field for some intrasquad competition on Friday at T-Mobile Park.
Manager Scott Servais said Wednesday that rookies Justus Sheffield and Justin Dunn will get the starts and each pitch two innings, with relievers and young prospects filling out the remainder of the planned seven-inning contest.
The informal game will start at 2:30 p.m. PT and be broadcast live on 710 ESPN Seattle, with Rick Rizzs and Aaron Goldsmith calling the action.
The Mariners will play intrasquad games every afternoon or evening for the remainder of Summer Camp leading up to their July 24 opener at Houston. Teams are allowed three exhibition games against other Major League teams prior to Opening Day, but the Mariners are sticking strictly to intrasquad competitions because no other MLB franchises are working out near Seattle in the revamped Summer Camps.
Saturday's intrasquad game will also be pitched primarily by relievers, with Marco Gonzales slated to be one of the starters on Sunday.
Marco to face Astros in opener
Servais also confirmed that Gonzales will be the Mariners' Opening Day starter against the Astros at Minute Maid Park, as expected.
Gonzales pitched two Opening Day games last year, a 9-7 victory in Tokyo against the A's in the Opening Series and again a week later when Seattle debuted its home season with a 12-4 victory over the Red Sox.
"Just one Opening Day this year," Servais said. "He's capable and looking forward to it. He's really focused in right now. All of our starters are, knowing they don't have much time to get ready."
He's ready. 😤 #OpeningDay pic.twitter.com/L4272A8KXi

— Seattle Mariners (@Mariners) July 8, 2020
Mariners announce three positive COVID-19 tests
While the Mariners are prohibited from identifying specific names, the club announced Wednesday that of the 122 COVID-19 "intake" tests given to players and staff last week, three turned up positive.
All three people who tested positive are asymptomatic, according to a team spokesman, but they must remain in self-quarantine until they pass two tests and clear MLB protocols to join the team for workouts at T-Mobile Park.
"We have been very fortunate in the fact that, to this point, we are particularly healthy," general manager Jerry Dipoto said. "We're obviously not completely healthy, which is consistent with 30 teams in the league, but we're very encouraged by what this means for the Mariners. And we're just trying to familiarize ourselves with how to make sure that remains the case as best we can."
Adams makes first mound appearance since surgery
Reliever Austin Adams was one of the handful of pitchers facing hitters for the first time on Wednesday in a live batting practice session, but for Adams it was more than just the restart of camp.
Adams hadn't been on a big league mound since tearing the ACL in his left knee in a game at Baltimore last Sept. 21, but he worked diligently during MLB's 3 1/2-month shutdown and is full go now in Summer Camp.
Other than giving up a long home run to rookie Kyle Lewis to right-center, it was a hugely successful return for Adams. The 29-year-old figures prominently in Seattle's bullpen plans as a late-inning option after an impressive year in 2019, when he ranked third in the American League among relievers (facing at least 100 batters) in strikeout ratio at 14.8 per nine innings (51 in 31 innings) with a 3.77 ERA.
While most players dealt with the frustration of the lengthy lockdown, things worked out perfectly for Adams as he used the time to recover and now will hit the ground running.
"For me, I had baseball taken away from me on Sept. 21," Adams said. "So throughout all this, there were days I woke up sore and it was like, 'Hey, I'd much rather be in this position right now than on the operating table like I was on Oct. 15. So I'm just really grateful that I'm back here and given this opportunity."
Austin Adams, returning from October knee surgery, throwing his first live BP outing against Braden Bishop. Good to see Adams back on the mound. Big part of Mariners bullpen plans. pic.twitter.com/HSPTc2g83D

— Greg Johns (@GregJohnsMLB) July 8, 2020
Nola could see time at third base
When the Mariners traded Omar Narváez to the Brewers last winter, it opened the door for Tom Murphy and Austin Nola to split the Mariners' catching duties. But the versatile Nola -- who came up in the Minors as a shortstop and started 44 games at first base and 13 at second base for Seattle last year -- won't be strictly confined to backstop work in 2020.
The 30-year-old took ground balls at third base on Tuesday, and Servais said he could see time there as Kyle Seager's backup if needed -- noting the Mariners play 20 games in 20 days to open the season and will need to give players occasional time off.
"He can go over there and grab an infield glove and look like he's been there the whole time," Servais said. "He jumped in there yesterday and looked as polished as anybody on the field."
Short takes from T-Mobile Park
• Outfielder Jake Fraley was back on the field and taking part in drills on Wednesday after being beaned by hard-throwing reliever Gerson Bautista in a Tuesday batting practice session. Fraley was walked to the clubhouse by trainer Matt Toth after taking a glancing blow off the helmet, but passed the concussion protocol.
• Bautista dealt with a hip issue later in that same session after fielding a bunt, but was also fine on Wednesday, according to Servais.
• Yusei Kikuchi faced live batters for the first time Wednesday and said he felt sharp, hitting 95 mph with his fastball after getting warm. The lefty said his first intrasquad action is scheduled for Tuesday.