Six steals, Iwakuma's sharp debut fuel Seattle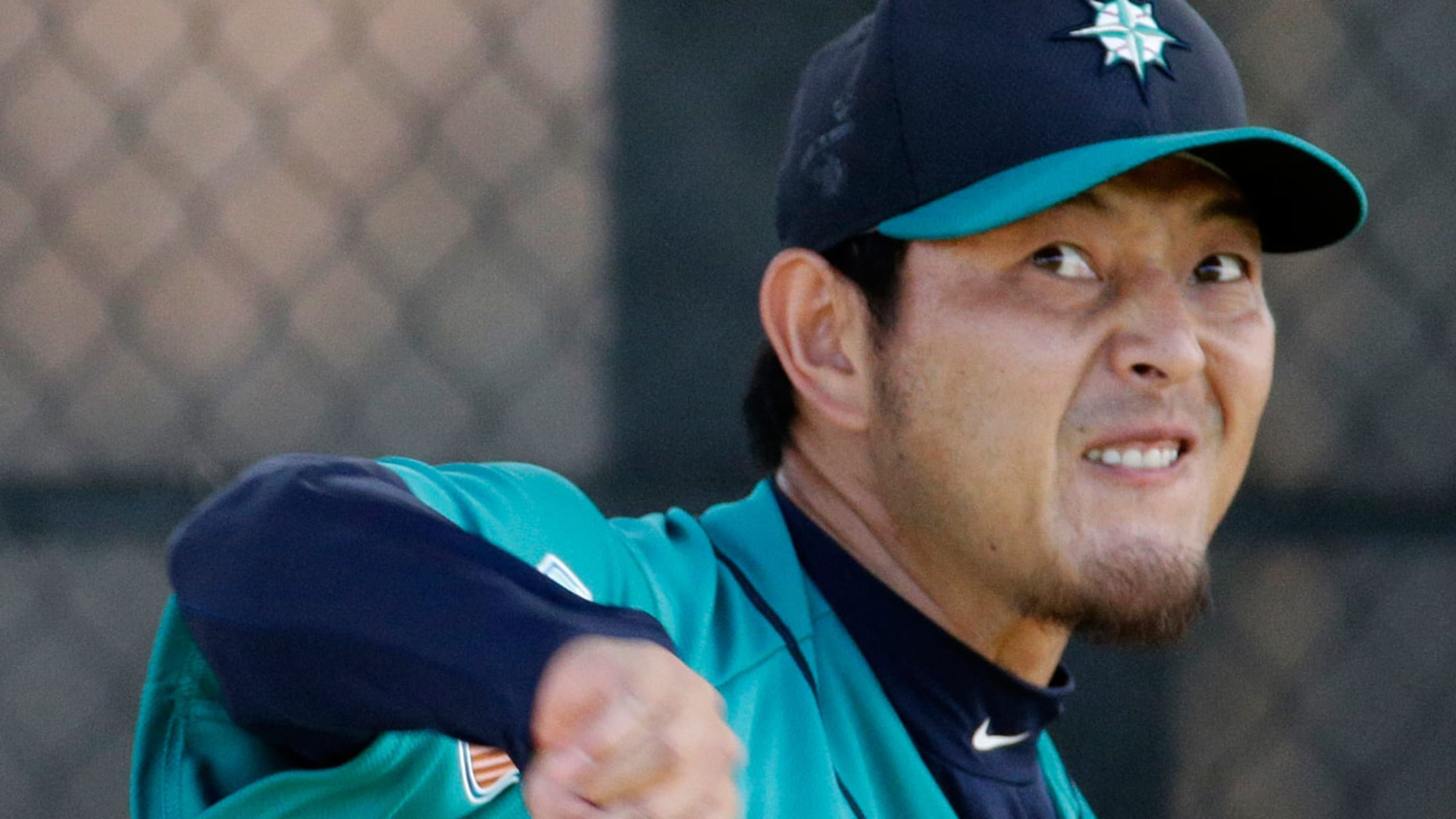 Hisashi Iwakuma retired all six batters he faced in Sunday's Cactus League game vs. Texas. (AP) (AP)
SURPRISE, Ariz. -- The Seattle Mariners ran away from the Rangers in a 7-3 win over their American League West rivals on Sunday in Surprise Stadium. Six stolen bases and 14 hits by the Seattle offense led to the victory.For the Mariners, the game was the spring debut of starter
SURPRISE, Ariz. -- The Seattle Mariners ran away from the Rangers in a 7-3 win over their American League West rivals on Sunday in Surprise Stadium. Six stolen bases and 14 hits by the Seattle offense led to the victory.
For the Mariners, the game was the spring debut of starter Hisashi Iwakuma, who pitched two perfect innings, and for Korean slugger Dae-Ho Lee, whom the Mariners signed to a Minor League deal. Lee walked in his first at-bat and grounded out in his other two plate appearances.
"It was fun to see our guys run the bases," said Mariners manager Scott Servais, whose club had stolen just two bases in the first four Cactus League games. "That was the highlight of the day for me. That's how our team is built this year, so it was fun to finally get opportunities for guys to run. They were getting on base. We want to be able to be more uncomfortable to play against."
Rangers starter Nick Tepesch, who is competing for the fifth spot in the Texas rotation, had a tough outing, giving up three runs on four hits and two walks while Seattle scampered around the bases, with two early steals by Leonys Martin and a stolen base each for Luis Sardinas and Shawn O'Malley. The Mariners added a double steal in the sixth inning that led to RBI hits by Martin and Chris Taylor. Tim Lopes tripled home a run in the eighth.
Sardinas, a 22-year-old competing for a Mariners utility infielder role, went 2-for-3 with a double and two runs and is now 7-for-12 with three doubles this spring. He was acquired from the Brewers in a trade for Ramon Flores. Mariners leadoff man Nori Aoki got his first hit of the spring after an 0-for-6 start.
Adrian Beltre doubled down the left-field line in the fifth inning for Texas, which led to the Rangers' first run, and Chris Gimenez doubled home their second run in the sixth. Nomar Mazara added a run-scoring single in the sixth for his sixth RBI of the spring.
Rangers pitcher A.J. Griffin, who hasn't pitched in a big league game since 2013 because of elbow and shoulder surgeries, made his spring debut by pitching a perfect seventh.
"As far as … controlling the running game, one of the things I allow these guys to do is to go ahead and work on their tempo early on and then get involved in how we control the running game," Rangers manager Jeff Banister said. "So really that wasn't much of a concern for me today."
Up next for the Mariners: Left-hander James Paxton makes his second Cactus League start in Monday's 12:10 p.m. PT game against the D-backs at Peoria Stadium. Paxton threw two scoreless innings with no hits and one walk in his debut against the Padres as he looks to stake a claim for Seattle's final rotation berth. He's slated for three innings, with Donn Roach and Mayckol Guaipe among the scheduled relievers.
Up next for the Rangers: Veteran right-hander Colby Lewis will make his second start of the Cactus League slate on Monday in a 1:05 p.m. MT home start against the San Francisco Giants at Surprise Stadium. Lewis debuted in the club's spring opener and threw two shutout innings. Lewis is scheduled to be followed by right-hander Anthony Ranaudo, lefty Yohander Mendez and righties Myles Jaye and Francisco Mendoza.