Cruz, Mariners deliver big on Education Day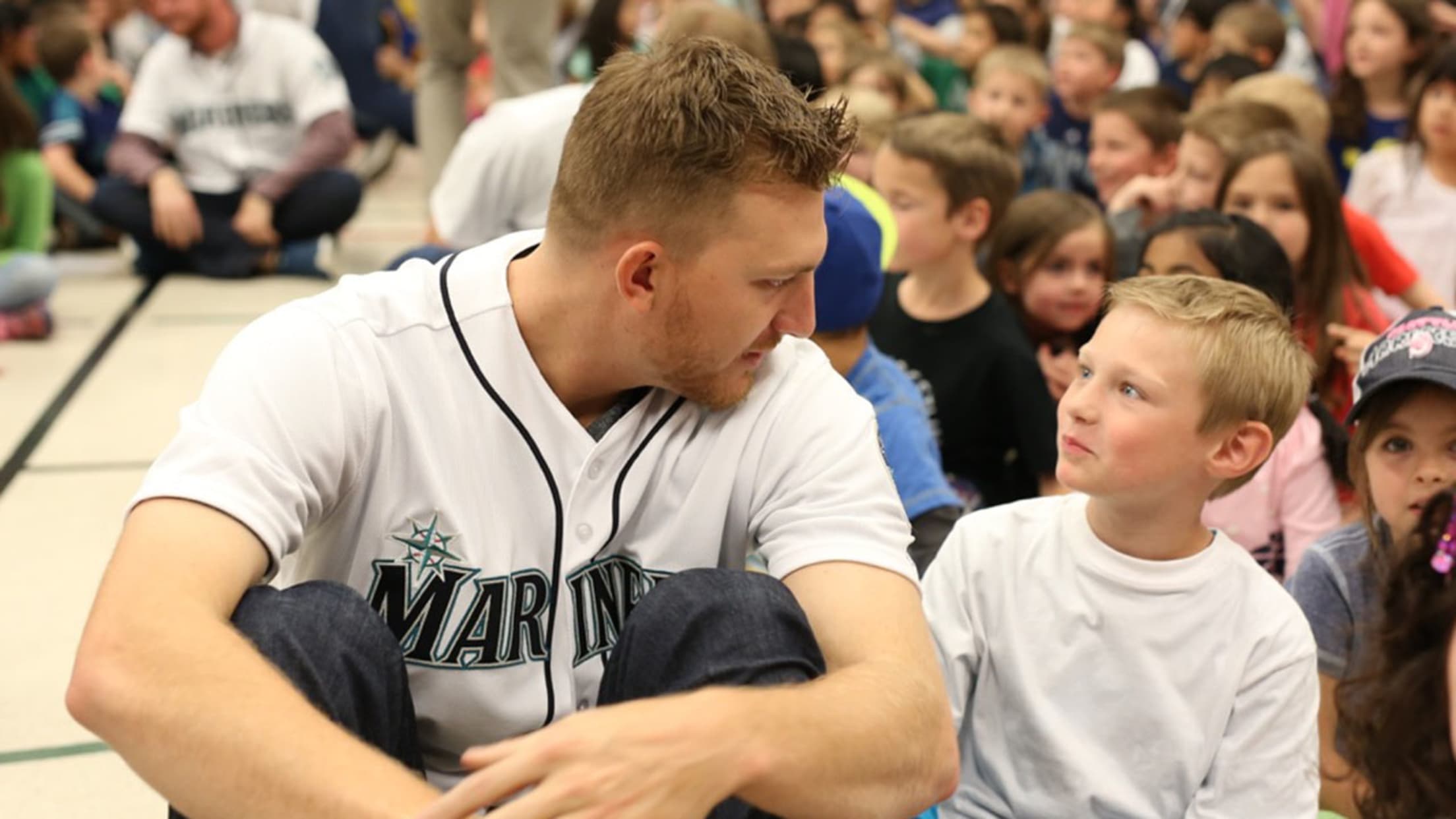 Mariners pitcher Mike Montgomery and his Mariners teammates spoke to area children on Tuesday as part of the team's Education Day "Dream Team" assemblies. (Mariners)
SEATTLE -- When Nelson Cruz stands up and talks to kids about the importance of staying in school and getting their education, the Mariners slugger is speaking from the heart.As the son of two school teachers in the Dominican Republic, Cruz had to finish high school before his parents would
SEATTLE -- When Nelson Cruz stands up and talks to kids about the importance of staying in school and getting their education, the Mariners slugger is speaking from the heart.
As the son of two school teachers in the Dominican Republic, Cruz had to finish high school before his parents would let him join the Mets baseball academy in his home country after signing with them.
Cruz and his Mariners teammates fanned out Tuesday to deliver that message and more to elementary students at four area schools as part of the team's Education Day "Dream Team" assemblies, a tradition now in its 19th year.
• Mariners Education Day gallery
"I have kids. I love kids," said Cruz, a father of two. "To be able to help any way you can is always good. They see us as role models, so it's nice to go there and show them that we are human and anyone can make it. If we make it, anyone can make it."
The Mariners put on assemblies at Van Asselt and Roxhill elementary schools in Seattle, Concord International School in Seattle and Challenger Elementary in Issaquah.
"It's very important and I think it's good for our players to do as well," said first-year manager Scott Servais, who spoke to about 550 kids in the Van Asselt event. "It's something I was a big proponent of when I was overseeing Minor League affiliates [with the Rangers and Angels]. It's important for those [young players] to get out in the smaller communities so when they get to the big community, they're comfortable doing it. They've done it before. It's fun to see some of our players react in those settings. It was a good experience."
Reliever Nick Vincent attended the Issaquah program and said the excitement of the youngsters was contagious.
"It's always good getting out to the schools and getting the kids all hyped up," he said. "It's cool seeing them smile and get excited."
With so many new players on this year's team, Servais has made a point of his players getting to know each other better to form a solid bond in the clubhouse. Vincent, acquired from the Padres in March, said it's also good for new players like himself to get to know their surrounding area and fans as well.
"The closer the community gets to the players, the more they're going to watch games and come to games and the more they're going to look up to guys and try to be like guys," Vincent said. "It's definitely cool when you can bridge that gap between players and fans. It's not every day you get to see a Major League player at your school. The principal was a huge Mariners fan and she was really excited and everybody had a good time. It was a good day."
The "Dream Team" program stresses the importance of the following: being Drug-free, Respect for yourself and others, Education, Attitude and Motivation. Different players spoke to each of five principals and Cruz was glad he drew education.
"That's important, no doubt," said Cruz, a four-time All-Star. "If you want to be successful, even in the big leagues, it's not just about playing baseball. There's so much now involved outside the game that you have to be aware of.
"That's one of the main reasons I have my foundation, to make sure kids finish school," Cruz said. "If they have a diploma, they can go work. Even in baseball, not everyone who signs can make it to the big leagues and make that money. Kids need something in the bag that they can go grab and keep living their lives."
Greg Johns has covered the Mariners since 1997, and for MLB.com since 2011. Follow him on Twitter [
---
@GregJohnsMLB]() and listen to his podcast.