Marlins continue collegiate trend on Day 3
Miami takes only eight prep players of its 41 picks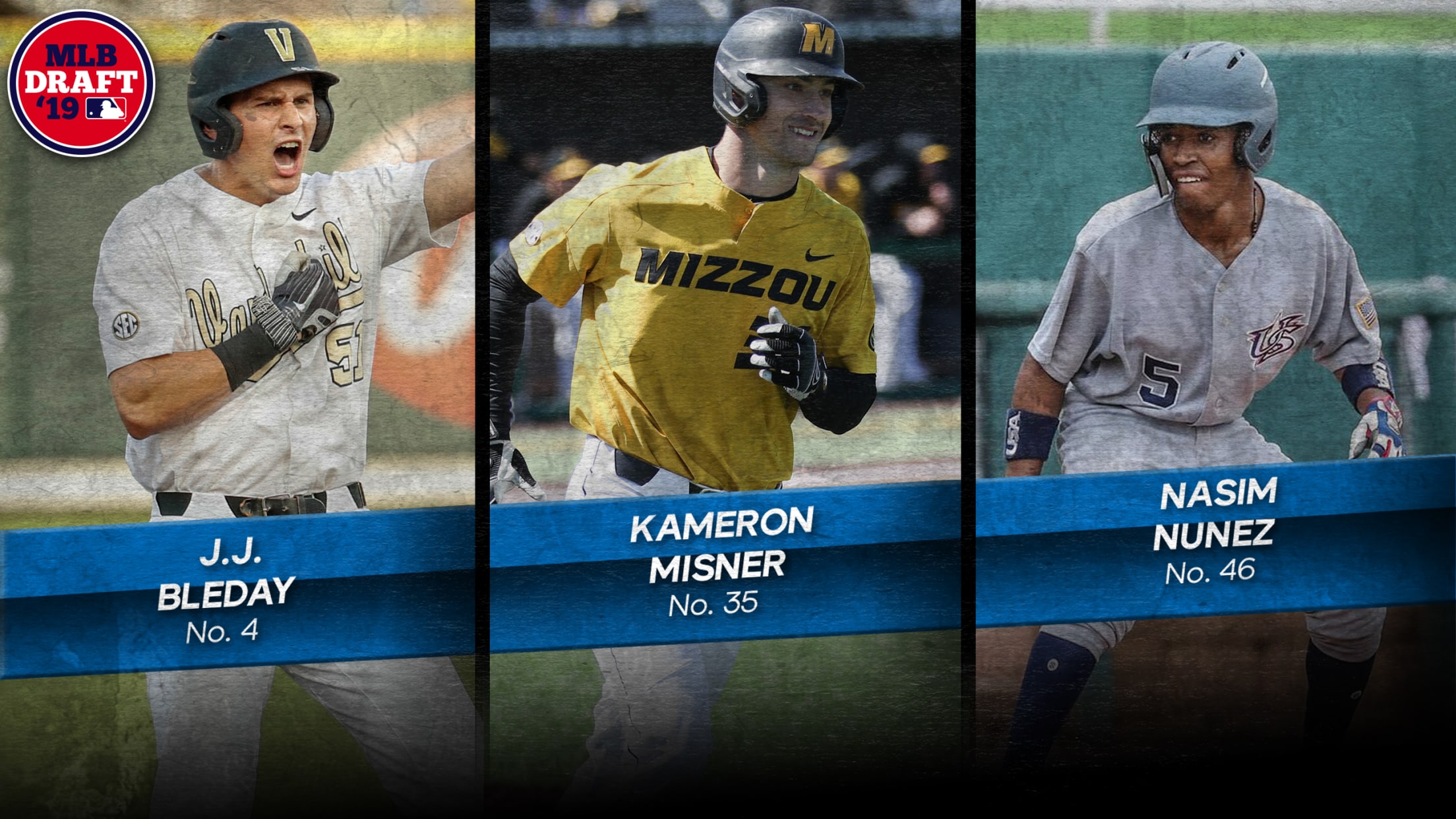 MILWAUKEE -- A focus on college players and position players known for putting the ball in play were two of the overriding themes for the Marlins in the three-day 2019 MLB Draft that concluded on Wednesday with rounds 11-40. From the fourth overall pick, Vanderbilt outfielder JJ Bleday, to their
MILWAUKEE -- A focus on college players and position players known for putting the ball in play were two of the overriding themes for the Marlins in the three-day 2019 MLB Draft that concluded on Wednesday with rounds 11-40.
From the fourth overall pick, Vanderbilt outfielder JJ Bleday, to their 40th-rounder, right-hander Kade Mechals from Grand Canyon University, the Marlins loaded up on collegiate level players. Of their 41 total picks, 33 were either from four-year or junior colleges, and eight from high schools.
In all, 18 pitchers, 10 infielders, nine outfielders and four catchers were taken.
Going so heavily on collegiate talent is a shift from 2018, when Miami's top three choices were all high school players, headlined by first-round outfielder Connor Scott.
Bleday, who paced the NCAA in home runs with 26, headlines the Marlins' Draft. The left-handed-hitting outfielder has an advanced hitting approach, as well as the experience of playing last offseason in the wood bat Cape Cod League.
"When you're playing with a wood bat and playing every day against some of the best competition, it only builds your confidence, regardless of the result," Bleday said. "You're just out there having a good time. It's a lot like pro ball, where you're out there every day. You're on your own. You've got to take care of yourself. You've got to take care of your body, take care of your diet. It's a good learning experience."
• Marlins get their prize in JJ Bleday at No. 4
The highest drafted prep player on Miami's board is second rounder, infielder Nasim Nunez from Collins (Ga.) High School.
"After we took JJ Bleday, we just tried to take the most impactful players," Marlins director of amateur scouting DV Svihlik said. "We intended to fall college, but there were a lot of high school players we liked as well. It just didn't quite fall right. One of the most exciting players we took is a high school player, Nasim Nunez, extremely charismatic. A monstrous speed tool, highly versatile. Absolutely loves to play. Makes other players around him better. The other guys, it's just the way it falls sometimes in the Draft."
In their second year of their building process, the Marlins are banking on their 2019 Draft class stocking their system with talent. Because so many players have played above the high school level, many will filter onto the rosters of Class A Short Season Batavia, Class A Clinton and Class A Advanced Jupiter.
On Day 3, the Marlins selected a local college outfielder who has a tie to professional ball in South Florida. In the 28th round, they selected Lorenzo Hampton Jr. from Florida International University. Hampton, who played in high school at Miami Pace, is the son of former Miami Dolphins running back Lorenzo Hampton.
With the growing importance of bullpens at the big league level, the Marlins even took an approach to target pitchers who could profile as relievers down the line, although they will be given chances to start.
"When the Draft starts to unfold, the reality of this whole thing that is very, very difficult, is exceedingly difficult, to go out and watch players and say, 'Oh yeah, he's going to be a starter in the Major Leagues,'" Svihlik said. "That's a very rare thing. That typically happens on Day 1, when you watch those guys who are getting multiple millions of dollars. That are clearly profile starters in the Major Leagues."
• 10 things to know about JJ Bleday
That doesn't mean some pitchers who project as bullpen pieces won't start in rotations, at least early in their professional careers.
"Certainly, you want to think about starters, you always do, and we are going to run these guys out as starters -- a lot of them," Svihlik said. "But you also have to acknowledge that most of them don't end up as starters for any organization."
But at least two top 10 pitchers will be given every chance to start -- fifth rounder Evan Fitterer, a right-hander from Aliso Niguel (Calif.) High School, and University of Louisville's Bryan Hoeing (seventh rounder).
"They come in different types of packages once the Draft starts to unfold," Svihlik said. "Evan Fitterer and Bryan Hoeing, we are looking at them as starters."