As advertised: Straily demonstrates ability
Throwing strikes and changing speeds, righty shows why Marlins acquired him from Cincy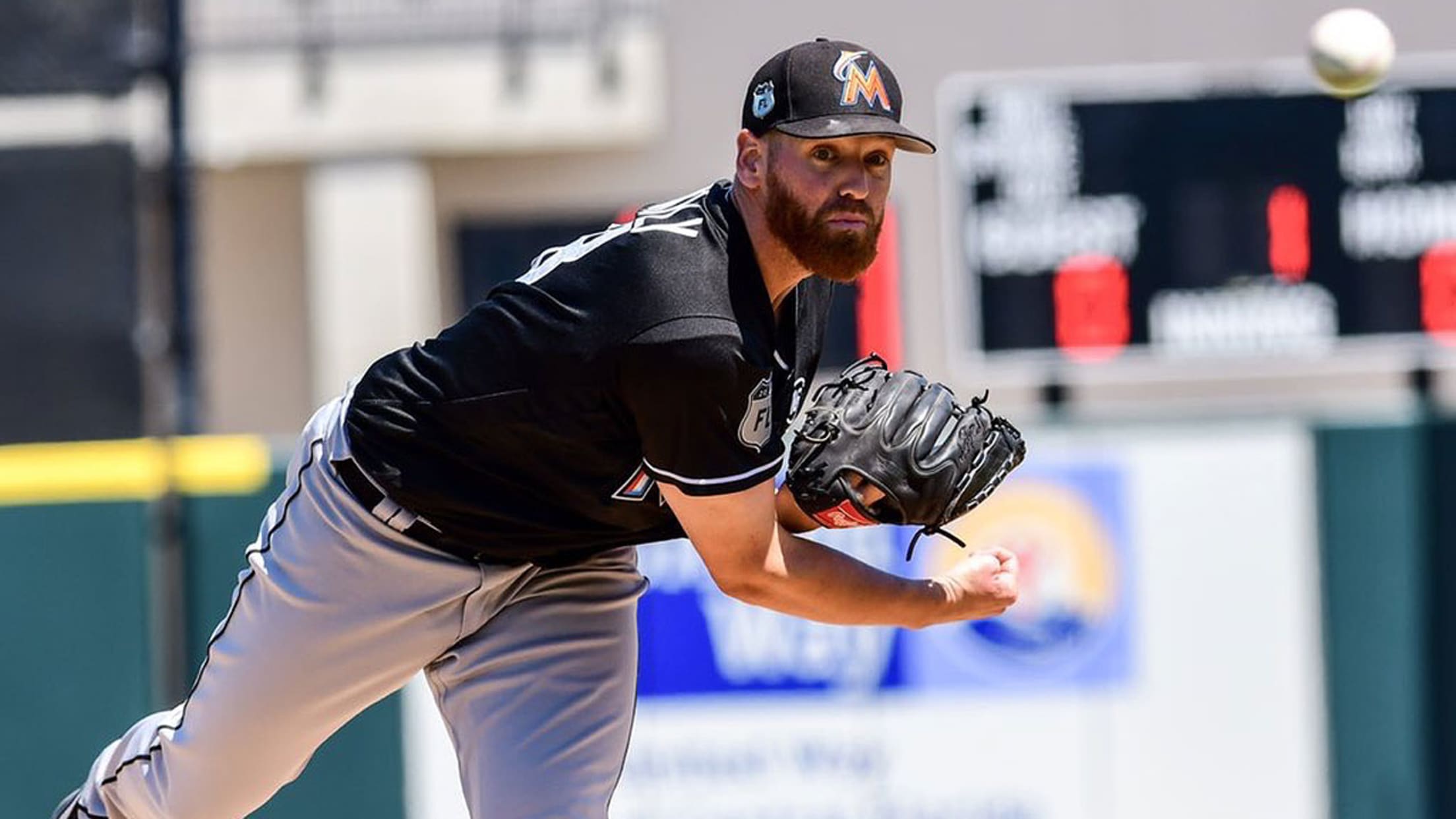 Dan Straily: "I just wanted to get out there and pitch with a little adrenaline, and pitch in front of a crowd." (Joshua Cataldo/Miami Marlins)
LAKELAND, Fla. -- The performance Dan Straily turned in on Saturday afternoon is what the Marlins anticipated when they acquired him from the Reds in January.Throwing strikes and changing speeds, the right-hander allowed one run with six strikeouts over five innings in the Marlins' 5-4 loss to the Tigers at
LAKELAND, Fla. -- The performance Dan Straily turned in on Saturday afternoon is what the Marlins anticipated when they acquired him from the Reds in January.
Throwing strikes and changing speeds, the right-hander allowed one run with six strikeouts over five innings in the Marlins' 5-4 loss to the Tigers at Publix Field.
Matched against Justin Verlander, Straily was lifted after 64 pitches and just after his team went ahead, 2-1, in the sixth.
"I just wanted to get out there and pitch with a little adrenaline, and pitch in front of a crowd," Straily said. "I came up here, and yeah, everything went pretty good. Came in with a plan and tried to execute it."
Saturday was Straily's first Grapefruit League action since March 2. In recent weeks, he was facing Minor Leaguers on back fields at the Roger Dean Stadium complex in Jupiter, Fla.
"I struggle with, 'Just go work on a pitch selection,'" Straily said. "I need some sort of plan. Even if we sit down and draw up on paper, 'We're going to pitch this guy, that guy these pitches,' I just need something to focus on in a game.
"Today, I did some homework for this team. Watched some video."
Saturday's outing did begin with a bit of bad luck for Straily, who issued a leadoff bloop-double to Omar Infante. But Detroit did no further damage in the inning, as Straily struck out Andrew Romine swinging and Alex Presley looking.
"He's a guy that is going to add and subtract, and change speeds," manager Don Mattingly said. "Those are the kind of guys who don't just go out there and throw. They want to be able to do certain things to certain guys."
Straily settled and retired 10 straight before Presley's one-out homer in the fourth inning.
The home run plagued Straily last year in Cincinnati, when he gave up 31 -- 24 of them solo shots, according to Baseball Reference -- in 191 1/3 innings. Max Scherzer of the Nationals, the National League Cy Young Award winner, also surrendered 31 homers, in 228 1/3 innings.
In 2016, Straily impressed with a 14-8 record and 3.76 ERA in 34 games (31 starts). But his home runs per nine innings were 1.46, the ninth most in the Majors among qualifying starters.
Yielding the long ball also was a product, Straily contends, of pitching almost 200 innings.
"We live in an analytical world," the right-hander said. "We like home runs per nine. Yeah, it still wasn't great. I want to be better. Hopefully, pitching in [Marlins Park] and pitching in this division will help it out a little bit."