Grissom on scouts, young talent connecting at tourney
MLB veteran supporting players at Perfect Game Underclass World Championship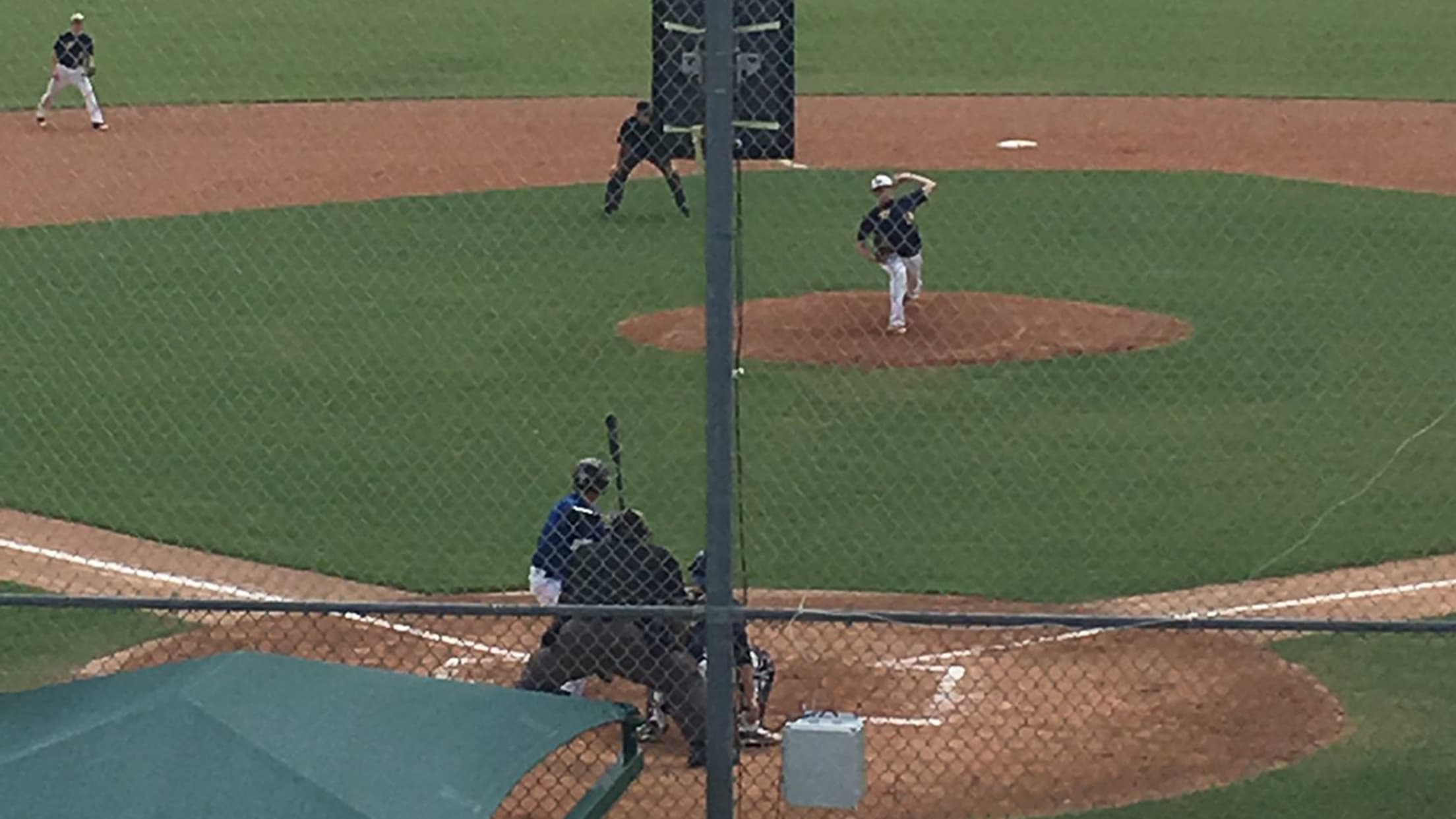 The Perfect Game Underclass World Championship began on Thursday in Fort Myers, Fla. (PerfectGameUSA Twitter)
For Marquis Grissom, this time of year is "the good stuff."In 1995, he caught the last out of the World Series for the Braves. In '96, he hit .444 in the World Series for the Braves, but they fell short against the Yankees. In '97, he was the American League
For Marquis Grissom, this time of year is "the good stuff."
In 1995, he caught the last out of the World Series for the Braves. In '96, he hit .444 in the World Series for the Braves, but they fell short against the Yankees. In '97, he was the American League Championship Series MVP for Cleveland and reached a third consecutive Fall Classic.
"The Orioles-Blue Jays game the other night, I caught the last three innings and just felt the excitement," Grissom said. "Being a former player, having an idea what's in their heads, things they should have done, second-guessing everybody like other fans do. This is the greatest time of the year for baseball, for me. I love when the lights are on. It's a time to jump in and catch as many games as I can."
That is the kind of passion for baseball and life that the former 17-year veteran outfielder was known for, and it what he hopes to instill in the aspiring teenagers he has with him right now in Fort Myers, Fla. USA Baseball, in cooperation with Major League Baseball, is funding the costs (travel and participation) for nearly two dozen young men, ages 15-17 -- including five from the Marquis Grissom Baseball Association in Atlanta -- to compete in the premier Perfect Game Underclass World Championship from Thursday through Monday.
These players come from diverse backgrounds (African-American, Latino, Asian-American) throughout the U.S. and were hand-selected after participating in the Elite Development Invitational in July 2016. One of the oft-cited challenges for youth ballplayers from diverse backgrounds to reach the elite levels of the game is the cost associated with programs like scouting showcases. MLB and USA Baseball are hoping to offset that issue for this group and increase their visibility among professional and college scouts.
"It's almost like a dream come true, to get these kids an opportunity to not only just learn but also to display their talent in this type of showcase," Grissom said. "One of the big reasons I started my organization (with brother Antonio) 10 years ago was to give these kids an opportunity to get exposure. Those players are some of the best kids around the country, and it's a chance to travel and see different types of environments, different people. You learn how to adjust to the elements you are in. So this is huge for me, for USA Baseball and MLB to help make this possible. I'm more elated about the chance these kids get for exposure and playing in front of these college coaches. A lot of our kids don't get that opportunity."
Grissom's quintet includes his 15-year-old son Marquis Jr., a right-handed pitcher; catcher Taj Bradley (15), outfielder Allen Grier (15), third baseman and right-handed pitcher Hunter Todd (16) and Ga'Von Wray, a 15-year-old right-hander.
"I see a bunch of enthusiastic kids," Grissom said. "The majority of them love the game of baseball but don't quite understand the effort you have to put in it. Hopefully we can narrow that gap between their baseball IQ and putting in the work you have to do to be fundamentally sound. Attitude is everything, but so is being fundamentally sound. You have to have that love and desire to play in that next level. Some of them may feel overmatched and go in another direction, some of them may work harder to catch up with kids in their age group. They'll get a chance to really see where they are at, because you're going to play against the best talent.
"Normally when you're at home, you play against the same teams over and over in your home state, you know what to expect, you start taking things for granted. But you can't ever take anything for granted. You have to go out there and grind every day and be the best that you can be. It's a lot of little things like that that they have been told and we try to reiterate. It's coaching and teaching on the go, educating these kids on baseball and life."
While Hurricane Matthew was arriving on Florida's east coast with a fury, baseball was happening as planned on the state's Gulf coast for more than 160 teams. The Underclass World Championship Tournament format features 264 teams and 66 pools of four. Teams will play three pool play games, and only pool winners make the playoffs.
Teams will be seeded 1-66 based on pool play results. Playoffs Round 1 (seven innings) will be played Saturday night. Playoffs Round 2 (seven innings), Round 3 (five innings) and Round 4 (five innings) will be on Sunday. The quarterfinals, semifinals and championship (all five-inning games) are scheduled for Monday, and teams that don't reach the playoffs will be scheduled a consolation game on Sunday.
"It's very special and unique," said Del Matthews, MLB's senior director of baseball development. "This is a continuation of the events we have done through the summer with the Breakthrough Series and the Elite Development Invitational in Vero Beach, and with a large crop of those kids that have participated in our events, we have now put together a team for the first time to allow the exposure to continue and compete in a Perfect Game event where there are college coaches, scouts down here to watch kids play. It's just another opportunity for kids to showcase their talents that they otherwise may not have.
"Obviously USA Baseball is very vital to this, and the partnership we have for these kids is great. We love the fact that it's the first time we have done it, and we're looking to build upon it for years to come."
Some of the top talent in this group also includes shortstop Kemet Brown, a 15-year-old middle infielder from Elk Grove, Calif.; left-hander Cristian Poche' (16) and outfielder Basiel Williams (16), both from the New Orleans MLB Youth Academy; and left-hander Yuji Sakane of the MLB Youth Academy in Compton, Calif.
"It's expensive for kids to fly across the country and come stay at a hotel for three days," Matthews said. "Some travel teams obviously can afford to do it, but not everybody has the same opportunity. For USA Baseball and MLB to partner together and provide the opportunity is very special and something the kids are extremely appreciative of. Hopefully we'll see the fruits of our labor with some of the kids getting college scholarships and living out their dreams."
It is still a time for Marquis Grissom to have an impact -- but in this October tournament, he has to be qualified as Marquis Grissom Sr. Now 49 and 10 years removed from the game, he is among many coaches who give back what was passed down to them. And in Senior's case, he keeps one eye on the MLB postseason while the other is on his kids.
"I wouldn't take anybody lightly, it's the playoffs," he said. "Guys will step up. Look at Daniel Murphy the last couple years. Guys will step up to the plate, and you just don't know who's ready. The regular season is over, and there's no such thing as guys worried about injury or pitch count or who's doing what. I wouldn't take any of these teams for granted."
Don't take anything for granted. Just like they teach the kids on this trip.