Matt Kemp sidelined with recurrence of rib pain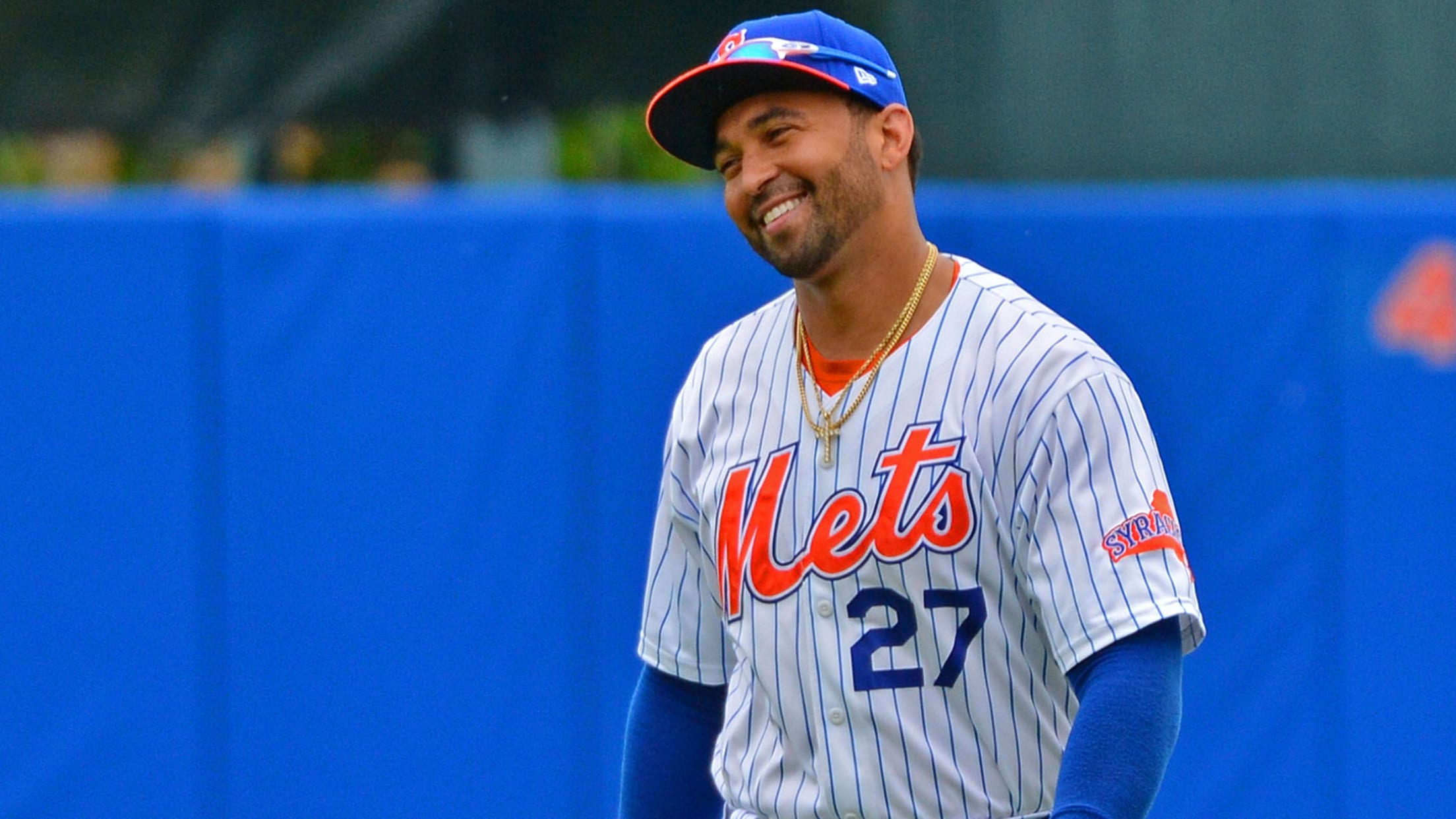 NEW YORK -- Matt Kemp's comeback attempt with the Mets has stalled, at least temporarily. Kemp is sidelined at Triple-A Syracuse due to a recurrence of rib pain, stemming from the broken rib he suffered in April with the Reds. Cincinnati designated Kemp for assignment while he was on the
NEW YORK -- Matt Kemp's comeback attempt with the Mets has stalled, at least temporarily. Kemp is sidelined at Triple-A Syracuse due to a recurrence of rib pain, stemming from the broken rib he suffered in April with the Reds.
Cincinnati designated Kemp for assignment while he was on the injured list recovering from the initial injury, prompting the Mets to sign him to a Minor League deal last month. Purportedly healthy, Kemp debuted for Syracuse on May 31, stringing together an eight-game hitting streak before shutting down this weekend due to continued rib pain.
Overall in eight games with Syracuse, Kemp is hitting .235 with one home run and a .601 OPS. He batted .200 with one homer and a .493 OPS in 20 games for the Reds.
A three-time All-Star, Kemp is a .285 career hitter with 281 home runs, 1,010 RBIs and an .822 OPS. He hopes to revive his career with the Mets at age 34, though that would likely require multiple injuries to force the team's hand. When the Mets signed Kemp, Michael Conforto, Jeff McNeil and Brandon Nimmo were all sidelined; the former two have since returned, and Nimmo is at Syracuse on a rehab assignment.
"I'm just happy to be back on the field," Kemp told SNY after joining Syracuse. "It would be great to play in New York. "They have a lot of great talent, a lot of young guys up there and a lot of older guys up there and there's a lot of baseball left. To contribute to a team like that and try to get back up there would be great."
On the mend
Robinson Canó went 3-for-3 as he began a rehab assignment on Tuesday at Triple-A Syracuse, highlighting a trio of rehabbing Mets in the game.
Cano, who is recovering from a left quad strain, played five innings at second base. Brandon Nimmo (bulging cervical disc) manned center field for seven innings, finishing 0-for-3 with two walks and three runs scored. Reliever Justin Wilson (left elbow soreness) started the game, striking out two in a scoreless inning. He reached 94 mph on the radar gun.
The Mets haven't revealed timetables for any of the three. Cano is first eligible to return from the injured list on Sunday, and he appears to be a good bet to do so at that time. Wilson may need an additional rehab outing, while Nimmo's return remains the most uncertain of the three.
Sick day
The Mets sent Noah Syndergaard home from Yankee Stadium on Tuesday afternoon due to a case of strep throat. Manager Mickey Callaway laughed when asked if Syndergaard's next start might be in jeopardy, this Saturday against the Cardinals.
"He'll be fine, I'm sure," Callaway said.
Syndergaard has missed time multiple times during his career due to illness, including strep throat in 2016 and hand, foot and mouth disease last summer. Jacob deGrom also skipped a start earlier this year due to strep.
It remains to be seen if this latest illness will affect Syndergaard's between-starts routine. The Mets have been looking for Syndergaard to show some consistency on the mound, and they were hoping his seven shutout innings last time out might be a sign that he is turning the corner. Before that, Syndergaard had posted a 6.00 ERA in his previous three starts.
Top prospect OK
X-rays were negative on the hand/wrist of top-ranked Mets prospect Andres Gimenez, who was hit by a pitch in that area while playing for Double-A Binghamton last week. The Mets sent Gimenez to New York for tests, which revealed no broken bones, according to a source. Gimenez, who has not played since June 2, will rejoin Binghamton once he can tolerate game action.
The news is a sigh of relief for the Mets, who consider Gimenez a critical piece of their future -- either as a middle infielder in Flushing, or a potential trade chip. Still just 20 years old, Gimenez is batting .232 with two home runs, 10 stolen bases and a .638 OPS in 45 games for Binghamton. He was the Mets' Class A St. Lucie Player of the Year last season, clocking in at No. 58 on MLB Pipeline's preseason prospect rankings.