Strahm has encouraging outing vs. Cards
Despite loss, left-hander improves significantly on first start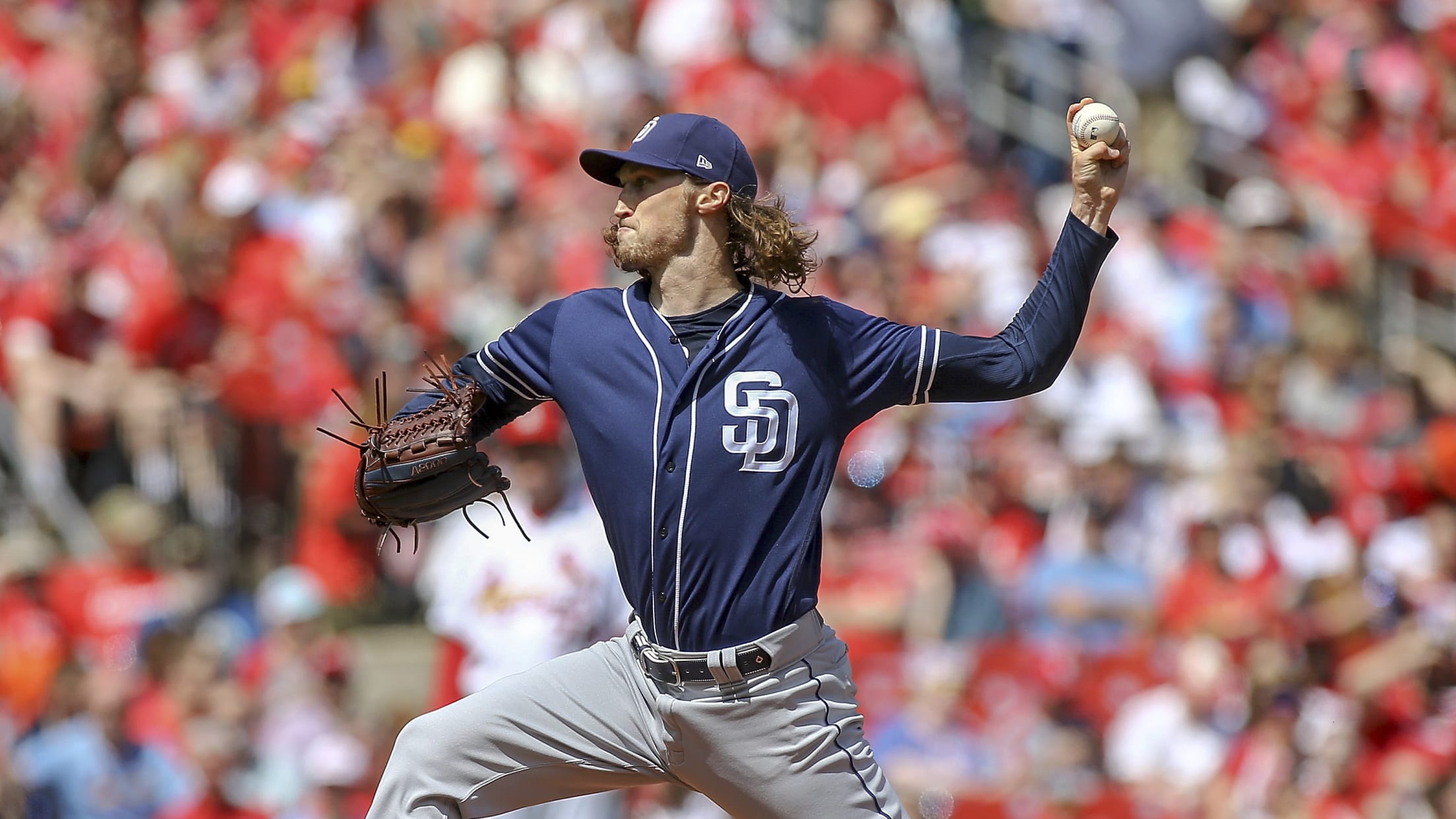 ST. LOUIS -- The Padres have always envisioned big things for Matt Strahm as a member of their starting rotation. The tricky part, of course, was getting the 27-year-old left-hander into the rotation in the first place. On Sunday afternoon in St. Louis, Strahm certainly fit the bill of a
ST. LOUIS -- The Padres have always envisioned big things for Matt Strahm as a member of their starting rotation. The tricky part, of course, was getting the 27-year-old left-hander into the rotation in the first place.
On Sunday afternoon in St. Louis, Strahm certainly fit the bill of a starting pitcher. In the Padres' 4-1 loss to the Cardinals, he allowed two runs -- one earned, one unearned -- and he showed flashes of being the left-handed weapon he was last season in the bullpen.
"We feel really good about what he did today," said Padres manager Andy Green. "It's a good one to build off of."
Strahm's five innings were a hugely important step in his transition to a starting role. He had only reached five innings in a big league game once before -- in June 2017. He underwent major knee surgery shortly thereafter, and he spent the entirety of the '18 campaign in the 'pen as his body recovered.
Strahm bulked up significantly during the offseason, using an intense diet and workout regimen that has become somewhat legendary in San Diego. It was aimed entirely at adjusting to his new role.
"I got after it this offseason to make sure I was ready," Strahm said. "There's not a question in my mind I'm ready for the load."
Strahm perhaps could've lasted longer on Sunday, if not for a critical Hunter Renfroe misplay in right field in the fourth inning. Renfroe got a poor read on a Paul Goldschmidt popup, and when he attempted to recover, he stumbled and couldn't make the catch. Paul DeJong followed with a two-run double, and that was all the offense the Cardinals needed, as the Padres' bats floundered with men in scoring position.
Still, Strahm bounced back nicely from a rough first outing in which he allowed five runs on eight hits in 2 2/3 innings against Arizona on Monday. He threw 87 pitches on Sunday, including an even mix of fastballs and sliders. That was a conscious adjustment Strahm made after he noticed opposing hitters sitting on his fastball early in counts.
Perhaps most encouraging from Strahm's start was his fastball velocity. It dipped into the 80s on Monday and averaged 90.9 mph. On Sunday, it averaged 91.5 mph, and it only fell into the 80s once -- on his final pitch.
"I was trying to place the ball -- you can see it in my delivery [on video] -- instead of being myself and letting it eat," Strahm said of his first outing. "I wasn't doing that. It was in my head more than anything."
A year ago, Strahm was an integral piece in the San Diego bullpen, posting a 2.05 ERA with 69 strikeouts in 61 1/3 innings. The bullpen remains a fallback option. But the Padres see a much greater upside in using an electric arm like Strahm's in their starting rotation.
It remains to be seen whether Strahm is up for the task. On Sunday he was.
"He's been hungry for this," Green said. "He's worked really hard to put himself in this position."
Up next
Left-hander Eric Lauer has been sharp this season, save for one very bad cutter that Zack Greinke hit for a three-run homer. Lauer has allowed one other run in his two starts, including five shutout innings against the Giants on Opening Day. He'll face San Francisco and Madison Bumgarner again on Monday night with first pitch slated for 6:45 p.m. PT at Oracle Park. Watch on MLB.TV.