Boyd's Kingdom Home combats child trafficking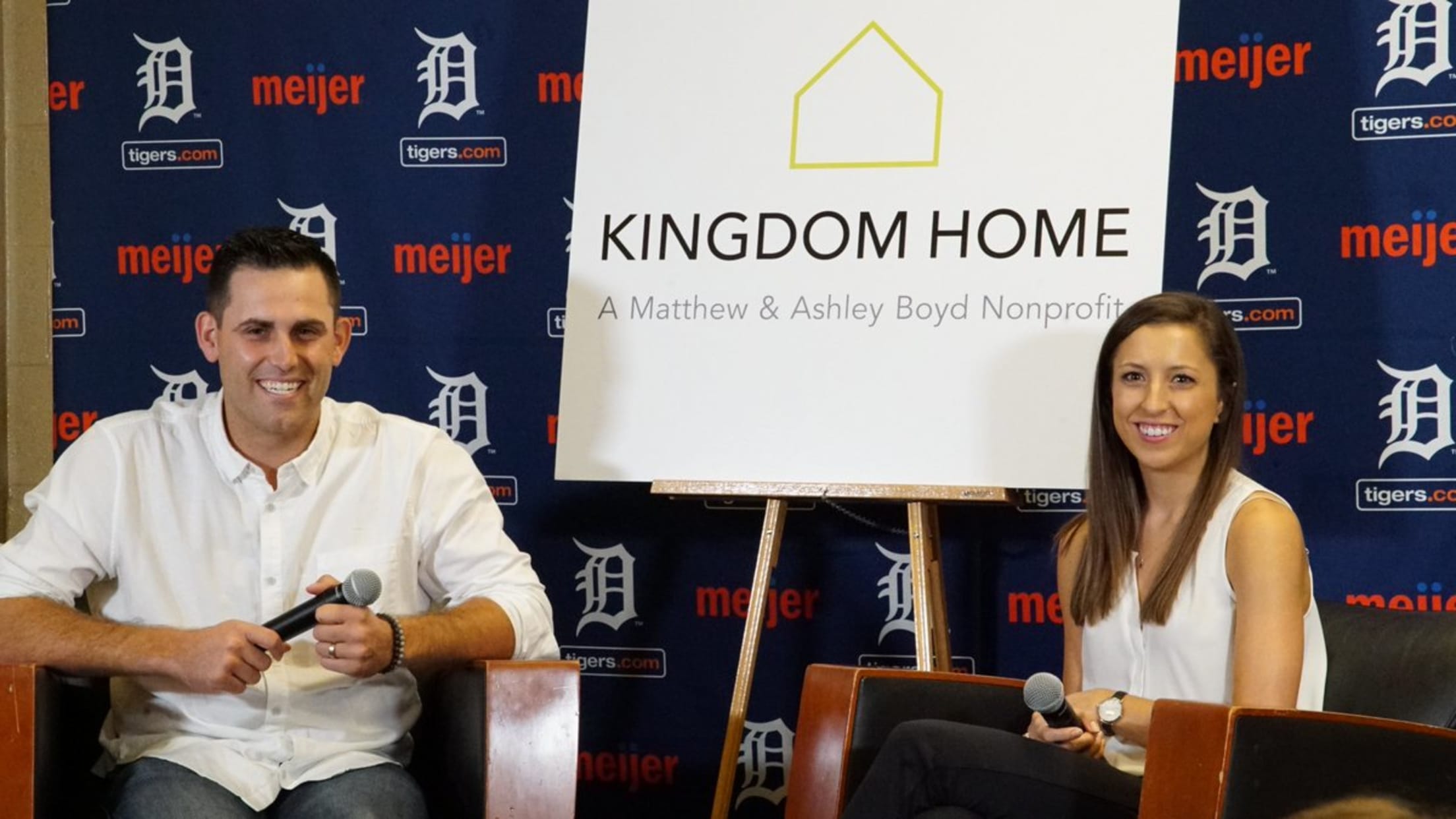 DETROIT -- Tigers pitcher Matthew Boyd and his wife, Ashley, weren't looking to open their own nonprofit when the call came in. Though they were active in charitable causes, they had just become parents. Then came the call earlier this year from Ashley's old boss at Remember Nhu, a nonprofit
DETROIT -- Tigers pitcher Matthew Boyd and his wife, Ashley, weren't looking to open their own nonprofit when the call came in. Though they were active in charitable causes, they had just become parents. Then came the call earlier this year from Ashley's old boss at Remember Nhu, a nonprofit which aims to prevent child trafficking and sex slavery through grassroots work around the world.
A woman in Uganda had rescued 36 girls from forced marriages and prostitution rings -- among other situations -- and brought them to their home. Her husband passed away last year. They needed support.
"Starting our own nonprofit was beyond my wildest dreams," said Ashley Boyd, who worked in nonprofits and had traveled to Uganda after graduating from Oregon State with a degree in political science. "It wasn't something we were ever really looking to do. It kind of came to us."
This, the Boyds felt, was their calling, especially after having a child of their own. And as they sat in the interview room and announced a partnership with the Tigers, as well as support from teammates for Kingdom Home, the house set up as a place of refuge for those girls and others, the Boyds were ready to make this their work.
"It's a truly special cause that's close to our hearts," Matthew Boyd said.
To that end, the Boyds donated $100,000 to Kingdom Home and will travel to Uganda for two weeks in November in hopes of creating more homes in Uganda for children in need, while visiting the children at their current home.
In addition, teammates Nicholas Castellanos, Shane Greene and James McCann have pledged to be among the first to sponsor children at Kingdom Home. The nonprofit will also team with the Detroit Tigers Foundation, an affiliate of Ilitch Charities.
"I've kind of followed what they're going to be doing with it," McCann said. "I'm excited to help out where I can. It's for a good cause and something that [Boyd] and his wife really believe in. My wife and I, we felt like donating some money would help them get their foundation up and going. I think Boyd has a really good understanding about the platform that he has and the impact that he can make."
"It's really a privilege and an honor to have my teammates behind this," Matthew Boyd said. "It really means a lot."
It means enough that he will be making his first trip to Africa just as his offseason is beginning. What they hope to build with Kingdom Home is more than a safe place for at-risk girls and children.
"Our goal at Kingdom Home is to provide refuge for these girls, a safe place," Matthew Boyd said, "to provide them food, clothing, a bed, an education. It's our goal to never age a child out. We want to give them vocational training, or pay for university, and hopefully prepare them for the world in whatever they want to do."
The home they're currently using is a rental. When they travel to Uganda, they'll be looking for land in a safe area to build a site, as well as potential additional homes.
Knowing the problem of human trafficking hits home in Michigan as well, the Boyds have partnered with Alternatives for Girls (AFG), a Detroit-based nonprofit that helps homeless and at-risk girls and young women avoid violence, teen pregnancy and exploitation while getting the resources and opportunities necessary to make positive choices in their lives.
Those interested in donating to Kingdom Home have the option to contribute an amount of their choice, or to sponsor a child on a monthly basis. While it costs $120 a month to fully fund one child, sponsors can pledge at various financial levels per month.
More information is available at kingdomhome.org.