Stories behind A's Players' Weekend nicknames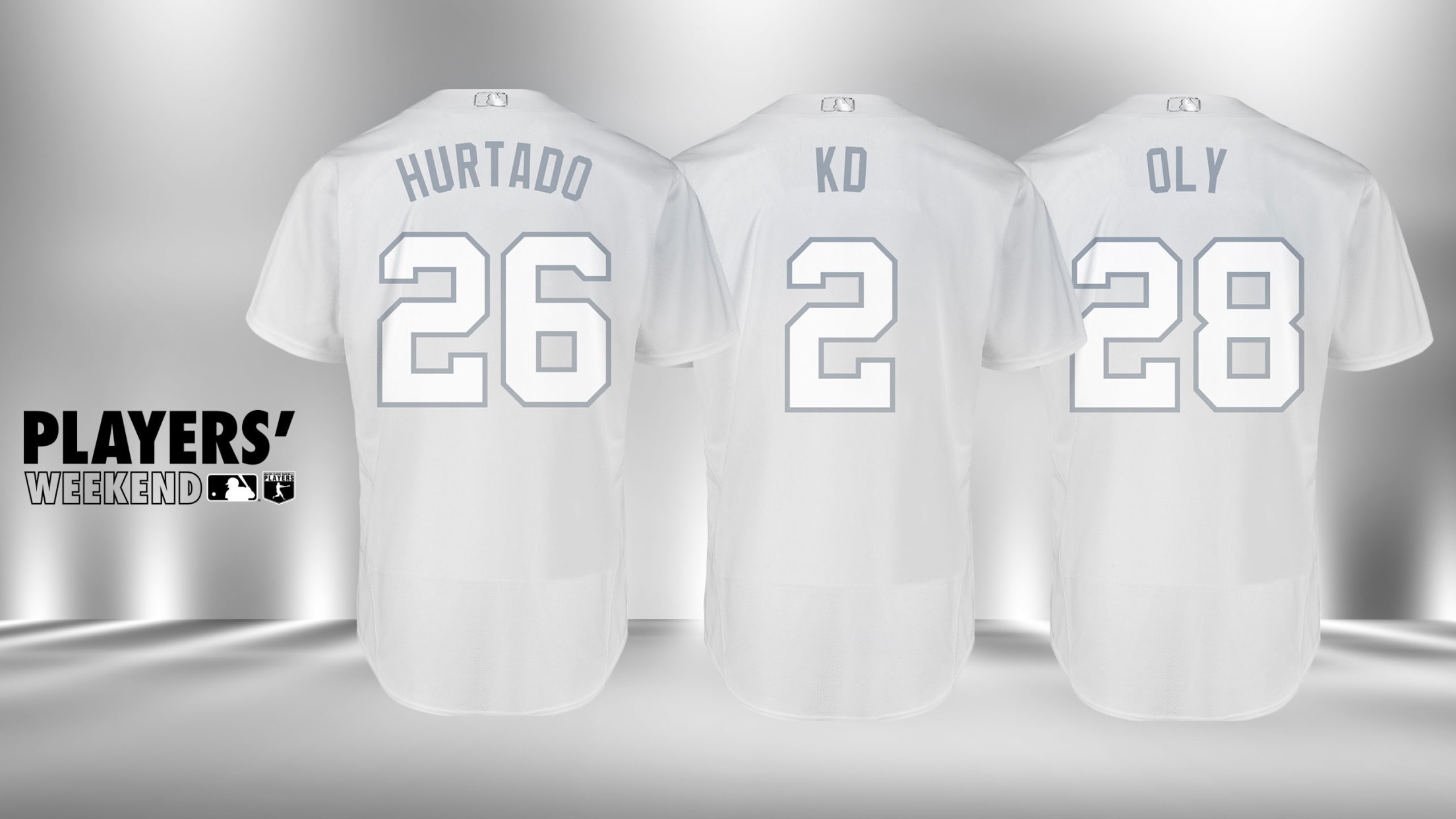 Players' Weekend is back for a third year, giving big leaguers an opportunity to connect with the fans in fun and engaging ways through their jerseys and equipment. Here's a list of the nicknames A's players have chosen to sport on the back of their monochromatic white uniforms for the
Players' Weekend is back for a third year, giving big leaguers an opportunity to connect with the fans in fun and engaging ways through their jerseys and equipment.
Here's a list of the nicknames A's players have chosen to sport on the back of their monochromatic white uniforms for the weekend of Aug. 23-25.
• Every team's Players' Weekend nicknames
Brett Anderson: "NOON"
A childhood nickname.
Homer Bailey: "HOMER"
David is his legal first name, but, "I wouldn't even answer to that," Bailey said. "If you said David, I would think somebody was yelling at my dad." Bailey was given the "Homer" nickname at birth as a tribute to his grandfather. "It's just my dumb luck that I would become a pitcher."
Chris Bassitt: "C BASS"
Ryan Buchter: "BOOK"
Mark Canha: "TOM ACE"
A reference to Jim Carrey's character in "Ace Ventura: Pet Detective," one of Canha's all-time favorite movies.
Matt Chapman: "HURTADO"
Chapman is honoring his Cal State Fullerton teammate, Nick Hurtado, who passed away in 2013 at the age of 21 after a battle with bone cancer.
"I know it was his dream to play in the Major Leagues," Chapman said. "He never got that opportunity, so I figured it would be the best way to represent him, to get his last name on a big league jersey and play a game in the big leagues."
• Chapman to honor friend on Players' Weekend
Khris Davis: "KD"
Jake Diekman: "GUT-IT-OUT"
Gut It Out is the foundation started by Diekman with a mission to connect patients and caregivers through education and inspiration in order to strengthen relationships and resources within the inflammatory bowel disease community. The left-hander was diagnosed with ulcerative colitis at age 10 and underwent a three-part surgery to remove and replace his colon starting in January 2017.
Marco Estrada: "PONCH"
Returning to his home state of California, Estrada is channeling his inner Frank Poncherello (played by Erik Estrada) from the '70s and '80s police drama "CHiPs."
Mike Fiers: "SMOKEY"
"It was my first year. I got drafted and I flew out to Arizona for mini camp. The first day we were out there with all the kids that just got drafted, one of the coaches was going off the roll call and he just said, 'Smokey!' He didn't even say my name," he said. "I didn't know it was me. He said it again and was like, 'Where you at, Fiers?' That stuck with me and throughout the Minor Leagues, everyone called me 'Smokey.'"
Robbie Grossman: "RG"
Liam Hendriks: "SLYDAH"
Astros reliever Roberto Osuna gave the Australian-born pitcher the nickname because of the way Hendriks pronounces "slider" in an accent when the two were teammates on the Blue Jays.
• Shop for Players' Weekend gear
Chris Herrmann: "WORM"
Herrm the "Worm!"
Ramón Laureano: "RAMONCITO"
Childhood nickname.
Sean Manaea: "THE MANAEALATOR"
Nick Martini: "(MARTINI EMOJI)"
Yes, he'll have an actual emoji on the back of his jersey.
Matt Olson: "OLY"
Yusmeiro Petit: "YUS"
Josh Phegley: "PTBNL"
Phegley was never actually a player to be named later in a trade, he just decided to go with it for his role of backup catcher a few years ago, which he said is known to be an anonymous position around the league.
Chad Pinder: "CHI"
Pinder's older brother, Clark, couldn't pronounce "Chad" when he was younger, so this was his way of shortening the name.
Stephen Piscotty: "MOMO"
A nickname that was given to him during his Little League days by friends and family.
Jurickson Profar: "EL PATRON"
Spanish nickname meaning "The Boss."
Tanner Roark: "T-RO"
Marcus Semien: "SIMMY"
Joakim Soria: "PEPE"
A tribute to his father, Jose Manuel, better known to his children as "Grandpa Pepe."
Blake Treinen: "TRAIN"
Lou Trivino: "SWEET LOU"
Wei-Chung Wang: "WANG"