Upton makes history with walk-off homer
Padres hope to reverse trends and complete sweep of Yankees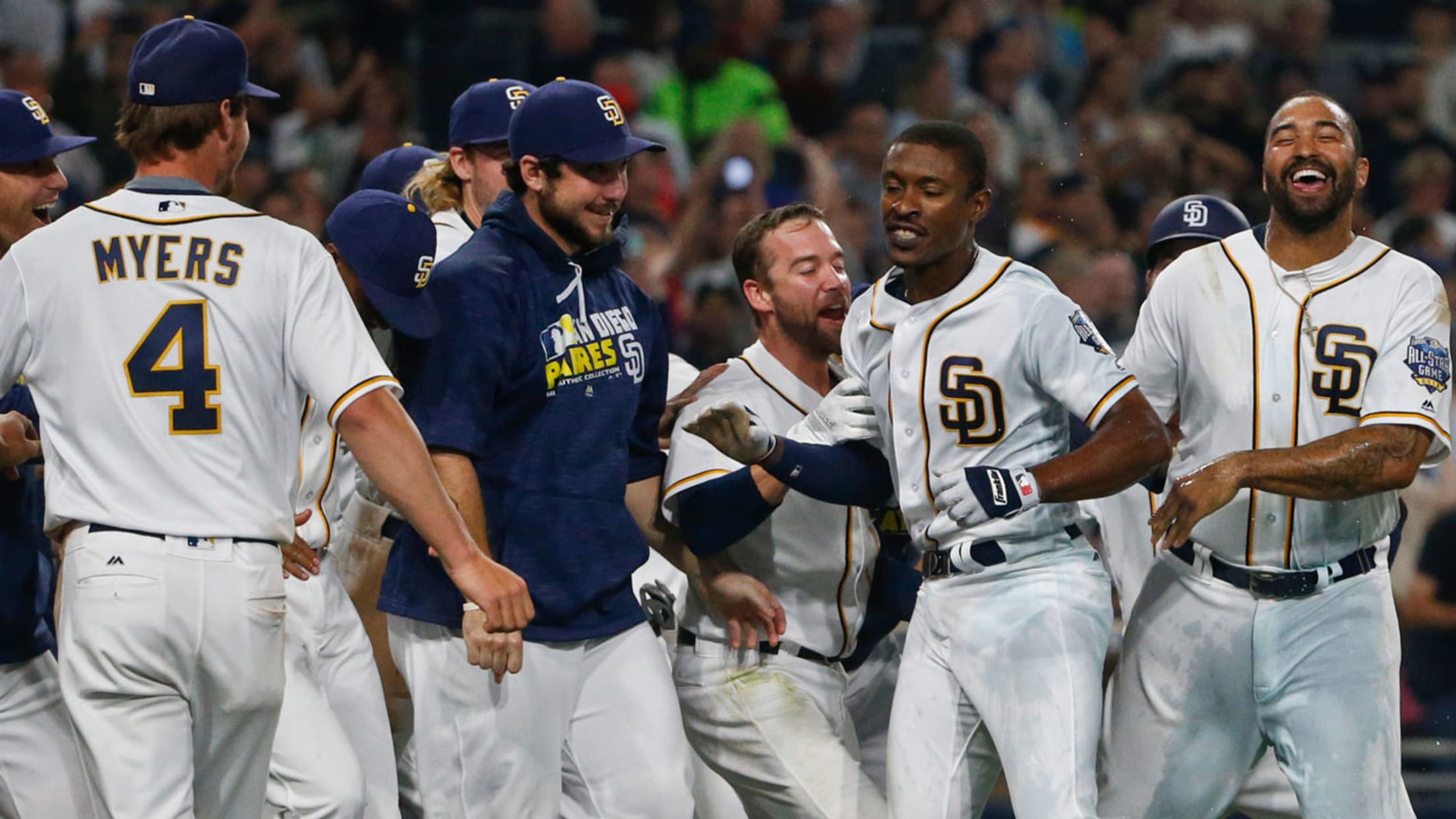 The Padres celebrate after Melvin Upton Jr. hit a walk-off homer to beat the Yankees, 2-1, on Saturday at Petco Park. (AP)
Bill Center, longtime sportswriter for U-T San Diego, is an employee of the Padres.Padres manager Andy Green was asked on Saturday night if he had any premonition about what might happen when Melvin Upton Jr. led off the bottom of the ninth with the score tied at 1.After all, Upton
Bill Center, longtime sportswriter for U-T San Diego, is an employee of the Padres.
Padres manager Andy Green was asked on Saturday night if he had any premonition about what might happen when Melvin Upton Jr. led off the bottom of the ninth with the score tied at 1.
After all, Upton had hit two previous walk-off homers this season -- on April 16 against the D-backs and on May 20 against the Dodgers.
Bingo. He did it again -- and on the first pitch delivered by Yankees left-hander Andrew Miller, too. Plus, Upton's blast carried 440 feet.
Upton became the first Padres player to hit three walk-off homers in the same season -- and there are still 37 home games yet to be played at Petco Park.
It was also the seventh walk-off homer of Upton's career, as well as the 11th walk-off hit of his career. The only other Padre with three walk-off homers over the club's 13 seasons at Petco Park is Scott Hairston.
Upton is hitting .368 (25-for-68) over the last 17 games, with six homers, 12 RBIs and eight multi-hit games.
NOTES FROM THE SCOREBOOK
• Although the Padres won on Saturday night, their record run of eight straight games scoring five of more runs in games at Petco Park ended. Sunday brings more challenges, as the Padres try to complete a sweep of the Yankees. The Padres are 2-10 on Sundays this season, 3-23 in series finales and 6-20 in day games -- including 2-8 in day games at Petco Park.
• The first-day attendance for the Padres Hall of Fame on Friday night was 1,344 -- with groups moving through using a timed "fast pass" at capacity for five hours. The fast pass will continue to be used on Sunday for the finale of the series vs. the Yankees. The pass available at the Hall of Fame gives holders a specific time for viewing and limits the size of the crowd in the Hall of Fame (on K Street at the Tony Gwynn entrance to Petco Park) at any given time.
• Left-hander Drew Pomeranz had a run of 14 straight scoreless innings snapped when the Yankees scored in the sixth on Saturday night. He went seven innings for the second straight game and for the fifth time this season, equaling his career-best. He allowed one run on five hits with seven strikeouts on Saturday to post his 10th quality start in 16 outings.
• Right fielder Matt Kemp is hitting .347 (26-for-75) with runners in scoring position this season. He has driven in 41 runs in RISP situations this season, the seventh-highest total in the Major Leagues and the fourth-highest total in the National League.
• Third baseman Yangervis Solarte went 0-for-4 on Saturday night to end his seven-game hitting streak. He was 11-for-25 (.440) during the streak.