Full circle: Carlos Gomez rejoins Mets
Conforto placed on concussion injured list; Broxton DFA'd; Sewald recalled from Syracuse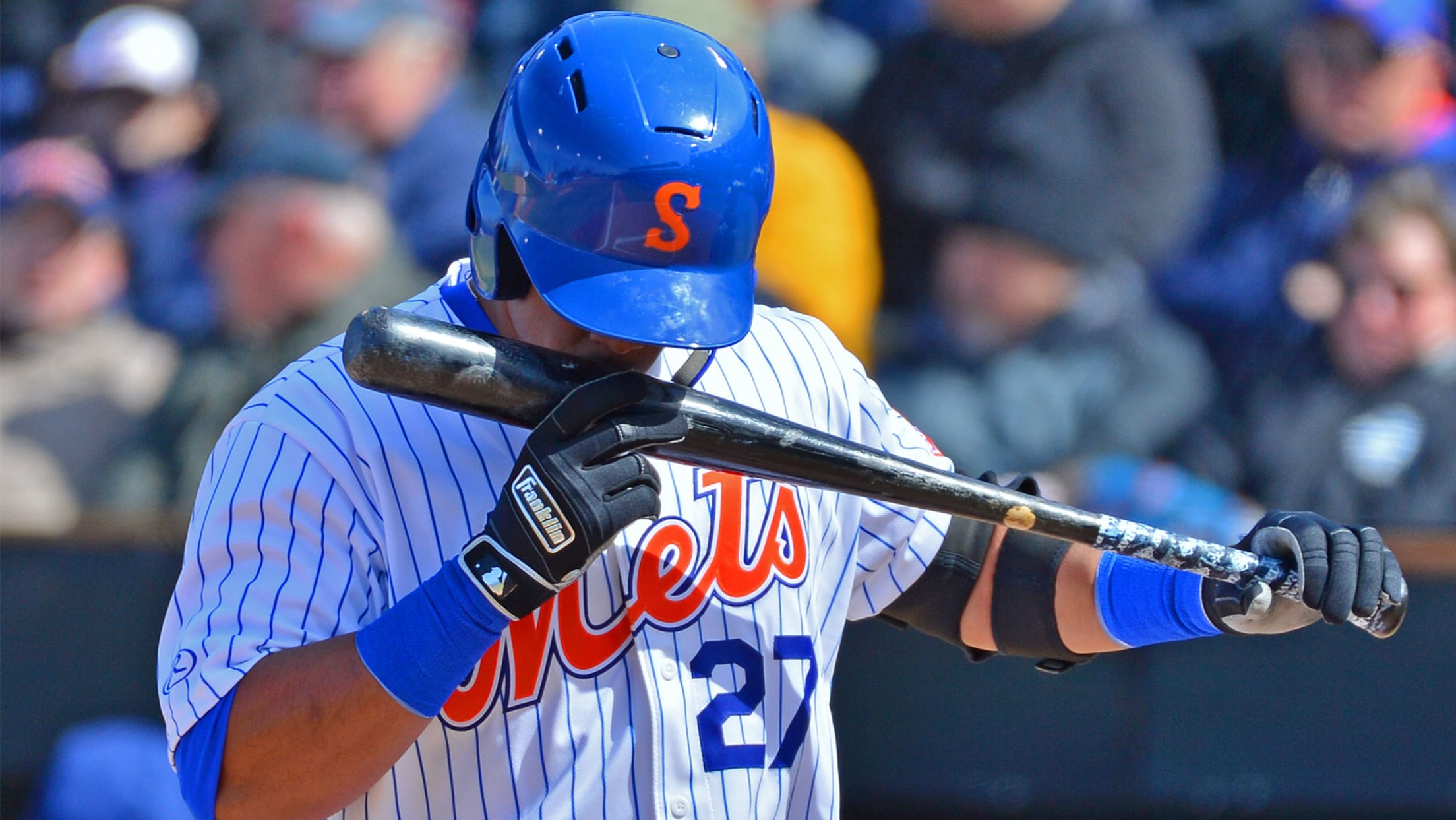 MIAMI -- The Mets made several roster moves to shore up their depth prior to Friday's 8-6 loss to the Marlins at Marlins Park. As expected, New York placed outfielder Michael Conforto on the seven-day concussion injured list and selected the contract of veteran outfielder Carlos Gomez from Triple-A Syracuse.
MIAMI -- The Mets made several roster moves to shore up their depth prior to Friday's 8-6 loss to the Marlins at Marlins Park.
As expected, New York placed outfielder Michael Conforto on the seven-day concussion injured list and selected the contract of veteran outfielder Carlos Gomez from Triple-A Syracuse. In corresponding moves, the Mets designated outfielder Keon Broxton for assignment and recalled right-handed reliever Paul Sewald from Syracuse.
Gomez, who signed a Minor League deal with the Mets on March 7, went 0-for-3 with a strikeout. He started in right field before being part of a double switch in the sixth.
In 35 games with Syracuse, Gomez slashed .270/.329/.500 with six home runs, nine doubles, one triple and five stolen bases. As the 33-year-old put it, he used his time in the Minors to get into playing shape much like he would have during Spring Training.
"Very good reports," Mets manager Mickey Callaway said. "He has been swinging the bat really well. The defense has been outstanding, the leadership, the baserunning. Just from top to bottom, the reports have been excellent. That's why he's up here getting a chance to help us win some games."
The 12-year veteran understands his role with the Mets will likely be different from what he is used to. The two-time All-Star has appeared in at least 105 games over the past seven seasons.
"That's why I was getting ready," Gomez said. "I knew from Day 1 that I signed, this is going to be my role. I prepared mentally and physically for that type of role. I'm here to do everything. If this is going to be my role every other day or come off the bench, I'm ready. Whatever way my manager wants to use me, I'm in."
Originally signed by the Mets in 2002, Gomez played his rookie season in Queens five years later before being dealt to the Twins as part of the Johan Santana trade in '08.
Gomez nearly came back to the Mets in 2015 as part of a famous near-trade involving Wilmer Flores and Zack Wheeler, but New York backed out of the deal with Milwaukee over health concerns regarding Gomez.
"I don't remember any of that," Gomez said. "I only remember that I'm here and that I'm excited and happy. That's all that matters. ... I'm a new guy now."
Sewald allowed one run and struck out three batters over two relief innings. The 28-year-old righty previously appeared in three games for the Mets this season, giving up two runs over five frames. He had posted a 2.50 ERA in 12 outings for Syracuse.
With the starter taking the place of Jason Vargas (left hamstring tightness) on Monday to be determined, the Mets likely wanted insurance in the bullpen.
"I think what we would do is have all hands on deck available, including [Wilmer] Font for the next couple days," Callaway said, "and see who pitches and who doesn't, and then make a decision for Monday."
Conforto, who was involved in a fifth-inning collision with Robinson Cano during the Mets' 7-6 loss to the Nationals on Thursday, took a train from Washington to New York. He had an appointment with a neurologist on Friday.
According to Mets general manager Brodie Van Wagenen, it went "relatively well." Conforto will refrain from activities over the next couple of days, then be reevaluated on Monday.
"Whenever somebody suffers an injury like that, getting firsthand accounts from the player is a little bit difficult," Van Wagenen said. "He didn't believe he lost consciousness, but obviously he was a little wobbly when he stood up. But he did have memory and recollection of most of the events both leading into the collision and afterwards."
New York's outfield depth is certainly being tested, as Jeff McNeil left Thursday's game in the third inning with lower abdominal tightness. McNeil struck out swinging in a pinch-hit opportunity to end the eighth inning with two runners on. The Mets are still getting J.D. Davis reps in left field. That leaves Gomez, Brandon Nimmo and Juan Lagares as the other healthy options.
"I think [Lagares] is probably gonna play a lot more than he has been, but we'll see," Callaway said. "Davis is going to be an option at times. We have McNeil, Nimm, Lago. We have Gomez. We have options. We'll pick the best spots for each of those guys. I think you will see Davis out there on occasion."
Broxton, who replaced Conforto on Thursday, struck out to end the game and expressed frustration with his lack of playing time afterwards. The 29-year-old compiled a .143/.208/.163 slash line with one double, two RBIs and four stolen bases across 34 games.
"The comments had nothing to do with it yesterday at all," Van Wagenen said. "It's a tough decision whenever you have to make a roster move. We're here to win games and we want to always put the team in the best position to do that. We felt like Carlos gave us a better chance to do that in the short term than Keon did."
When a player's contract is designated for assignment -- often abbreviated "DFA" -- that player is immediately removed from his club's 40-man roster, and 25-man roster if he was on that as well. Within seven days of the transaction (it was previously 10 days), the player must either be traded, released or placed on irrevocable outright waivers.
The Mets acquired Broxton in early January in a trade with the Brewers for right-handers Adam Hill and Bobby Wahl as well as infielder Felix Valerio. That didn't make Friday's decision any more difficult, per Van Wagenen.
"We said publicly then and it's played itself out now that Keon's move was potentially redundant by design," Van Wagenen said. "We hadn't seen Lagares play in almost a year. At the point of time when we signed Keon, we wanted to have some defensive versatility in the outfield, and it hasn't worked out. I think right now we felt like Carlos gives us the chance to be better today, and we'll see how that goes moving forward."
Cespedes progressing
Yoenis Cespedes (heel surgeries) took batting practice and ran on Friday. The Mets are trying to limit his explosive activity as he continues to take steps in his recovery.
Asked whether Cespedes could be back on the field this season, Van Wagenen said, "Time will tell."
"The fact that he's able to not just hit in the batting cage like he was a couple weeks ago, that he's out taking batting practice on the field is a good sign and we hope he continues to make progress," Van Wagenen said.
Worth noting:
Steven Matz (left forearm irritation) is still scheduled to start on Saturday in his return from the injured list.