Conforto says back feels better; Collins concerned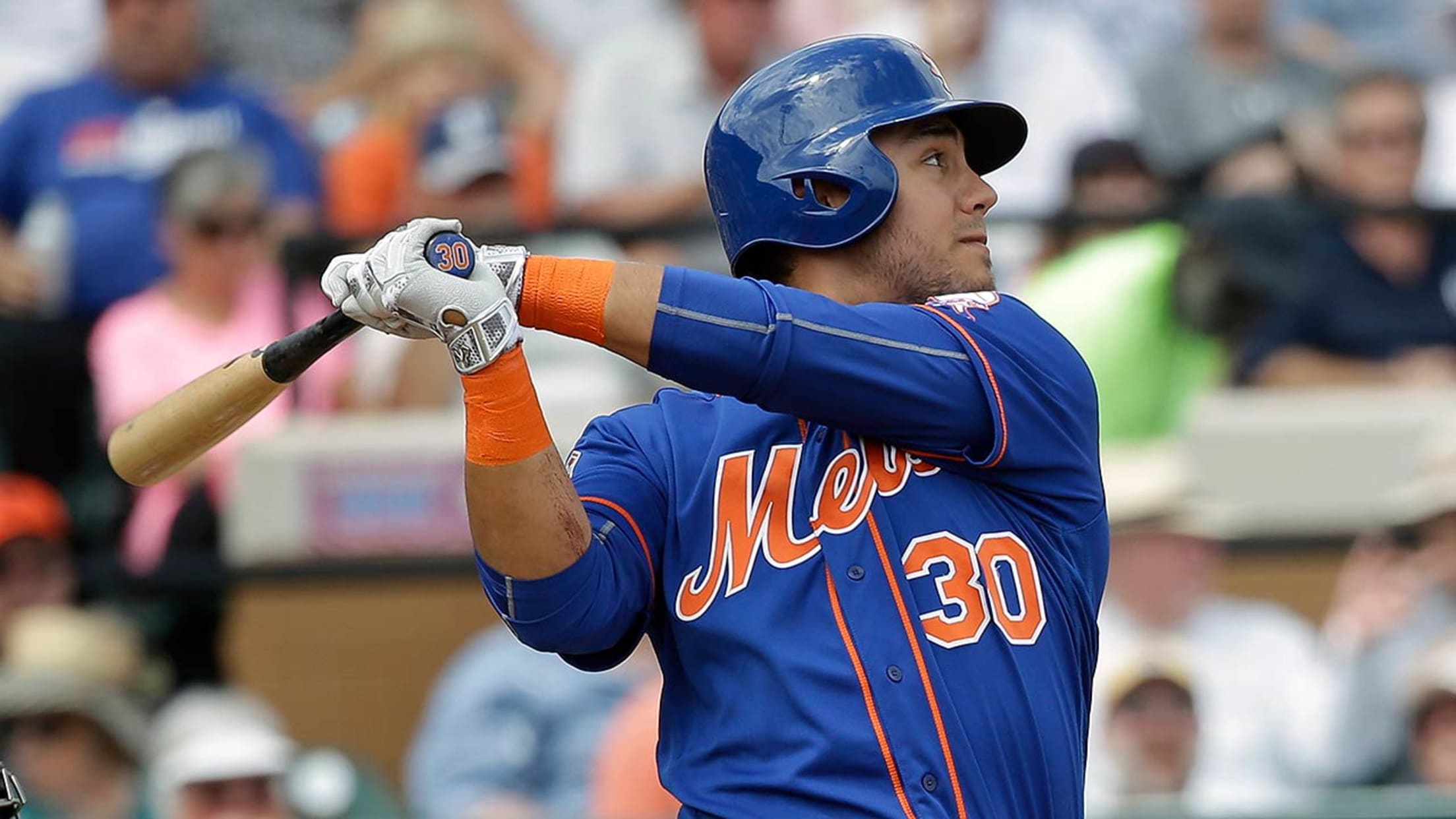 In 14 Grapefruit League games, Michael Conforto is batting .222 with one homer and six RBIs. (AP)
PORT ST. LUCIE, Fla. -- In an effort to ease the stress off his stiff lower back, Michael Conforto eschewed a bus ride across Florida on Wednesday in favor of something less orthodox: a ride across the state with Mets public relations head Jay Horwitz.Conforto chuckled Thursday as he recalled
PORT ST. LUCIE, Fla. -- In an effort to ease the stress off his stiff lower back, Michael Conforto eschewed a bus ride across Florida on Wednesday in favor of something less orthodox: a ride across the state with Mets public relations head Jay Horwitz.
Conforto chuckled Thursday as he recalled his three-plus-hour journey with Horwitz and other Mets staffers.
"That was an interesting ride," he said, laughing.
• Spring Training:Tickets | Schedule | More
Conforto left Wednesday's game against the Blue Jays in the fourth inning due to back tightness, but did not -- and still does not -- consider the issue serious. He saw a doctor Thursday morning in Port St. Lucie and received treatment, including a dunk in the hot tub. Though Conforto does not know when he will return to game action, he does not consider Opening Day in doubt.
"It does feel better, that's for sure," he said.
Manager Terry Collins, however, did not quite share his outfielder's optimism. While Collins agreed that Conforto should be ready for Opening Day, he offered skepticism that Conforto will return to Grapefruit League play in the coming days.
"I'm concerned about that," Collins said. "Back spasms can be tough to get rid of."
In 14 games this spring, Conforto is batting .222 with one home run and a .608 OPS. Assuming he is healthy, he is penciled in as the Mets' starting left fielder, but could lose time to Juan Lagares against left-handed pitchers.
Worth noting
• Shortstop Asdrubal Cabrera (left knee strain) took six at-bats Thursday in a Minor League game, but did not run the bases or play the field. The Mets have tentatively scheduled Cabrera to appear in a Grapefruit League game on Sunday, indicating confidence that he will be healthy enough to play on Opening Day. If the Mets use Cabrera in an official game and he is not ready, they will forego their right to backdate a disabled-list stint the maximum number of days.
• Reliever Erik Goeddel gave up two runs in one inning of his Grapefruit League debut Thursday against the Red Sox in Fort Myers. Goeddel had been slowed by a right lat injury earlier in camp, and even if healthy, may not make the Opening Day bullpen due to the Mets' desire to carry an extra position player. He posted a 2.43 ERA last season.