Mets greeted with historic fan turnout as camp opens
New York players, supporters energized by NL championship run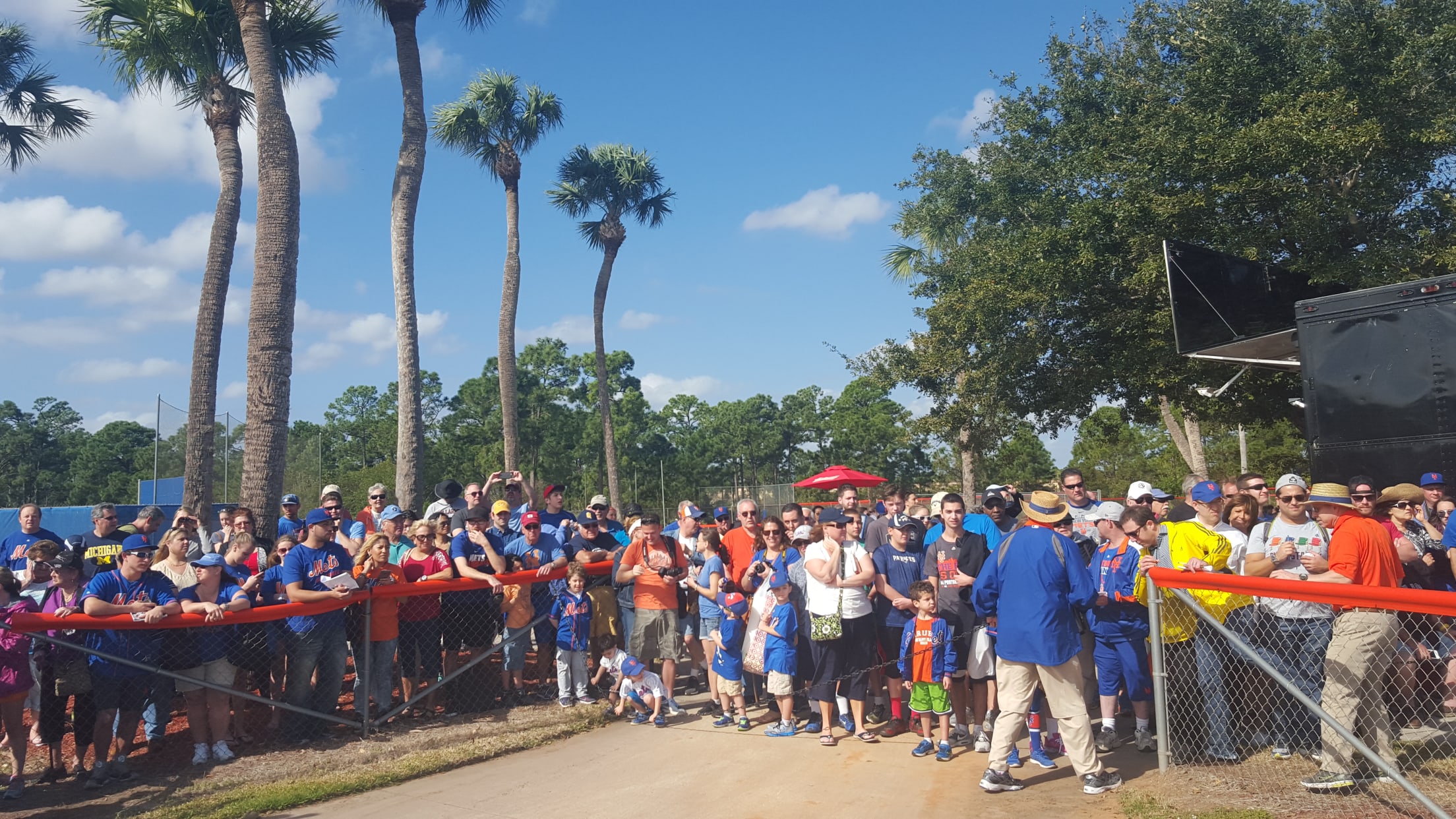 "Holy cow, what a tremendous output," manager Terry Collins said. "Our fans coming out today was incredible." (DiComo)
This is the seventh in a seven-part Mets Spring Training preview. Last up: Camp begins.PORT ST. LUCIE, Fla. -- They poured forth by the hundreds, flowing into the Mets' Tradition Field complex early Friday morning and staying there until the last players ducked back inside. They hung over chain-link fences
This is the seventh in a seven-part Mets Spring Training preview. Last up: Camp begins.
PORT ST. LUCIE, Fla. -- They poured forth by the hundreds, flowing into the Mets' Tradition Field complex early Friday morning and staying there until the last players ducked back inside. They hung over chain-link fences and yelled out words of encouragement. They clustered for autographs and begged for pictures. They applied sunscreen. They tugged on each other's sleeves, pointing to the "National League Champions" logos painted on various surfaces across the grounds. They reapplied sunscreen.
This was the largest crowd -- over 1,500 faithful -- in the Mets' 29-year history at Port St. Lucie. They came out to catch a glimpse of the aforementioned champions, and the aforementioned champions could not have been more grateful.
• Spring Training:Schedule | Tickets | More info
"Holy cow, what a tremendous output," manager Terry Collins said. "Our fans coming out today was incredible."
Terry Collins and @MattHarvey33 chat on the practice field. #Mets pic.twitter.com/yaN7Dxq1FO

— New York Mets (@Mets) February 19, 2016
There was no clearer sign that Spring Training had arrived, finally, beginning Friday with the Mets' first official workout. General manager Sandy Alderson said earlier this week that he hasn't been this excited about a team in years -- and looking around the back fields of the Mets' complex, with fans crowding into every still frame, it's easy to see why.
"When I walk in the clubhouse and see these guys, it's definitely a big confidence boost," first baseman Lucas Duda said. "It's going to be fun to play 162 games with them -- and hopefully more."
To a man, the early reporters at Tradition Field -- and there are many -- have spoken about the different vibe around Port St. Lucie. Not that the Mets didn't expect to win last season -- they did. It's just that now they know for a fact they can win, with a group largely resembling the one fans last saw in November.
That vaunted pitching rotation? It's all back, only this time Matt Harvey is not rehabbing from surgery, Jacob deGrom has a full season under his belt, and Noah Syndergaard and Steven Matz are both bona fide big leaguers. The lineup will have a full season of Yoenis Cespedes, as opposed to just two months, in addition to a pair of middle-infield upgrades.
Bartolo has arrived! #Mets pic.twitter.com/e8KktCqjk5

— Anthony DiComo (@AnthonyDiComo) February 19, 2016
"There's a different air in the clubhouse for sure," Collins said, his face lighting up when asked about some of the names in camp. "The energy level is obviously different."
Now it's about translating that to the field. Mets position players will join their pitcher and catcher colleagues in full-squad workouts beginning next Friday, though much of the roster is already in town. Because the Mets have no major position battles this spring, most of them will be able to focus on fine-tuning their games and -- most importantly -- staying healthy before the slog of the regular season.
The Grapefruit League season begins March 3 against the Nationals, but don't expect too many stars to play regularly until later that month. The Mets will take their time this spring, knowing much more important things lie ahead.
"I try not to view it any different, but I definitely think there's a little more expectation," deGrom said. "We expect to make it back to the World Series, and win it this time. That's everybody's goal now. Last year, we said it was the same thing. I think now, just more people outside of the locker room expect it."