Fulmer's return date still up in the air
Roster moves leave 36 in Major League camp; Joker Marchant Stadium earns recognition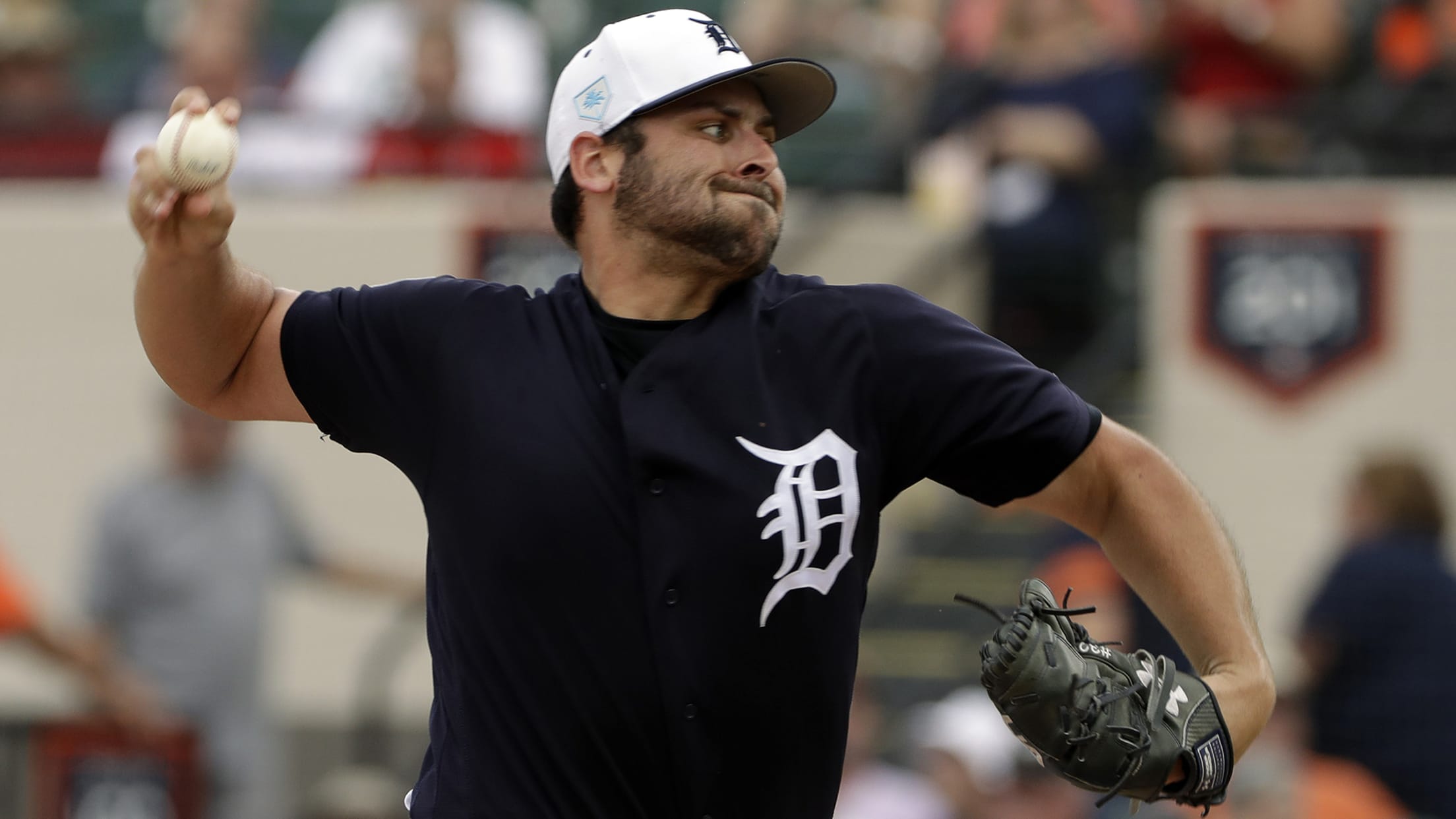 LAKELAND, Fla. -- Michael Fulmer's right knee was swollen Monday morning, a result he attributed to the strength work he put in Sunday. "We're doing a lot of stuff in the weight room," Fulmer said. "Explosive drills, pushing off with your mechanics with a bungee cord around your waist, trying
LAKELAND, Fla. -- Michael Fulmer's right knee was swollen Monday morning, a result he attributed to the strength work he put in Sunday.
"We're doing a lot of stuff in the weight room," Fulmer said. "Explosive drills, pushing off with your mechanics with a bungee cord around your waist, trying to just build up, trying to get some power back, some explosiveness. The knee's going to respond in a pretty aggressive way, but the pain's still gone. It just looks bad."
Fulmer's chances of opening the season in the Tigers' rotation aren't looking much better than his knee. His focus has been on strengthening since his last bullpen session last Friday. Fulmer did some running and fielding practice over the weekend, ditching the brace for a compression sleeve. While his agility feels better, he's letting his surgically repaired knee go through the swelling process.
"It's protecting something," Fulmer said. "There's no pain. It's going to balloon up because we haven't done this much to it in a while. But it feels good. We're getting there."
Fulmer isn't surrendering hope of being ready for the start of the season, at least not officially. But he also isn't going to get back on the mound at less than full strength and risk something worse.
"It's going to be tough," Fulmer said. "I want to be out there, but I don't want to be that guy who goes out there and is only 80 percent efficient and not help this team win. I'd rather be 110 percent and knowing every time I go out there, I'm 100 percent healthy and fully confident that I can put up zeroes on the scoreboard. That's all it really boils down to right now.
"It's been really tough. It's just tough when you have surgery in September and you're looking forward to being back. Shoot, I've been down in Lakeland for about, what, four months now? It stinks, but we're trying to get there. And if I have to miss any time, I'd rather miss two weeks now instead of two months later. And that's kind of where we're at right now."
The Tigers play eight games in eight days to open the regular season, so they can't skip Fulmer's spot. If he opens the season on the injured list, Detroit will likely use either Daniel Norris or Spencer Turnbull to fill his spot.
Roster moves
The Tigers optioned right-hander Zac Reininger and outfielder Dustin Peterson to Triple-A Toledo while assigning right-handers Louis Coleman and Kyle Funkhouser to Minor League camp. The moves leave them with 36 players remaining in Major League camp.
Reininger and Coleman were candidates for spots in Detroit's bullpen. The 26-year-old Reininger allowed three runs on five hits over eight innings, walking two and striking out six. Unlike other relief candidates, Reininger had Minor League options remaining.
Coleman pitched 51 games with the Tigers last season before returning as a non-roster invitee. The 32-year-old tossed 7 2/3 innings, allowing four earned runs on seven hits with three walks and three strikeouts this spring.
The moves strengthen Rule 5 Draft pick Reed Garrett sticks in the Tigers' bullpen, while suggesting they believe right-hander Drew VerHagen could be ready to open the season. VerHagen has missed the last week and a half with tightness around his right shoulder, but he threw a second bullpen session without issue Sunday.
Cabrera ejected
It takes a lot to draw an ejection from a Spring Training game, but Miguel Cabrera drawing a line in the batters box to demonstrate his frustration with the strike zone drew an ejection from plate umpire Brennan Miller.
Cabrera was the last of three consecutive strikeouts for O's reliever Nate Karns. Nicholas Castellanos -- whose first-inning homer produced Detroit's lone run in a 14-1 loss -- had words with Miller following a called third strike with Cabrera on deck. Cabrera, who was likely leaving in the next inning anyway, took it a step further.
"It shows they care when they're that upset in March," said Triple-A Toledo manager Doug Mientkiewicz, who managed the split-squad game. "The at-bats mean something to those guys. They're trying to get ready, too. For me personally, as a manager, I like to see that, the fact that these at-bats matter, even to a guy that's won a Triple Crown."
That said, Mientkiewicz knows Miller, who umpires in the International League during the season. Mientkiewicz also knows the ribbing he would get from Tigers manager Ron Gardenhire if he was ejected from a Spring Training game.
"You try to lean towards your player at times, especially when he's won a Triple Crown," Mientkiewicz said. "But at the same time, it's Spring Training for everybody."
Quick hits
• Tigers legend and Fox Sports Detroit analyst Kirk Gibson was a proud papa Monday as he watched his son, Tigers outfield prospect Cam Gibson, play all nine innings in left field in the split-squad loss at Joker Marchant Stadium. Gibson went 0-for-3 and made a sliding catch for the final out of the eighth inning.
"I asked him before the game if he played nine innings yet [in Minor League camp] and he said, 'Oh yeah, every time,'" Mientkiewicz said. "I just figured. I know if I was a dad, I'd want to see my son play, too."
• Joker Marchant Stadium has been named the best Grapefruit League ballpark of 2019 in a fan vote by Ballpark Digest. The Tigers' Spring Training home beat out the Phillies' Spectrum Field in Clearwater for the honor.
Up next
The Tigers hit the road Tuesday to travel to Bradenton, where Matthew Boyd will make his next-to-last start of the spring in a 1:05 p.m. ET game against the Pirates. Steven Brault will start for Pittsburgh. The game will be broadcast on MLB Network in the Detroit area.