Castro's pregame routine? Play catch with fans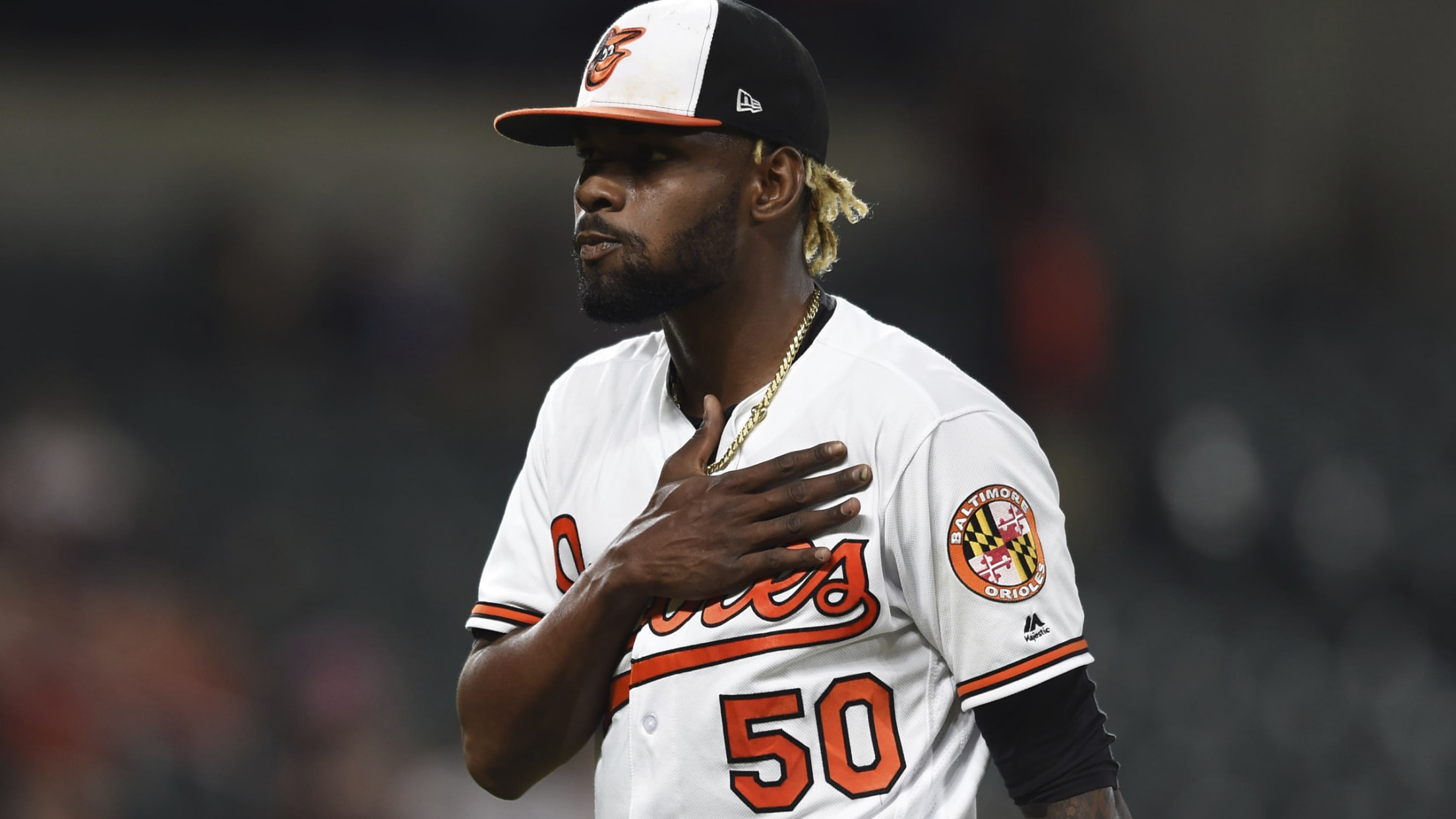 Baltimore Orioles Miguel Castro reacts after getting the third out against the Kansas City Royals in the third inning of baseball game, Thursday, May 10, 2018, in Baltimore. (AP Photo/Gail Burton) (Gail Burton/AP)
BALTIMORE -- Orioles reliever Miguel Castro has always sought to be a player who gives back.When the right-hander signed as an amateur free agent with the Blue Jays in 2011, he reportedly spent his $43,000 signing bonus on medical operations for his parents. In Baltimore, Castro donates his time to
BALTIMORE -- Orioles reliever Miguel Castro has always sought to be a player who gives back.
When the right-hander signed as an amateur free agent with the Blue Jays in 2011, he reportedly spent his $43,000 signing bonus on medical operations for his parents. In Baltimore, Castro donates his time to young fans in the stands on a near-daily basis by playing catch during pregame stretch.
It's a slice of unadulterated fun in a tough season for the Orioles and a reminder of a goal for Major League players: To inspire a next generation and make an impact in the communities they've learned to call home.
"It's a good thing for me, and it's a good thing for them that they get a chance to play catch with a professional baseball player," Castro, who is Dominican, said through an interpreter. "I feel happy. If I can put a smile on their face, it's a joy for me as well."
Early bird gets...To play catch with Miguel Castro! #Birdland #HaveACatch pic.twitter.com/x7rkxUYv98

— Baltimore Orioles (@Orioles) April 22, 2018
Castro is hardly the first to throw with a fan in the stands -- most notably Max Scherzer with a Mets fan in 2016 and Aaron Judge at Yankee Stadium this season -- but his catch sessions are considerably more under the radar.
Much along the same vein, the Orioles developed the Have a Catch initiative, a youth baseball and softball program designed to encourage children -- and fans of all ages -- to go outside and enjoy a game of catch. The Orioles host events for this each summer, with special guests including the Oriole Bird and Baltimore players, alumni, staff and ballboys and ballgirls.
Castro, of course, took the "Have a Catch" encouragement to a whole new level.
"I just try to help any way I can -- the fans, my teammates," Castro said, who added that Baltimore is the first stop in his career where he's thrown with the fans. "Obviously, we are not in a really good situation, so if we could just come up with something positive, we'll just try to take advantage of that."
Castro, in his fourth Major League season, is still learning -- both as a ballplayer and in adapting to Baltimore. But Orioles manager Buck Showalter wasn't surprised to learn about how Castro spends his pregame time, praising the young pitcher's makeup and ability to make quick work of the language barrier.
"A lot of young players having that failure and that quick rise, sometimes they don't ever get back," Showalter said of Castro, who, at the age of 23, has already played for three Major League teams. "But I think the organization has done a good job with making him comfortable, and we've gotten dividends with him.
"[But] I'd be careful about playing catch with him," Showalter joked. "He doesn't know how to take it off. He hasn't mastered that changeup yet. I don't know if I'd get up there playing catch with him. He throws too hard."
Zach Silver is a reporter for MLB.com based in Baltimore.