Matheny anticipates improved play in 2nd half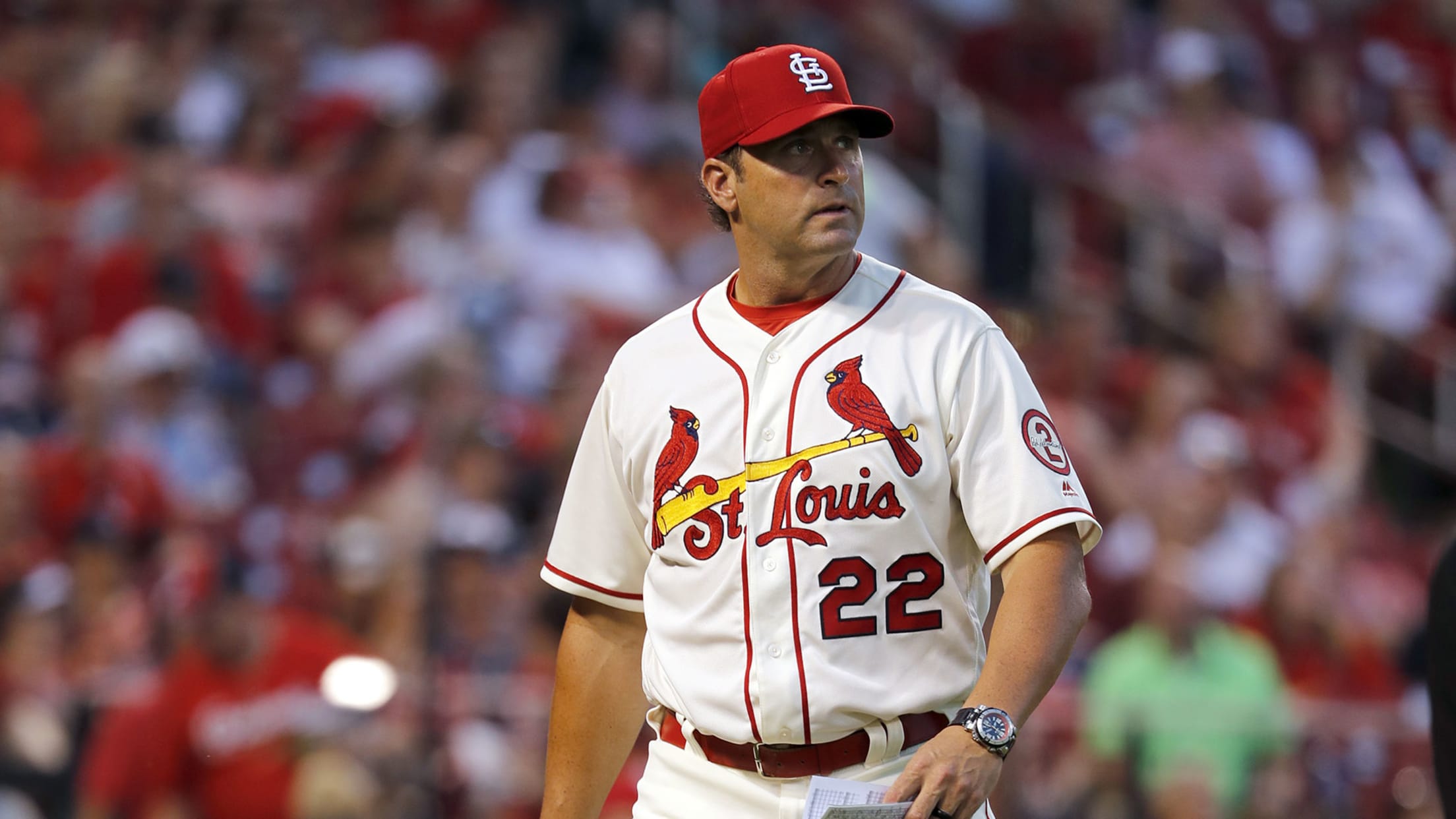 PHOENIX -- As the season turned the corner this week, manager Mike Matheny was not afraid to set the bar high as the Cardinals look to gain ground on the Brewers and Cubs in the National League Central."We're going to be better, " Matheny said. "There is just no question
PHOENIX -- As the season turned the corner this week, manager Mike Matheny was not afraid to set the bar high as the Cardinals look to gain ground on the Brewers and Cubs in the National League Central.
"We're going to be better, " Matheny said. "There is just no question about it.
"We're going to be better defensively. It's just a matter of us getting enough guys in the lineup hot to take advantage and have those innings that build up like we did [Monday], getting consecutive hits and keeping a rally going. We have the kind of players who can display the power.
"It's going to start with our pitching. Our pitching has been good. I think we are starting to see some guys take some nice roles in the bullpen. That's going to be a real advantage for us moving forward, as well as how we are going to be able to play the game defensively."
The Cardinals have struggled defensively in the first half, entering their game against the D-backs on Tuesday with a Major League-high 69 errors. Advanced metrics are not as harsh, measuring them at about average in Defensive Runs Saved, according to Baseball Reference.
They had a new defensive look on Tuesday, with Jose Martinez making his first start of the season in right field and Matt Carpenter at first base and Jedd Gyorko at third for the second straight game.
Second baseman Kolten Wong grades out as the most efficient second baseman in the NL, with 11 DRS. Carpenter and Gyorko each have five, Carpenter leads among players who have spent most of their time at third.
"Trying to improve our defense on the infield, where there is a lot of action going on around some pitchers who get the ball on the ground," Matheny said. "We need plays made."
At the same time, Matheny said Martinez's move to the outfield is not necessarily permanent.
"Anything could happen on any particular day," Matheny said. "Versatility is good for a player, good for our club. [We] try to figure out positions where we could get [Martinez's] bat in the lineup."
Injury update: DeJong
Shortstop Paul DeJong was to play his fourth and final rehab game on Tuesday and is expected to join the team on Thursday in San Francisco. DeJong, hitting .260 with eight homers in 41 games, has been out since May 18 with a fractured left hand.
The Cardinals saw DeJong hit while in Milwaukee two weeks ago and thought he looked healthy.
"On just the short eye test we had with him in Milwaukee, watching the ball jump off his bat pretty good, it looked pretty good," Matheny said.
"These guys put him through some pretty extensive testing. Testing showed that he was back to pre-injury strength in that hand. Grip strength is something we calibrate a lot. Especially after an injury. It is good to have that baseline to go back to."
DeJong was 2-for-9 with a double, two runs and an RBI in his first three rehab games.
• Matheny said there is no timeline for the return of relievers Matt Bowman and Luke Gregerson, both on rehab assignments.
Worth noting
• Right-hander Dakota Hudson and outfielder/first baseman Rangel Ravelo were named the Cardinals' Minor League Pitcher and Player of the Month for June.
Hudson was 5-0 with a 1.06 ERA at Triple-A Memphis of the Pacific Coast League, giving up four runs in 34 innings. He leads the Minor Leagues with 11 victories, and he has been selected to start the Triple-A All-Star Game on July 11.
A supplemental first-round pick in the 2016 Draft out of Mississippi State, Hudson has held opponents to two runs or fewer in 12 of his 15 appearances.
"He had a very impressive month," Cardinals director of player development Gary LaRocque said.
Ravelo hit .463 with six homers and 23 RBIs in 20 games at Memphis in June while striking out only four times. He is hitting .313 this season with nine homers and 42 RBIs.
"Rangel delivered a productive offensive month, helping Memphis defensively as well with his versatility in left field and at first base," LaRocque said.
• William Fowler and his wife, Aliya, celebrated the birth of Ivy Noor Fowler on Tuesday. Fowler, on the paternity list, is expected to rejoin the Cardinals in San Francisco this weekend.
Jack Magruder is a contributor to MLB.com based in Phoenix.