Scioscia: Angels can return to contention in 2017
Injuries, lack of depth, inconsistency doomed club this season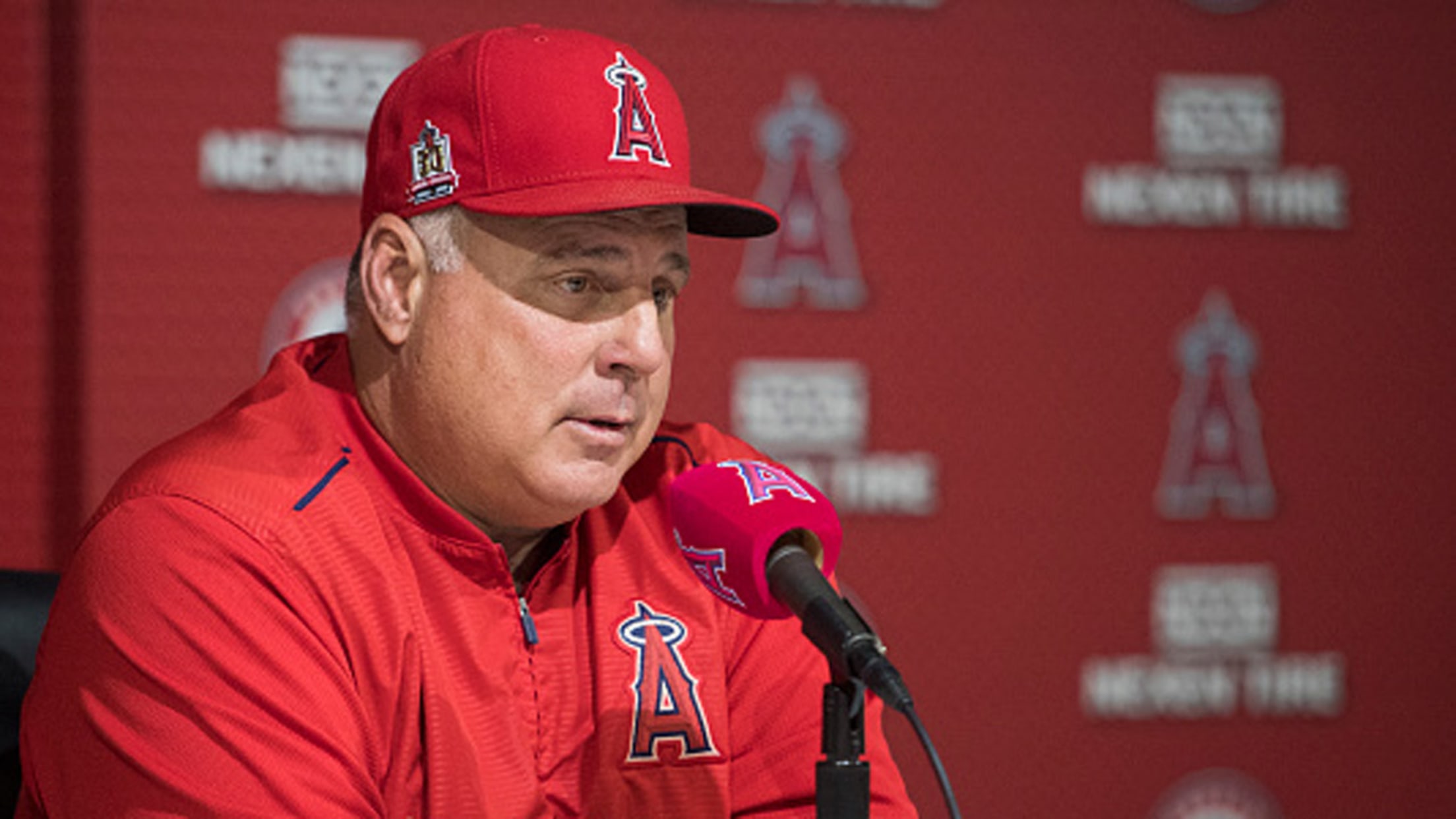 Manager Mike Scioscia acknowledged Tuesday that the Angels' season was very disappointing but pointed out that, with a few additions, the team should be back in contention next season (Matt Brown/Angels Baseball LP/Getty) (Matt Brown/Getty Images)
ANAHEIM -- The Angels are coming off a disappointing season, but manager Mike Scioscia says he firmly believes the organization can return to contention in 2017."I don't think we're back as far as maybe the perception is," Scioscia said Tuesday from a meeting room in the bowels of a mostly
ANAHEIM -- The Angels are coming off a disappointing season, but manager Mike Scioscia says he firmly believes the organization can return to contention in 2017.
"I don't think we're back as far as maybe the perception is," Scioscia said Tuesday from a meeting room in the bowels of a mostly quiet Angel Stadium.
The Angels suffered from a litany of injuries, plus a lack of depth and inconsistency, to finish 74-88, fourth in the American League West.
Still, Scioscia sees plenty of reasons to be optimistic as the Angels prepare for a turnaround next year.
"I think that as disappointing as this season was with our won-loss record -- believe me, we feel it, this is obviously not where we intended to be, and it was a rough season -- but I think within that, there were definitely some things that point towards us being closer to reversing that record than going the other way and having another year like we did this year," the manager said.
The top of the lineup was not an issue, with Yunel Escobar, Kole Calhoun, Mike Trout, Albert Pujols and C.J. Cron all contributing.
"I think the potential is there to put us where we need to be quickly," Scioscia said of the offense. "We do need to bring some talent in, no doubt about that."
Scioscia was pleased with a retooled bullpen that rebounded down the stretch despite losing closer Huston Street and Cam Bedrosian to injury, plus Joe Smith and Fernando Salas to trades.
"I think that our bullpen was reworked to a positive fashion, and that helped us to hold leads," Scioscia said.
There is no question, however, the Angels need depth throughout their organization to see a significant improvement moving forward.
"I think the depth issue is what we're going to be very sensitive about," Scioscia said. "We need to infuse some talent, and most likely it's going to come from outside to get that depth that we need."
The Angels have question marks at second base, catcher and, in particular, left field, where they have used 27 players since the 2014 season.
Scioscia would also like to get more quality starts from the rotation. The Angels had 64 quality starts this year, nine below the Major League average. The Halos ranked 12th in the AL and 24th in MLB in that category.
"That's the heartbeat of your club," Scioscia said. "For obvious reasons, we were well behind in that this year."
The rotation suffered season-ending injuries to Garrett Richards, Andrew Heaney, Nick Tropeano, Matt Shoemaker and C.J. Wilson. Meanwhile, Tyler Skaggs was limited to 49 2/3 innings in his first season back from Tommy John surgery.
Heaney and Tropeano are out for next season as they recover from Tommy John. Richards, Skaggs and Shoemaker are expected to be healthy for Spring Training. Ricky Nolasco was solid after being acquired from the Twins. Wilson will not be back, but free agent Jered Weaver is a possibility to return.
"I don't think it's too far of a stretch to think that we will add depth there and have a better starting rotation than we had this year," Scioscia said. "I think that some of these issues will be addressed with the guys that are here, that are coming back, coming out and getting a whole year to perform the way we know they can."
The Angels were 25-20 over their final 45 games. From the end of August through the conclusion of the season, the Angels won series on the road against the Blue Jays, Tigers, Mariners and Astros -- four clubs who all were in postseason contention through the final week of the season.
"We played some teams that were really playing well at the times that we went and played them, and we went head-to-head and did well," Scioscia said. "So that's why I think there's so many positives in that end, and that gives us great optimism for what we can be."