Trout leads all AL players in ASG vote update
Injured outfielder off to scalding start; Pujols ranks 5th among DHs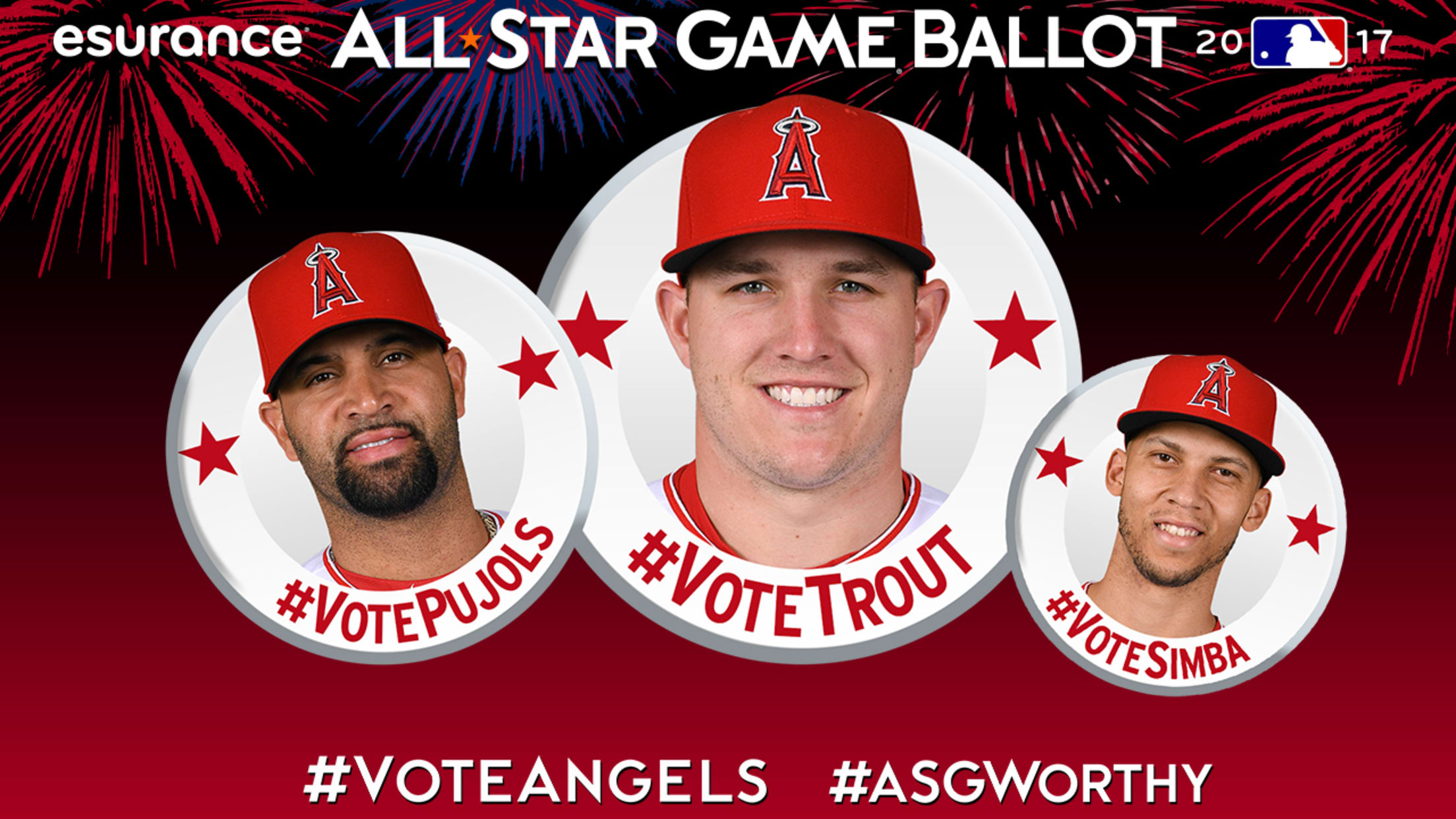 ANAHEIM -- Before suffering a torn UCL in his left thumb on Sunday, Angels star Michael Trout was off to the best start of his career, an achievement that was recognized when the first Esurance MLB All-Star Game Ballot updates for the American League were released on Wednesday.Trout led all
ANAHEIM -- Before suffering a torn UCL in his left thumb on Sunday, Angels star Michael Trout was off to the best start of his career, an achievement that was recognized when the first Esurance MLB All-Star Game Ballot updates for the American League were released on Wednesday.
Trout led all AL players on the ballot with 776,937 votes, putting him in line to earn his sixth consecutive All-Star nod. Still, the 25-year-old center fielder is not expected to appear in the 2017 All-Star Game presented by MasterCard on July 11 at Marlins Park, as he will undergo thumb surgery on Wednesday and is projected to miss six to eight weeks.
Prior to the injury, Trout was batting .337 with a 1.203 OPS, 16 home runs, 36 RBIs and 10 stolen bases this season.
• VOTE NOW for #ASGWorthy players
The only other Angel to crack the top five at any position is Jose Pujols, who ranks fifth among AL designated hitters with 154,626 votes. Pujols trails the Mariners' Nelson Cruz (457,050), the Indians' Edwin Encarnacion (282,837), the Yankees' Matthew Holliday (276,855) and the Rays' Corey Dickerson (216,350).
Pujols, 37, is hitting .254 with a .717 OPS, eight homers and 38 RBIs in 2017. He launched his 599th career home run against the Braves on Tuesday night, leaving him one shy of 600.
Fans may cast votes for starters at MLB.com and all 30 club sites -- on computers, tablets and smartphones -- exclusively online using the 2017 Esurance MLB All-Star Game Ballot until Thursday, June 29, at 8:59 p.m. PT. On smartphones and tablets, fans can also access the ballot via the MLB.com At Bat and MLB.com Ballpark mobile apps. Vote up to five times in any 24-hour period for a maximum of 35 ballots cast.
Following the announcement of the 2017 All-Star starters, reserves and pitchers, fans should return to MLB.com and cast their 2017 Esurance MLB All-Star Game Final Vote for the final player on each league's All-Star roster. Then on Tuesday, July 11, while watching the 2017 All-Star Game presented by MasterCard live on FOX, fans may visit MLB.com to submit their choices for the Ted Williams Most Valuable Player Award presented by Chevrolet with the 2017 MLB All-Star Game MVP Vote.
The 88th Midsummer Classic, at Marlins Park in Miami, will be televised nationally by FOX Sports; in Canada by Rogers Sportsnet and RDS; and worldwide by partners in more than 160 countries. ESPN Radio and ESPN Radio Deportes will provide exclusive national radio coverage, while MLB Network, MLB.com and SiriusXM will have comprehensive All-Star Week coverage. For more information about MLB All-Star Week and to purchase tickets, please visit AllStarGame.com and follow @AllStarGame on social media.