Presenting the All Early-Revelations Team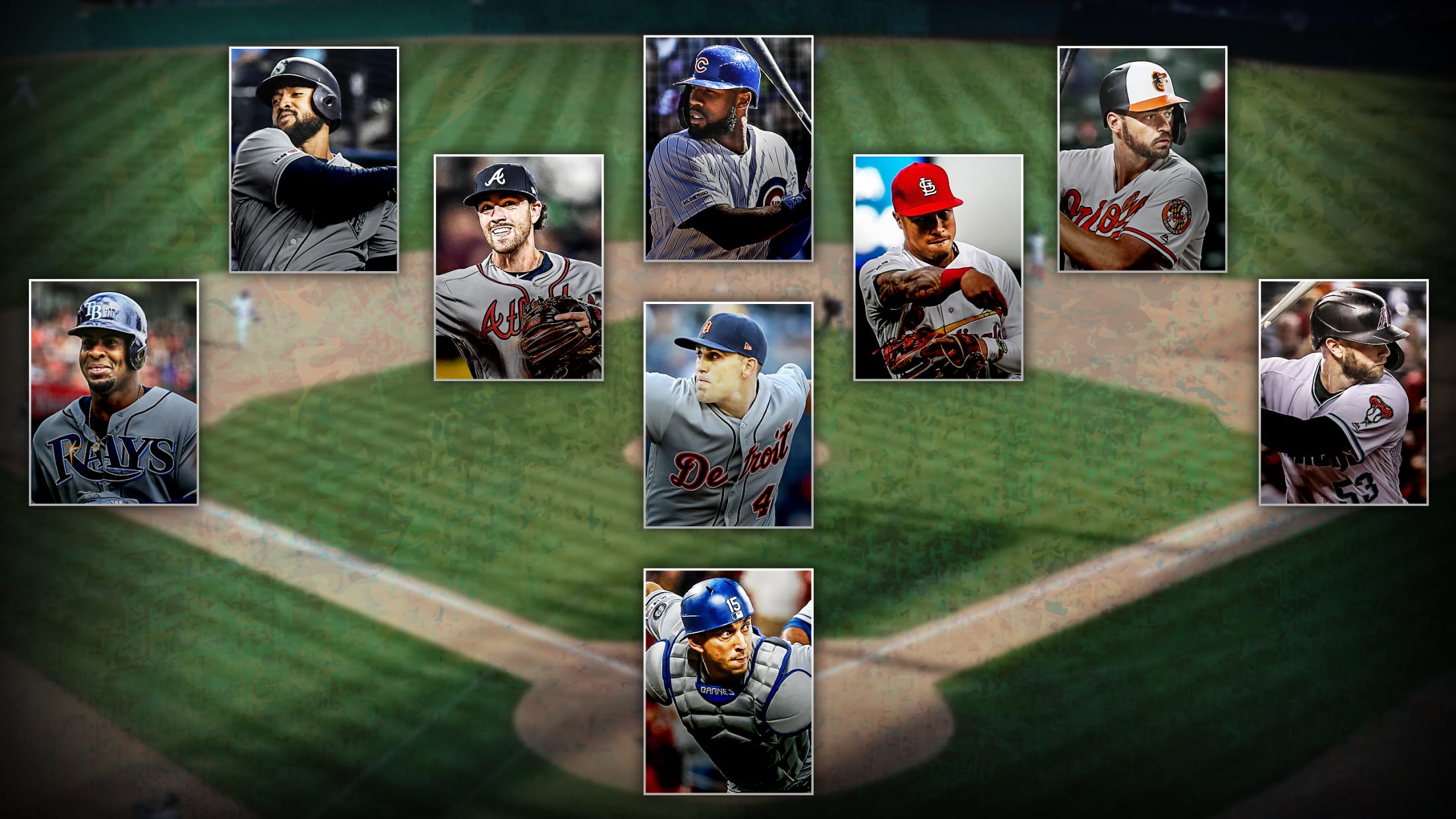 A revelation is a surprising and previously unknown fact, and the typical baseball season provides plenty of those. But your first reaction to a piece using the word "revelation" to describe anyone or anything at this obnoxiously early stage of the 2019 season is probably that it's premature. And you
A revelation is a surprising and previously unknown fact, and the typical baseball season provides plenty of those. But your first reaction to a piece using the word "revelation" to describe anyone or anything at this obnoxiously early stage of the 2019 season is probably that it's premature.
And you know what? You're right. But we've seen enough of this sport to know that some early surprises stick, especially when real changes -- to swings, to approaches, to pitch repertoires, etc. -- have played a role in producing them.
So while readily acknowledging that not all of what follows will stick, here's a starting lineup of guys off to hot starts notable not just for the surface-level stats but because of the calculable -- and possibly revelatory -- improvements behind them.
(Important note: I'm focused here on guys who already had a history in the Majors, so the list won't include rookies like Pete Alonso, Victor Robles, Fernando Tatis Jr. and Alex Verdugo who are off to great starts. I'm also going to steer clear of past stalwarts who have appeared to return to form after a down period, because a resumption of prior track record, while laudable, is not revelatory.)
Catcher: Austin Barnes, Dodgers
Gary Sanchez and Willson Contreras are back to bashing baseballs (albeit with some especially egregious defensive lapses on Sanchez's part). But those guys are examples of bouncebacks we could have seen coming. And even part-time Twins catcher (and growing legend) Willians Astudillo's early put-everything-in-play-then-hustle-like-hell prowess is an extension of what we saw in a small sample at the end of 2018.
Barnes, though, could be the revelation. He won't maintain a .364/.500/.682 line, but his Statcast-calculated spike in average launch angle -- from just 4.4 percent to 12.6 percent -- and his dramatic dip in strikeout percentage -- from 28.2 percent to 10 percent -- are eye-catching (to go with his actual catching, which is very good) on a Dodgers team that missed out on J.T. Realmuto.
First base: Christian Walker, D-backs
The 28-year-old Walker, a 2012 fourth-round Draft pick by the Orioles who has been claimed off waivers three times in his career and came into the year with 88 at-bats spread across four seasons in the Majors, had the opportunity to "replace" Paul Goldschmidt -- and he has seized it with a .951 OPS in his first 10 games.
Walker was supposed to be in a platoon with Jake Lamb, because the prevailing line of thought was that he was only usable against lefties. But Lamb got hurt last week, and Walker has done damage against fellow righties, including all three of his homers. Pitchers are already adjusting to him, so maintaining that early production will be difficult, but he deserves a shout out here.
Second base: Kolten Wong, Cardinals
No one is suggesting that Wong's monstrous early output (.361/.429/.722) is his new normal. But it was well-documented last year how much he seemed to benefit from the Cards' managerial switch from Mike Matheny to Mike Shildt, and we're seeing a more confident, relaxed player again here in 2019. He's getting into deeper counts (his pitches per plate appearance is at a career high of 4.2) and drawing more walks, he's got the green light on the basepaths (two steals), and he bunted home an insurance run with two outs in the eighth inning against a fellow lefty on Sunday.
It appears Wong won't have to keep looking over his shoulder to see if somebody (namely Jedd Gyorko) is going to swipe his playing time.
Shortstop: Dansby Swanson, Braves
Tim Beckham smacked a homer in the Mariners' opener in Japan and he hasn't slowed down stateside, while Tim Anderson has been a hit machine (albeit with his usual allergy to walks) for the White Sox.
But just when it seemed Swanson might never display the offensive skills that made him the No. 1 overall Draft pick in 2015, along comes this scorching start in which he's been the Braves' MVP with a 1.183 OPS. His strikeout rate of 18.6 percent is down 4.3 points from last year, his walk rate of 14 percent is up 5.7 points from last year, and his average exit velocity of 92.3 mph is up 5.5 mph from last year. That's led to barrel (21.4) and hard-hit (53.6) percentages that both rank in the top 10 percent of the league. Those are genuine changes from a player who spent all spring working to put himself in a better position to hit the ball on the sweet spot.
Third base: Yandy Díaz, Rays
Maikel Franco is crushing it (.294/.442/.706) in a lower-pressure spot in that loaded Phillies lineup. But admittedly -- and strictly as a matter of living in Cleveland -- I'm less a Francophile than I am a Yandy Fandy.
For the last couple years, I've watched up close as Diaz struggled to get real opportunity with the Indians because of the club's infield depth and the defensive concerns with putting him in the outfield. It was widely assumed that if Diaz -- who has one of the highest exit velocities in the sport and biceps bigger than your head -- ever improved his launch angle to stop the mass massacre of worms, he could be a force of nature. It's early, but he's been exactly that since his offseason trade to the Rays, as our Mike Petriello wrote about at length.
Left field: Domingo Santana, Mariners
This entire Mariners offense is a revelation. But while it's been fun to see Beckham and established stars Jay Bruce and Edwin Encarnacion change the narrative about Seattle's offseason, Santana might be the best pickup of them all. He's only 26, so he'll be around a while, and he is not far removed from major success in 2017 with the Brewers (.875 OPS, 30 homers, 29 doubles).
High-strikeout and low-contact rates made it a fair question whether Santana would ever enjoy a more sustained breakout. It's early (have I mentioned that?), but Santana's contact (from 66.1 percent last year to 82.7), strikeout (from 32.8 to 23.4), walk (from 8.5 to 12.5) and barrel (10.2 to 15) rates have all improved in a substantial way so far with the Mariners, leading to a 1.047 OPS in his first 13 games.
Center field: Jason Heyward, Cubs
OK, I'm breaking my rule about including past All-Stars returning to form by including Heyward (and I'm putting him in center, even though he spends the majority of his time in right). But it's been so darn long since he was even a league-average offensive contributor (you've got to go back to 2015) that if you gave up hope of him ever showing real signs of life at the plate again, well, you're far from the only one.
But Heyward's got four early home runs, already twice as many as he hit in the first two months of 2018. He's got two stolen bases, already exceeding his total from the entirety of '18. His average exit velocity is up three mph, to 91 mph, and his hard-hit percentage is up from 38.5 to 46.4. Skepticism is very much still allowed here, but let's see where this goes.
Right field: Trey Mancini, Orioles
We could break that "past All-Star" rule again by celebrating Adam Jones' early offensive resurgence with the D-backs (1.090 OPS) after a frustrating free agency or by pointing out that Cody Bellinger, in his return to superstardom, is belting the breaking balls and the lefties that befuddled him late in 2017 and most of last year.
But Mancini is interesting. He finished third in the Rookie of the Year Award voting in 2017, then had an underwhelming sophomore year. The common thread between the two seasons (beyond identical 24-homer totals) was that he put the ball on the ground more than half the time it went in play. That's not good. But here in 2019, Mancini's encouraging early output -- 1.184 OPS, five homers, two doubles -- is in part a product of a reduced ground ball rate, down to 38.9 percent.
Starting pitcher: Matthew Boyd, Tigers
We're only in teams' third turn through the rotation, so this is a small sample even in a discussion of small samples. But after an 2018 improvement got him to basically league-average output (his 100 ERA+ was exactly league average), Boyd, who has a strong 2.60 ERA and a sterling 0.94 FIP through three starts, appears to have focused on the good from that season and reduced the bad. Genius!
Here's what I mean: Last year, Boyd's reshaped slider emerged as a viable weapon. His strikeout rate with that pitch jumped from 20.3 percent to 33.7. But Boyd's sinker got tattooed to the tune of a .670 opponents' slugging percentage, and, overall, Boyd had the second-highest fly ball rate in the league (resulting in 27 homers allowed).
Through three starts this year, Boyd has almost scrapped his use of the sinker (from 14.6 percent to 4) and increased his use of the slider (from 30.6 to 36.2). He's reduced the fly ball rate only slightly, but, because he's getting more soft and less hard contact, he's yet to get burned by the long ball at all.
And oh, by the way, Boyd has struck out 40.3 percent of the hitters he's faced. That'll play.