Here we go again: 10 best 'repeat' free agents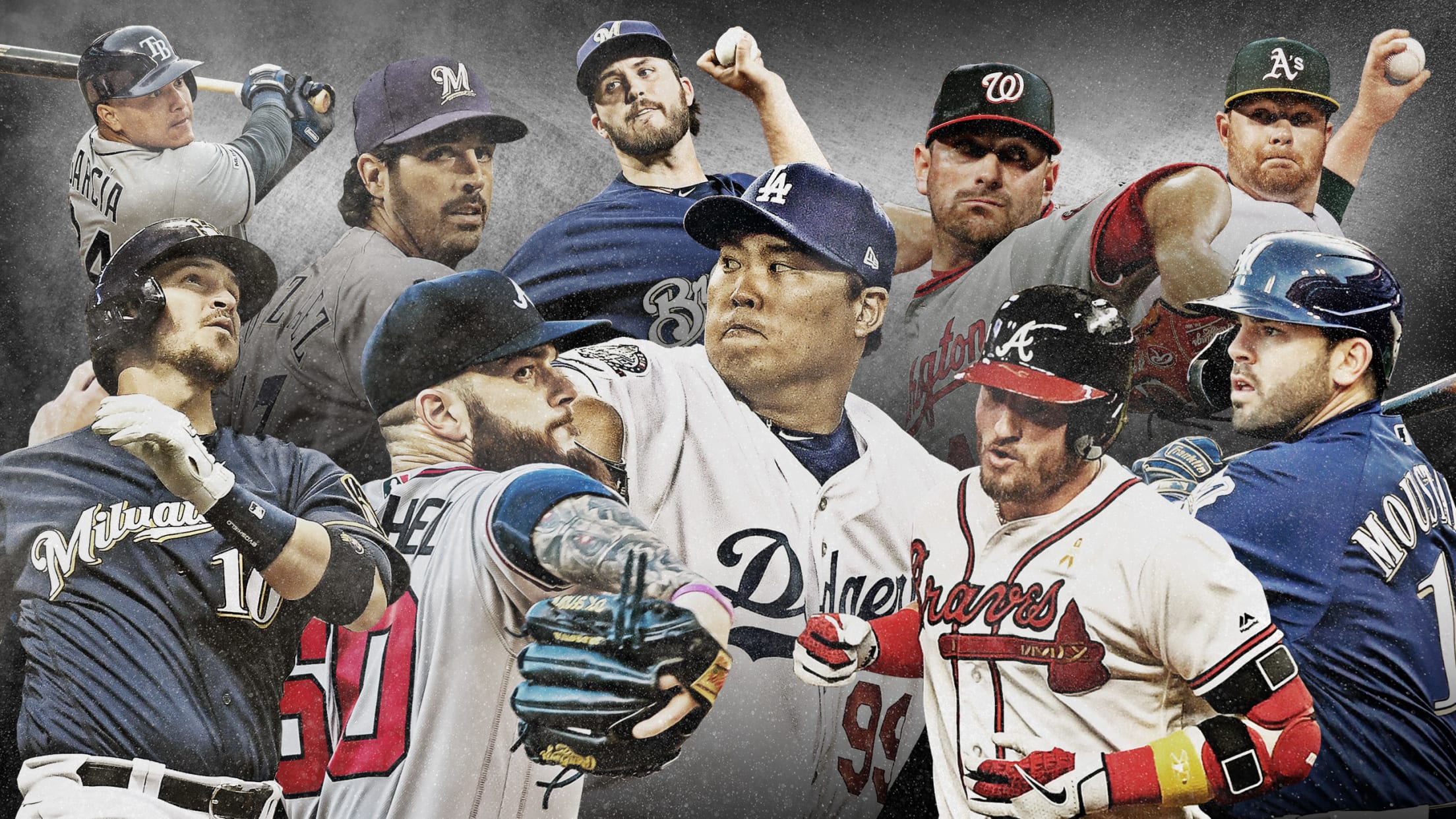 Players don't typically aspire to be annual free agents. Many of them go into this process looking for life-altering money and life-settling certainty. But various circumstances can lead to a player taking a one-year deal and then hitting the market yet again the following winter. That was the case for
Players don't typically aspire to be annual free agents. Many of them go into this process looking for life-altering money and life-settling certainty.
But various circumstances can lead to a player taking a one-year deal and then hitting the market yet again the following winter.
That was the case for these 10 players, who represent the best of the returning free agents in this Hot Stove season.
• Hot Stove: Rumors and reports
1) Josh Donaldson, 3B
A year ago, the former American League MVP took a "pillow" contract with the Braves. At $23 million, it was a pretty attractive pillow for a guy who had played just 52 games in 2018 and was out to prove he could stay healthy and provide elite production again.
The deal worked out for both sides. The Braves won the National League East with the help of Donaldson's .900 OPS, 127 OPS+, 37 homers and 33 doubles, and Donaldson improved his free-agent profile. He's entering his age-34 season, but Donaldson is an elite athlete who still has a lot of life in his bat and body and brings instant credibility to a clubhouse. The Braves would love him back, but the Rangers are reportedly lurking.
2) Yasmani Grandal, C
This will be one of the more fascinating free-agent cases of the offseason, because Grandal turned down a reported four-year, $60 million offer from the Mets last year under the premise that he could do better. He signed a one-year, $16 million deal with the Brewers (with an additional $2.25 million from the buyout of his mutual option) and was, quite simply, the best-hitting catcher in baseball (119 OPS+, 121 wRC+) while also continuing to serve as an elite pitch-framer.
The offensive performance wasn't out of character, as Grandal basically replicated his 2018 output with the Dodgers, albeit with a 31-point jump in on-base percentage. Point is, teams in need of an upgrade behind the dish could feel comfortable and confident with Grandal moving forward. MLB.com's Mike Petriello dug in deep on the Grandal market, and it turns out that pretty much every team should be in on him, but especially the Rockies, White Sox and Reds.
3) Hyun-Jin Ryu, LHP
Ryu probably made the right decision a year ago, when he accepted the $17.9 million qualifying offer from the Dodgers rather than exploring the open market. Signing him would have cost his new team Draft-pick compensation, and while his 1.97 ERA from 2018 was attractive, the fact that he compiled that mark in only 82 1/3 innings was less so.
A year later, Ryu still comes with overall injury questions, but they are lessened by his 182 2/3 innings from 2019 in which he posted the Majors' best ERA (2.32) and the NL's best ERA+ (179). Because he is no longer eligible to receive the qualifying offer, he's not attached to Draft compensation, which should open the market for him, though he's said to prefer Southern California.
4) Dallas Keuchel, LHP
Keuchel has spent more months of the past year unemployed (eight) than employed (four). He ran into the teeth of a changed game last winter, as his low-velocity, pitch-to-contact profile wasn't highly valued, especially not with Draft-pick compensation attached to his name. Like Craig Kimbrel, he waited until after the 2019 Draft to sign. Unlike Kimbrel, he took a one-year deal (Keuchel made $13 million in those roughly four months with the Braves) and is back on the market again.
But he no longer has to deal with the Draft-pick issue. Given that he came in cold in mid-June, Keuchel's results with Atlanta were encouraging -- a 3.75 ERA, 121 ERA+ and 60.1% ground-ball rate. He'll be 32 for the 2020 season, and while he might not get the kind of deal he once hoped, there should be a number of suitors.
5) Mike Moustakas, 2B/3B
Unfortunately, Moose can't go back in time and accept the qualifying offer from Kansas City that he turned down prior to 2018. But he's made good on consecutive, modest, one-year deals (first with the Royals, then with the Brewers) by continuing to provide his signature power (35 homers, .516 SLG in 2019), his leadership and his solid defense (even sliding over to second in '19).
He was worth 3.2 Wins Above Replacement to Milwaukee this past season. Whether that will finally result in a multiyear deal for the 31-year-old Moustakas remains to be seen. That he's shown he can handle second base should only enhance his appeal.
6) Drew Pomeranz, LHP
This has been an unusual career. Pomeranz was one of the top pitching prospects in the game with the Indians way back when, then he was traded to Colorado (a daunting prospect for a pitching prospect). Then he became a worthwhile reliever with the A's. Then he was an All-Star starter with the Padres and a trade target of the Red Sox. Then he got hurt. And then, out of nowhere in August -- after signing a low-profile one-year deal with the Giants and getting moved to Milwaukee in an equally low-profile midseason trade -- he emerged as one of the most devastating relief options in the game.
It's only a 26 1/3-inning sample, but Pomeranz's 0.91 WHIP and 5.63 K/BB ratio with the Brewers make him one of the most attractive relievers in the marketplace, just a year after he signed for $1.5 million. In fact, in a shallow market for relievers, he might be the best option out there. Things sure can change quickly, especially with relief pitchers.
7) Daniel Hudson, RHP
Here is more evidence of that last point. Hudson was unemployed throughout the winter last year before signing a Minor League deal with the Angels in February. The Angels wound up releasing him, and he latched on with the Blue Jays, for whom his performance in 45 relief outings was strong enough to catch the eye of a desperate Nationals team that landed him prior to the Trade Deadline.
Well, you know what happened next: Hudson caught fire with improved control and better application of his strong velocity and spin rates for his new club and wound up recording the final outs of Game 7 of the World Series. Now, the same guy who was available on a Minor League deal less than 10 months ago could potentially be in position for a multiyear deal now. Baseball's weird.
8) Avisaíl García, OF
A non-tender by the White Sox last December, García wound up signing a one-year, $3.5 million contract with the Rays, who valued his hard-hit rate and increase in launch angle, among other attributes. The Rays rightly bet that, with improved health, García could contribute more than the replacement-level campaign he had put together in his final season on the South Side.
In 125 games with Tampa Bay, García had a solid .282/.332/.464 slash line with 20 homers, 25 doubles and a 111 OPS+. He's 28, has some speed and pop, and can handle center. He might not get a multiyear deal, but his versatility would help almost any team.
9) Gio Gonzalez, LHP
The veteran signed a Minor League deal with the Yankees last spring but wasn't called up by his opt-out date. That wound up working in favor of the Brewers, who had familiarity with Gonzalez from his time with them at the tail end of 2018 and had an early need in their rotation in '19.
Gonzalez wound up becoming a stabilizing presence for Milwaukee, posting a 3.50 ERA and 127 ERA+ in 87 1/3 innings over 19 appearances (17 starts). He's 34 and still has value as, at the least, a back-end starter or swingman.
10) Brett Anderson, LHP
Another veteran lefty presence who can round out a rotation. Anderson, who will be 32 next season, and the A's just can't seem to quit each other. He came up with them in 2009, was traded prior to '14, latched back on with Oakland on a one-year deal in '18 and then re-signed on a Minor League deal in February of this year.
Another Oakland union could be in the offing for 2020, though Anderson is coming off a stronger season than he was a year ago. After posting a 4.48 ERA and 93 ERA+ in 17 starts in 2018, he had a 3.89 ERA and 111 ERA+ in 31 starts in '19. Anderson has had a lot of ups and downs and injuries in his career, but his innings output last season was his highest since '15.