Contenders hard at work on first drafts of 2019
With Harper and Machado unsigned, expect plenty of revisions to come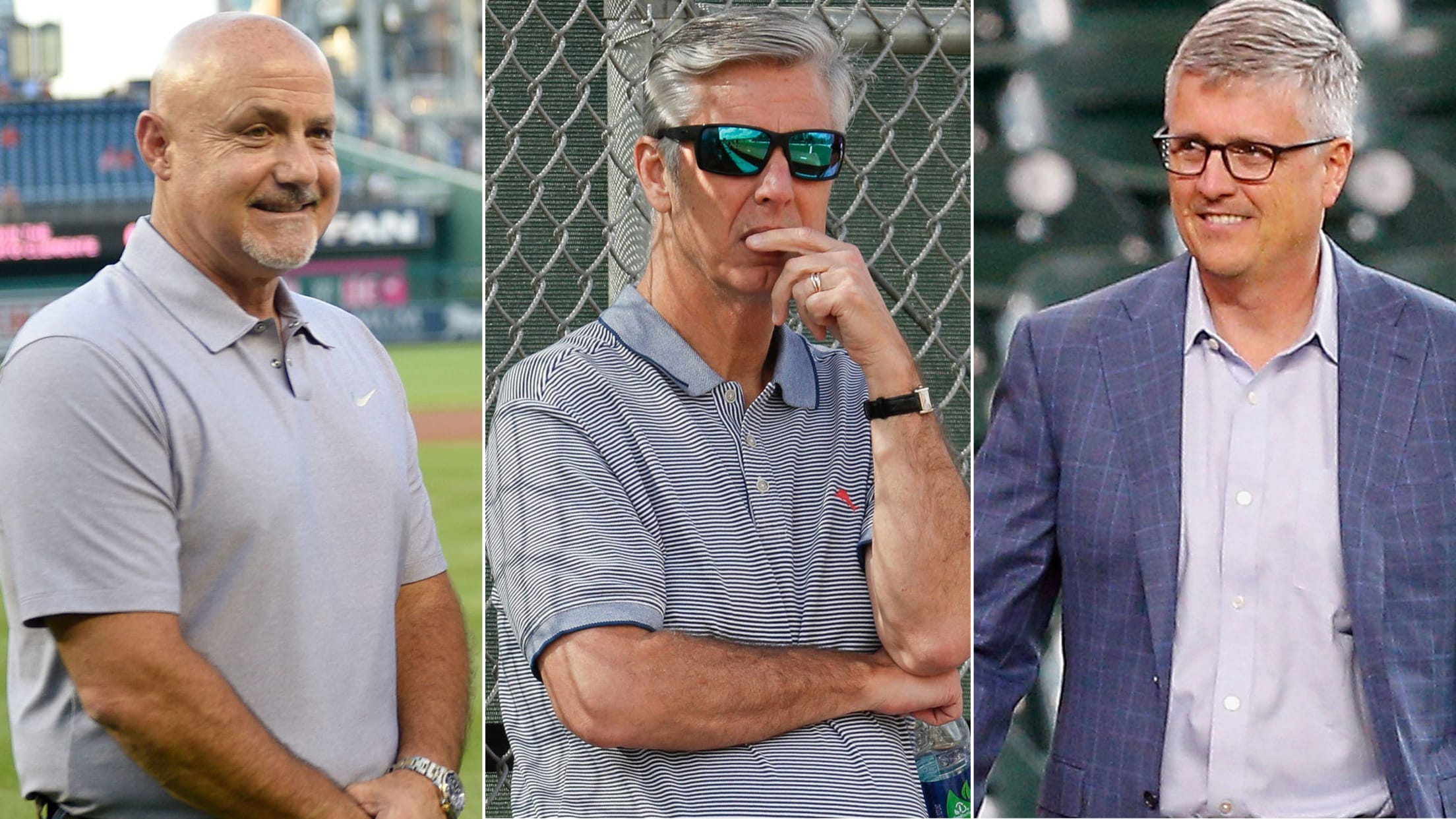 WEST PALM BEACH, Fla. -- The Astros train here, in a ballpark whose naming rights belong to FITTEAM, a beverage company. So the Astros are at one end of the vast complex at the The Ballpark of the Palm Beaches, while the Nationals are at the other. So this is
WEST PALM BEACH, Fla. -- The Astros train here, in a ballpark whose naming rights belong to FITTEAM, a beverage company. So the Astros are at one end of the vast complex at the The Ballpark of the Palm Beaches, while the Nationals are at the other. So this is one terrific place to watch Spring Training baseball, with two teams playing here the way two teams do up I-95 in Jupiter with the Cardinals and Marlins.
Two teams and two offseason philosophies, at least so far, with Spring Training having started but the baseball winter not yet officially over. The Astros have not made big moves since they lost to the Red Sox in the American League Championship Series. The Nationals have acquired a lot of guys -- Patrick Corbin, Brian Dozier, Trevor Rosenthal, Jeremy Hellickson and Aníbal Sánchez, plus two new catchers in Yan Gomes and Kurt Suzuki -- all while waiting the way the rest of us are to see where Bryce Harper will land.
With or without Harper, you know the Nationals expect to contend this season. The Astros always expect to contend. But both Mike Rizzo and Jeff Luhnow, who run baseball operations for these two teams, know the same thing all bosses of contending teams know:
:: Spring Training coverage presented by Camping World ::
They are only working on the first drafts of their seasons.
Some general managers are still working -- and hard -- on their first drafts, because Harper is still out there and so is Manny Machado. So, too, are a lot of other lower-profile free agents. A year ago, Red Sox president of baseball operations Dave Dombrowski didn't complete his own first draft until J.D. Martinez signed his free-agent contract on Feb. 26.
There are always teams that seem to win the offseason. If you follow coverage of the Yankees in New York, every time they make as many moves as they have made since losing to the Red Sox in the 2018 postseason, you get the idea that they have built such a powerhouse that other teams will be afraid to come out of the clubhouse.
The Yanks have added a lot of new guys, too: James Paxton, Adam Ottavino, DJ LeMahieu and Troy Tulowitzki. They've kept Zack Britton and CC Sabathia. The Red Sox? They've been relatively quiet -- their own big move, so far at least, being a big new contract for Nathan Eovaldi, as much of a postseason pitching star for them as David Price was. Craig Kimbrel, last season's closer, is another free agent still looking for a place to land. Joe Kelly, one of Kimbrel's setup men, ended up with the Dodgers.
But both teams -- expected to engage in another Ultimate Fighting match in the AL East, and then into October -- know they are working on their own first drafts of history, at least what baseball history will be made starting on Opening Day. There will be another revision of the story in July before the non-waiver Trade Deadline, and probably another before the Aug. 31 deadline for players to be eligible for the postseason rosters.
"And sometimes," as former O's skipper Buck Showalter said the other day, "it's not just the players you acquire after the season starts, it's the guys you let go. After the Red Sox released [Hanley] Ramirez last year, I said to my coaches, 'OK, now they're really getting serious.' Forget the guys they got later. They were already saying they knew they had to change."
There was one version of the 2018 Red Sox that left Ft. Myers, and before Opening Day in St. Petersburg against the Rays. By October, Dombrowski had added Eovaldi, eventual World Series MVP Steve Pearce and Ian Kinsler. He signed Ryan Brasier to a Minor League contract in March, brought him up to the Majors in July, and the right-hander became an essential part of the Red Sox's bullpen. The Yankees, who had been a win away from the World Series in October of '17, traded for Giancarlo Stanton after that. It was another move that was supposed to make the rest of baseball throw up its hands and give up on the spot. By the summer, the Yankees had added Britton, J.A. Happ and another starter, Lance Lynn.
And you know what the Astros tried to do last summer? They tried to trade for Harper and, according to all versions of that story, nearly pulled it off. If they had, maybe it would have been a different story in the ALCS. Maybe Harper would have been the same kind of blockbuster, game-changing acquisition Justin Verlander was the year before.
The final draft of the 2017 Astros included Verlander, one of the great pitchers of his era. Houston absolutely doesn't win its first World Series without him. The Red Sox don't beat the Astros and go on to win the World Series last season without the guys Dombrowski added. Even his first draft, the one that finally included Martinez -- who became the most important hitter in the sport last season when you added everything up -- wouldn't have been good enough.
"Ideally, the club we leave Florida [with] is the club that ends up being good enough to win," Dombrowski said on Saturday. "However, that normally does not happen. Due to injuries, performance, or just plain need, you try to add players later in the season."
You better believe first drafts are still being written at this very moment, because Harper and Machado remain unsigned now the way Martinez was last February. But that is all they are for the two teams at the ballpark called FITTEAM, trying to get fit here and everywhere else. First drafts. Edits to come. Lots of edits.
Mike Lupica is a columnist for MLB.com.