MLB, Discovery Ed help teach STEM lessons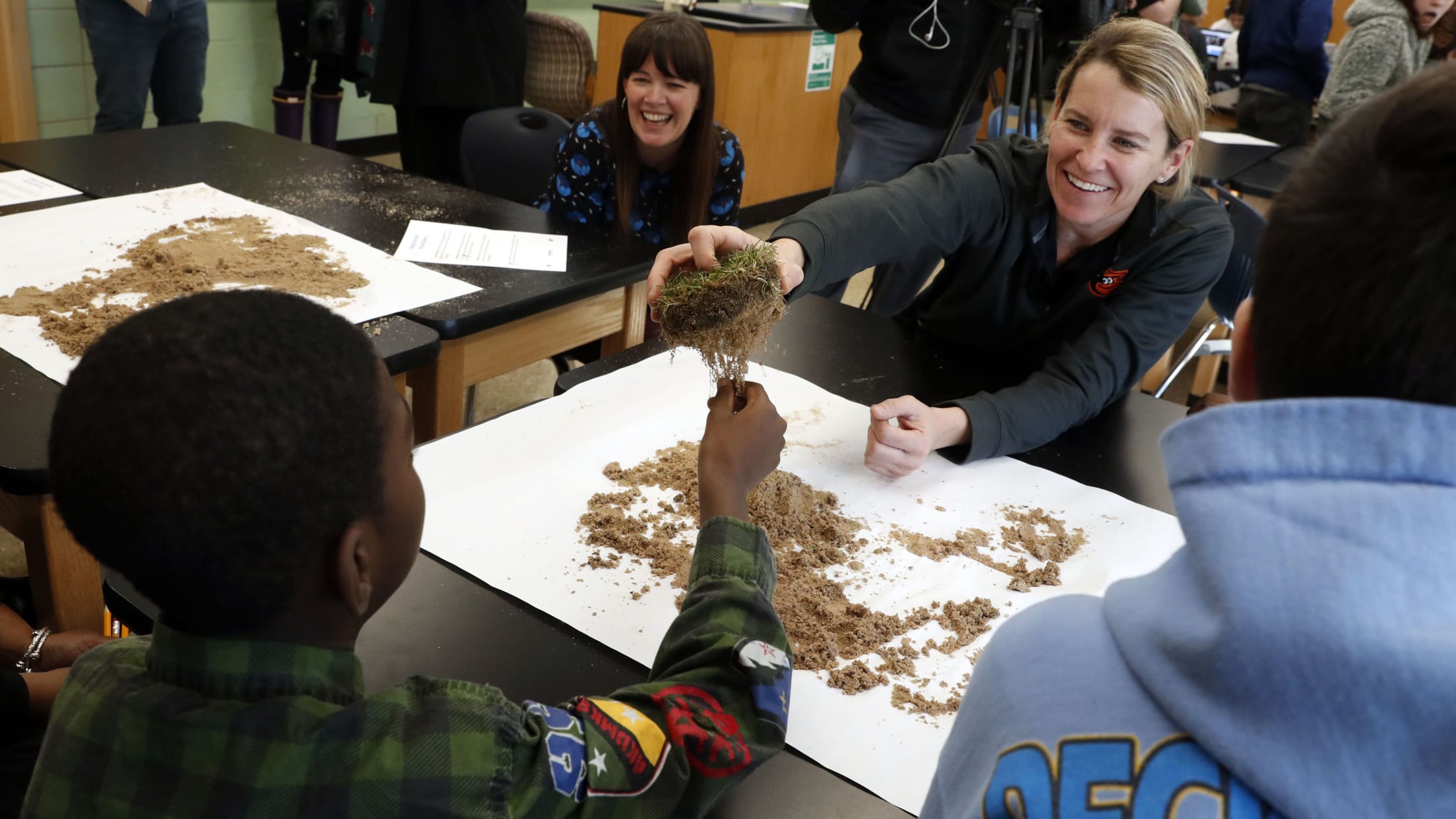 ESSEX, Md. -- A blanket of two-day-old snow covered the ground beyond the windows of Mike Fuchs' science classroom.Inside, however, Baltimore Orioles head groundskeeper Nicole Sherry and a few of Fuchs' seventh-graders at Deep Creek Middle School prodded a clump of earth that hints of warmer days ahead: a genuine
ESSEX, Md. -- A blanket of two-day-old snow covered the ground beyond the windows of Mike Fuchs' science classroom.
Inside, however, Baltimore Orioles head groundskeeper Nicole Sherry and a few of Fuchs' seventh-graders at Deep Creek Middle School prodded a clump of earth that hints of warmer days ahead: a genuine patch of sod from Camden Yards.
"You can go to school and study grass," Sherry said as the students traced the sod's root systems and squeezed the sandy base beneath. "But you can also study flowers, or agriculture, or genetics."
Sherry's words reflect the central thrust of a new partnership between Major League Baseball and curriculum provider Discovery Education, launched Tuesday at the event in suburban Baltimore County.
Teachers like Fuchs who teach with Discovery's science Techbooks -- digital textbooks that use video and other digital media to tie science principles to real-world applications -- now can access lessons rooted in the educational principles that guide running a big league club.
The ultimate goal, according to Discovery Education senior vice president of partnerships Coni Rechner, is to showcase the wide of range of baseball careers students can pursue through studying STEM subjects (science, technology, engineering and math).
"We believe you have to see it to be it," Rechner explained. "So we want students to see people like themselves in these different careers. Whether it's the groundskeeper, the statistician or obviously the amazing players."
Those resources include profile videos that highlight people like Sherry, who turned her degree in agricultural science from the University of Delaware into a life working in the sport she loves.
Also featured in the first offering are Sue Lucchi, the New York Mets' vice president of ballpark operations, and Devin Pickett, baseball information coordinator for the Chicago White Sox. More career highlights are expected this spring.
Additionally, students will be prompted to use authentic MLB Statcast™ data to consider questions like how ballpark altitude impacts home runs or how the infield surface influences the ability to leg out singles and steal bases.
"When students go home after they start using these applications and they're watching a game with their parents, and Statcast™ is talked about by the broadcasters, I think it's going to be really fun and exciting for the students to be educating their parents," said MLB senior vice president of marketing Barbara McHugh.
Students are asked to design systems to address the challenges facing real ballclubs every day, like improving player performance, maintaining an optimal playing environment and efficiently running a stadium. The hope is students are inspired to pursue the kinds of careers even baseball fans may not know have their roots in the STEM fields.
"I'm a season-ticket holder to the Cubs, and I never thought about the health of the field and the impact that it has," Rechner said.
On Tuesday, Fuchs' students rotated through four stations, progressing on their laptops through each prong of the lesson inspired by Sherry's career, and then met her in person. At the sod table, Nasir Scott enjoyed every moment of talking with his hometown team's head groundskeeper and learning about the nitty-gritty of keeping a field Major League ready.
"OK, we're switching stations in two minutes," Fuchs bellowed to his class.
"No!" Scott said.
Sherry smiled, pleased that her visit was resonating.
"Maybe these aren't going to be future groundskeepers," she said afterward. "But they could be future plant scientists, plant geneticists -- they can help change the world. If I can crack that door open just a little bit, then it's on them to take it further."
Ian Quillen is a contributor to MLB.com based in Baltimore.