10 scouting reports that saw greatness coming
These assessments of All-Stars were scary accurate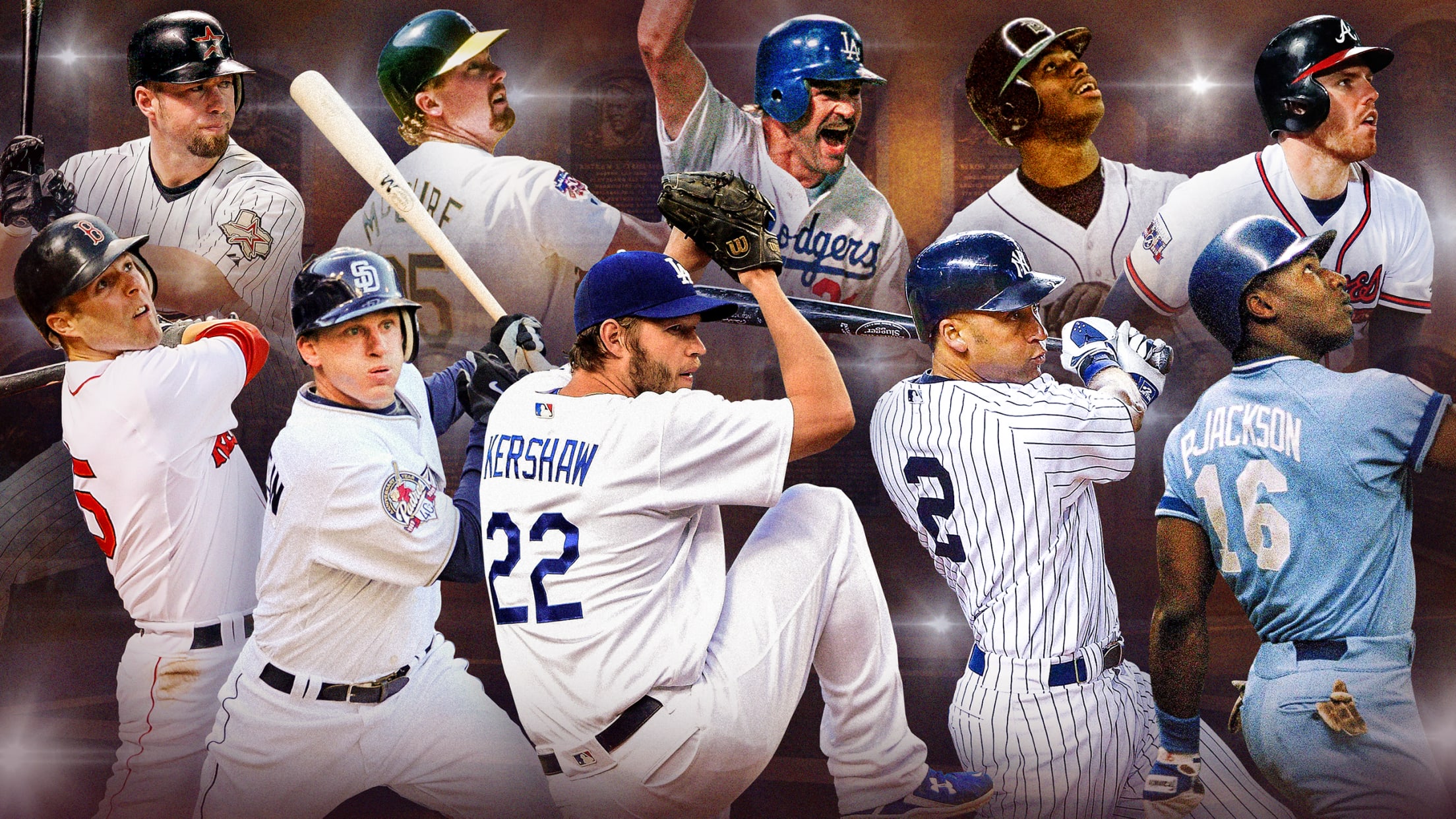 General managers and their staffs are poring over hundreds of reports submitted by their clubs' scouts with this year's Draft on the horizon, hoping in vain that they settle on the right choice -- and don't overlook the future superstars. The pressure is always on the scouts, too; one goes
General managers and their staffs are poring over hundreds of reports submitted by their clubs' scouts with this year's Draft on the horizon, hoping in vain that they settle on the right choice -- and don't overlook the future superstars. The pressure is always on the scouts, too; one goes into the profession knowing that every player he or she gets right will come with their fair share of misses.
The unpredictability of scouting and drafting is what makes the National Baseball Hall of Fame and Museum's scouting report archive such a fascinating resource. Chock full of more than 3,500 scouting reports -- dating back to 1950s files submitted on Negro League stars like Hank Aaron and Ernie Banks -- that are free for public access, the archive is perfect rabbit-hole fodder for fans curious about how their favorite players were first appraised. Some reports portray stars still figuring things out (in March 1994, one scout felt Nomar Garciaparra needed a "new approach at the plate" to make contact), while others (like a report on Dwight Gooden filed in 1982 -- just two years before his historic debut -- felt his fastball didn't have much life) are almost shocking to read with hindsight.
But every now and then, a scout's intuition hits the nail right on the head. Here are 10 pre-Draft scouting reports that saw the future.
The no-doubters
Ken Griffey Jr.
Drafted first overall by Mariners in 1987
It didn't take a super-scout to notice Griffey's preternatural talent; Bobby Cox, then the Braves' general manager, remarked that the Griffey he saw at Cincinnati's Moeller High School was the best prospect he'd seen in his life. Still, it's extremely fun to see the way scouts gushed about "The Kid."
There were some maturity questions about this Major Leaguer's son, just 17 years old at the time he was drafted. But Griffey's feel for the game was already unassailable. Mariners scout Bob Harrison noticed that "everything seems to come easy" for Griffey, and posited that his 30 homers-per-year potential, strong arm, outfield instincts and ability "to really go get the ball" gave him "all the tools to be a superstar." Fellow Mariners scout Roger Jongewaard went so far as to say that Griffey's "rare combination of speed/power/ instincts" made him "much better than Barry Bonds" when Bonds was 17. Neither scout projected Griffey's future grades in any category below 60 on the traditional 20-80 scouting scale, hinting at the incredible all-around talent Junior already possessed. The Kid was right there as a slam-dunk pick for Seattle at No. 1, and the Mariners didn't miss their opportunity.
Derek Jeter
Drafted sixth overall by Yankees in 1992
Jeter, like Griffey, was far from an undiscovered gem. Hordes of scouts attended his senior-season games as he hit over .500 while playing in the mud and ice of Kalamazoo, Mich. Baseball America named Jeter its top high school player.
But the way scouts already spoke of Jeter in reverential terms, the same way fans and analysts alike would throughout his Yankees career, is what stands out the most in his reports. Angels scout Jon Neiderer had just a couple weaknesses listed in his overflowing report, but had trouble even listing those without a positive spin. Jeter had quick hands and feet, wrote Niederer -- so quick that they could get him to a ball too early and make him look "out of synch." Jeter's leads off first base were too big, but he could still turn potential pickoffs into steals "by overmatching the opposition."
Scouts are typically conservative with their praise, but Jeter was just different, right from the get-go. Rockies scout Ed Santa's summary simply begins, "This guy is special. You get excited just watching him warm up."
Kirk Gibson
Drafted 12th overall by Tigers in 1978
OK, so Gibson didn't quite reach the heights of Griffey or Jeter -- though his leadership on the 1984 Tigers, his '88 NL MVP and a certain home run still earns the Michigan State alum plenty of fame to this day. Royals scout Art Stewart saw a huge future for Gibson in 1978, doling out an extremely rare 80 grade for Gibson's present (not future) power that gave the then-20-year-old the ability to "hit [the] ball out of any Major League park." Gibson would do just that, launching a ball out of Tiger Stadium five years later.
Extra kudos to Stewart for pegging Gibson's "unbelievable speed for [an] individual of his size." You might not remember that, in the years before he hobbled to home plate at Dodger Stadium, Gibson was a consistent 30-30 threat for those mid-1980s Tigers.
Bo Jackson
Drafted in the fourth round by Royals in 1986
Had Jackson never played on the gridiron, he might have been the choice for No. 1 overall. But of course, that was the whole thing that made Bo special. Royals scout Ken Gonzales was effusive in his April 1986 report on Jackson, labeling the Heisman Trophy Award winner the "greatest pure athlete in [A]merica today" and a "franchise-type player" who "can do it all."
Jackson's inexperience against breaking balls was the only weakness Gonzales could find -- other than Bo's love of football. With no guarantee that Jackson would stick with baseball, Gonzales called Jackson "a real GAMBLE," if the Royals drafted him. Luckily for fans, Jackson did stick with baseball, making the bigs by the end of 1986 and dazzling fans with his supernatural power and athleticism. Football did come into play, however, as the career-altering hip injury Jackson suffered in the 1990 NFL playoffs likely robbed him of way more highlights on the diamond.
Calling cards revealed
Jeff Bagwell
Drafted in the fourth round by Red Sox in 1989
Bagwell could have been a local star, of course. Padres scout Don Labossiere called the University of Hartford product "the best everyday player in New England" with "excellent work habits," but the Red Sox would later trade him to Houston for pitcher Larry Andersen.
Instead, it was Astros fans who got to enjoy Bagwell's "fluid, powerful swing" that made balls "really take off," in the words of Neiderer's 1989 report for the Angels. Neiderer noticed Bagwell's patience, too, a trademark that would define the Houston slugger's approach. Bagwell's 149 walks in '99 remain the most compiled by anyone besides Bonds over the past 20-plus years.
Clayton Kershaw
Drafted seventh overall by Dodgers in 2006
Rusty Gerhardt's report for the Major League Scouting Bureau doesn't nail everything about the slam-dunk Hall of Famer, projecting Kershaw as a future reliever instead of a starter. He also came away not altogether impressed with the ace's signature curveball, writing:
"Slow, rolling, 3/4 CB, doesn't finish at times, leaves up in zone, some from higher angle, bigger break. More effective to go to cutter or SL in future."
The last sentence is why Gerhardt's report seems so intuitive now, because Kershaw made that very adjustment. The slider that Kershaw introduced in 2009 -- though not aesthetically pleasing as that "Public Enemy No. 1" -- ultimately became his most effective weapon, elevating his career path from a prospect with a flashy curve to an all-time great.
Mark McGwire
Drafted 10th overall by Athletics in 1984
Big Mac's record-setting 49 taters as a rookie in 1987 weren't altogether shocking to scouts who saw him three years earlier (though even they couldn't have predicted he would mature that quickly). Giants scout George Genovese recognized another slugger in McGwire: Dave Kingman, a fellow University of Southern California product whom Genovese had signed in '70. McGwire was "a better all-around player" than Kingman, estimated Genovese, "with as much power and better contact at the plate" than the former No. 1 overall pick. Royals scout Chuck McMichael predicted that McGwire could routinely knock 40 homers and hit .275.
Neither of these clubs ultimately drafted McGwire (Genovese was bullish on both McGwire and Greg Maddux, but the Giants picked outfielder Alan Cockrell directly ahead of the A's at No. 9), but each of these scouts pegged McGwire pretty accurately -- particularly before his career entered a different phase in the late 1990s.
Freddie Freeman
Drafted in the second round by Braves in 2007
Atlanta drafted its franchise first baseman when he was still three months shy of his 18th birthday, and Freeman was impressing scouts with his plate approach two years earlier. A report filed to the Major League Scouting Bureau in July 2005 noted that at age 15, Freeman already possessed plus bat speed and could drive the ball to the gaps with backspin.
The most prescient words of all? A line near the end that reads, "Shows abil[ity] to go the other way and when needed, drop some serious bat head." Statcast data has shown Freeman to be a master at beating shifts over the past four years, hitting .286 against them despite routinely ranking among MLB's top 50 hitters in shifts seen at the plate.
Diamonds in the rough
Dustin Pedroia
Drafted in the second round by Red Sox in 2004
Read the following words from White Sox scout John Kazanas' report, filed in February 2004, and tell us if they don't evoke a certain scrappy Boston hero:
"Finds a way to make plays without the tools scouts look for … leader type heady kid … a pest, no fear, competitor … this kid flat out play[s] the game and finds ways to beat you."
Kazanas' below-average grades for Pedroia in hitting, power, speed, throwing and baserunning show the 5-foot-9, 175-pound infielder was far from the prototypical can't-miss prospect. But there was already something about his competitiveness at Arizona State that won people over. The MLB Scouting Bureau's file on Pedroia sums him up well: "Guy you want on your team. Does what it takes to win."
David Eckstein
Drafted in the 19th round by the Red Sox in 1997
Eckstein is beloved by Angels and Cardinals fans -- and perhaps reviled by Giants, Astros and Tigers fans -- for his pesky postseason heroics. But no matter your opinion, it must be acknowledged that the undersized Eckstein played huge in the biggest moments. Red Sox scout Luke Wrenn's 1997 report didn't project Eckstein to be anything more than a utility infielder in the big leagues, but check out his final assessment:
"Gutty gamer type that will steal a base or get a hit to beat you … This guy has the work ethic and attitude you love to see. Overachiever type that I would like to have. Will hang around a long time in Pro ball because managers are going to love him."
We couldn't have said it better ourselves.