MLB Network hosts kids' Winter Wishes event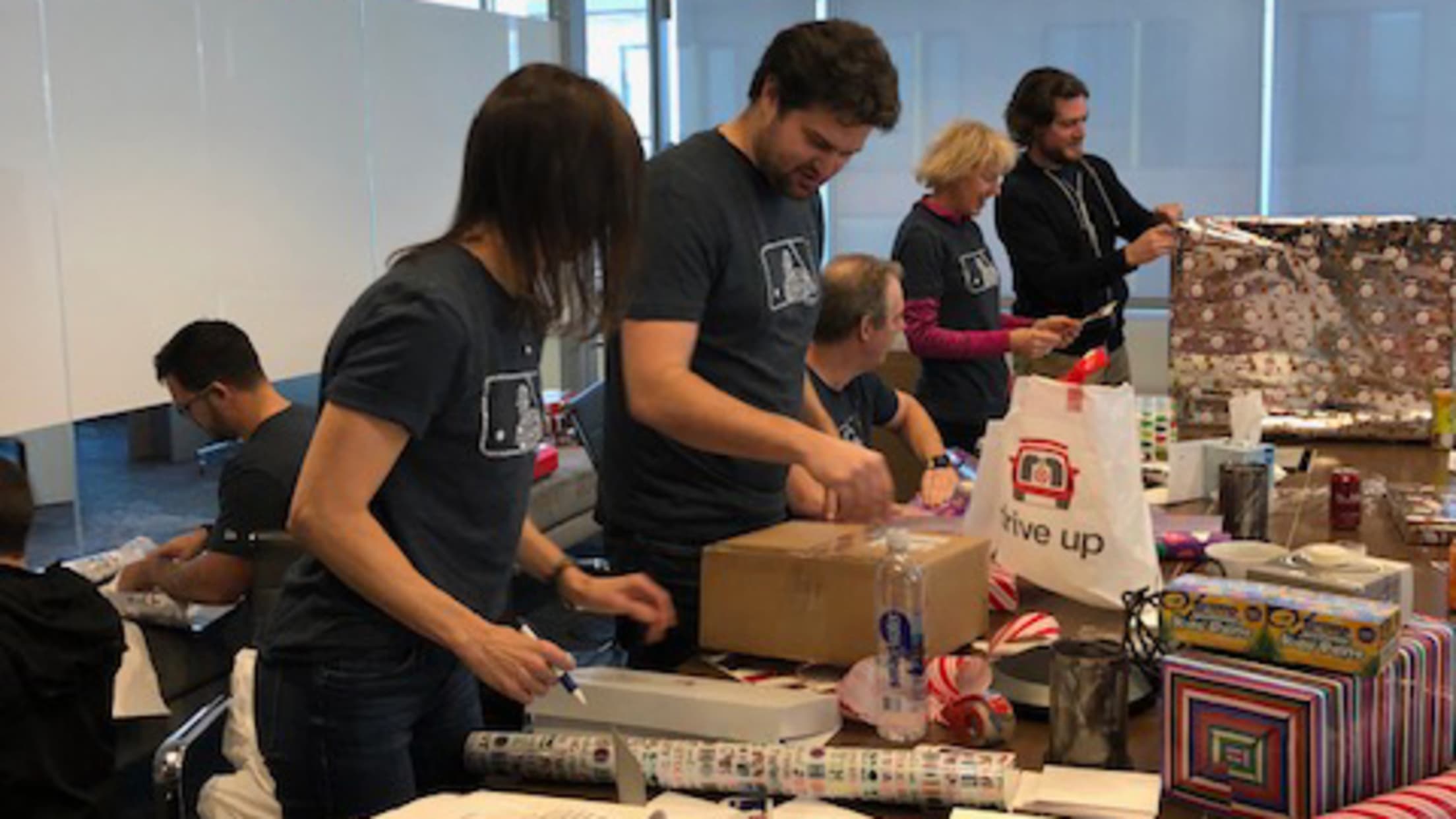 When the kids from the Boys & Girls Club of Hudson County, N.J., boarded the buses that would soon transport them to MLB Network in Secaucus for a big holiday bash, they sensed that this was going to be a special, memorable experience.By all accounts, their forecast was correct."From the
When the kids from the Boys & Girls Club of Hudson County, N.J., boarded the buses that would soon transport them to MLB Network in Secaucus for a big holiday bash, they sensed that this was going to be a special, memorable experience.
By all accounts, their forecast was correct.
"From the time they stepped on the bus, my kids were, 'Oh! Ooh! Ah!'" Deloris Gibson, the Club's director, recalled with a laugh. "They had an amazing time."
The occasion was the Winter Wishes party, which provided holiday gifts for underserved children affiliated with the Boys & Girls Clubs of America, MLB's official charity.
The Hudson County kids wrote letters to MLB to introduce themselves and pass along their holiday wish list. Thirty-five of the 141 kids who wrote letters were selected to come to MLB Network on Dec. 14 to receive their gifts, enjoy a magic show and have dinner.
The kids were greeted by Santa Claus, Mrs. Claus and the lovable Mr. Met. They mingled with MLB staffers, played a baseball game on the makeshift field inside the famed Studio 42 and graciously accepted the gifts they had written about weeks earlier.
In their letters, the kids listed a few different gift requests, allowing for an element of surprise when they opened presents at the party. Sophia Rodriguez, 11, asked for earrings or a Nike sweatshirt or a pair of her favorite shoes -- Vans. When she opened her package after the party, she was thrilled to see she received the shoes she asked for.
"I was very happy," Rodriguez said. "I wasn't expecting that."
Gibson recalled the joy she felt watching the reactions of the kids as they opened their gifts.
"I was so happy to see the smiles on their faces," Gibson said. "When my babies are happy, I'm happy. When they opened them up, the jumping up and down, 'I got it! I got it! For real! For real!'
"They said, 'I just didn't know that we were going to really get it.' For these kids, it just meant so much. Some things they feel they can get at home, and then there's some things that they feel Mommy and Daddy may not be able to do. So for them, they were very overwhelmed."
MLB started the Winter Wishes program in 2002. Wish letters always come from a local Boys & Girls Clubs affiliate in New York or New Jersey, though this year, it extended its efforts for the first time to offices in Boulder, Colo., and San Francisco and the respective Boys & Girls Clubs in those markets.
MLB employees are encouraged to participate in a number of charitable initiatives every holiday season. In addition to Winter Wishes, MLB also participates in the New York Cares Coat Drive, which collects new or gently used coats for distribution to men, women and children at homeless shelters throughout New York City. In 2017, the efforts provided holiday gifts for 150 children and resulted in the distribution of more than 275 coats.
While many of MLB's initiatives throughout the year focus on kids, the holiday season is a special time of year. Activities that benefit kids during the holidays are perhaps just a little more meaningful, especially for those on the receiving end of the gift-giving.
That was surely felt by the Hudson County Boys & Girls Club kids during their Winter Wishes party.
"They said, 'We're really their honored guests,'" Gibson said. "I said, 'Yes. They really are looking forward to seeing you. They read all the letters that you wrote, so they know a little bit about each and every one of you.' That in and of itself made them feel special, too."