On Earth Day, MLB's efforts in (LED) spotlight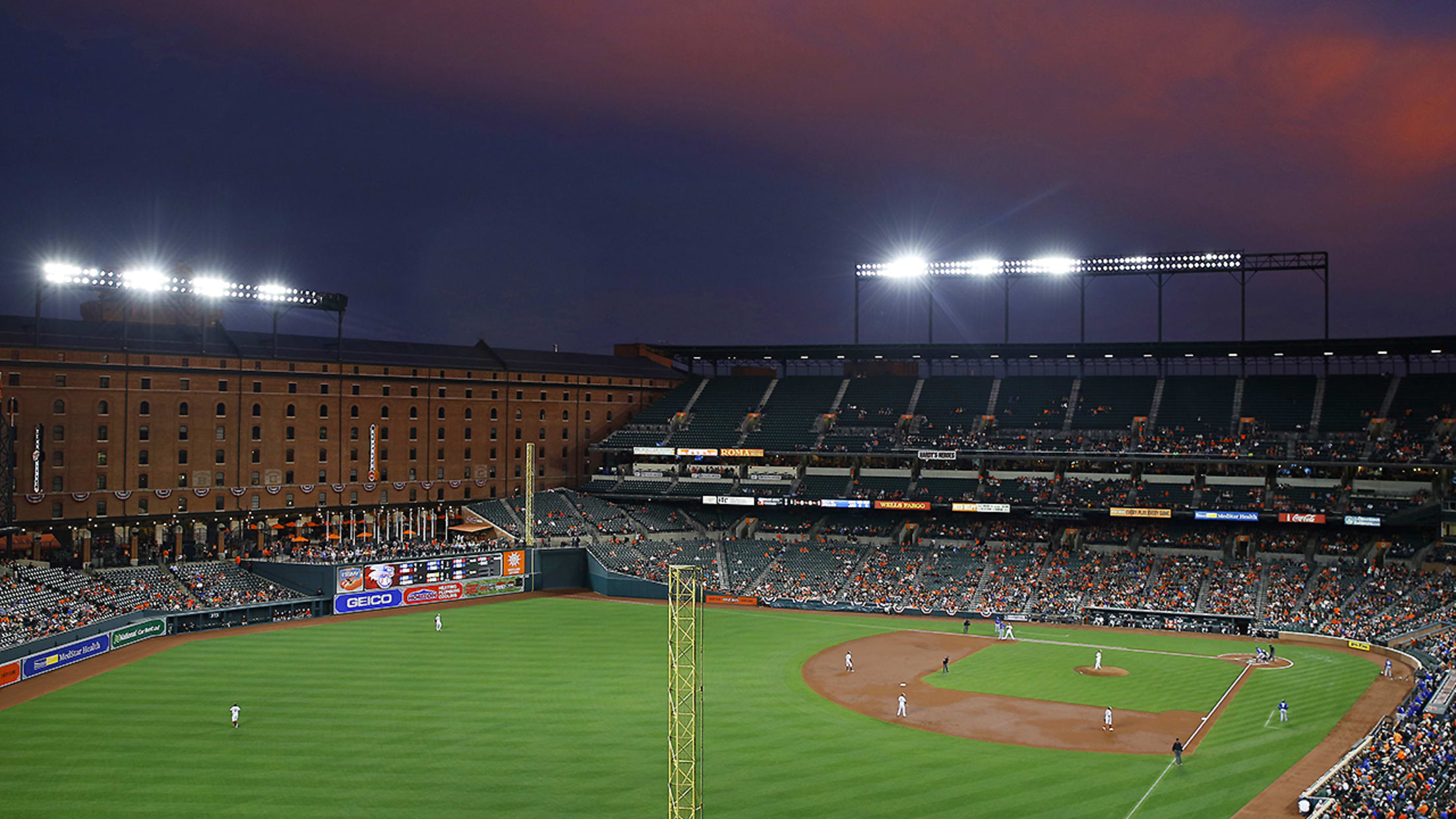 The Orioles are one of seven clubs that installed LED field lighting for 2017. (AP) (Patrick Semansky/AP)
From the new LED field lighting at Camden Yards to the electric vehicle charging stations at SunTrust Park; from the new Green Team at Progressive Field to fresh landscaping around Dodger Stadium; from Boston's carbon-neutral game to the garden at Safeco Field; from the Rays' efforts to help oyster reefs
From the new LED field lighting at Camden Yards to the electric vehicle charging stations at SunTrust Park; from the new Green Team at Progressive Field to fresh landscaping around Dodger Stadium; from Boston's carbon-neutral game to the garden at Safeco Field; from the Rays' efforts to help oyster reefs to the eighth annual Green Week in St. Louis, Major League Baseball and all 30 of its clubs are ready to celebrate environmental stewardship on Earth Day.
What happens 365 days a year becomes more of a happening on Saturday, as more than one billion people will participate in Earth Day activities with a focus on raising awareness and civic involvement. MLB on Thursday announced plans by citing increasing examples of league-wide sustainability efforts, including extensive plans for All-Star Week in Miami.
"We are pleased with the diverse and effective environmental initiatives we will implement throughout this Championship Season," said Paul Hanlon, MLB's senior director of ballpark operations and sustainability. "We also are very grateful for the commitment by the MLB clubs to support sustainability through their own practices. While efforts are ongoing, we are proud of what we have accomplished thus far and look forward to continuing to care for our environment through new and creative ways."
MLB is the first league to have all of its 30 clubs as members of the Green Sports Alliance, which promotes healthy, sustainable communities in sports. Each year, MLB awards the eco-friendliest club with its Green Glove Award, given to the Giants in 2016 for the ninth straight time. Clubs emphasize sustainability efforts through waste diversion, composting and energy-efficient practices throughout the season; this includes many clubs with comprehensive on-site gardens, Green Teams to collect recyclables, LED field lighting and solar panel installations.
Nine Major League parks operate their own garden: AT&T Park, Busch Stadium, Citi Field, Coors Field, Fenway Park, Nationals Park, Camden Yards, Progressive Field and Safeco Field. The gardens at AT&T Park, Busch Stadium, Fenway Park, Coors Field, Nationals Park, Progressive Field and Safeco Field are all utilized to source food for concession stands and restaurants at the ballpark. They are also used as a teaching tool to inform the public about the importance of their local environment and serve as fan gathering spots throughout a game.
The Oriole Garden at Camden Yards is a joint effort by the Orioles, National Wildlife Federation and its Maryland state affiliate, the National Aquarium, and the Maryland Stadium Authority to attract birds and butterflies through their native plant garden. Similar to gardens at other ballparks, the Oriole Garden helps fans learn more about orioles, native plants and how to create their own backyard wildlife sanctuaries.
Seven clubs have installed LED field lighting for 2017: the Braves, Orioles, Indians, Angels, Twins, Pirates and Giants. In addition to enhancing the fan experience, LED fixtures are more efficient and have a lifespan of 30 years. Those clubs join the Mariners, Yankees, Padres, Astros and Rangers, who have installed LED field lights in the last three years.
The Padres have converted 100 percent of ballpark lightning to LED, including concessions, concourses, entry gates, offices and restaurants. The Blue Jays are in the process of completing LED upgrades to their bus lot and loading bay ramp as well as their interior roof lights, walk-in coolers and clubhouse tunnels at Rogers Centre. The Rays have taken significant steps to retrofit light fixtures throughout Tropicana Field to LED lighting. The D-backs have converted all lighting in main concourses and parking areas at Chase Field to energy-efficient LED lighting, resulting in 60 percent savings in power consumption annually. The White Sox have installed LED lighting throughout the ballpark on concourses, suite levels and several parking areas.
The Rockies plant a tree for each home run hit at Coors Field, while the Brewers plant a tree for every 20,000 tickets sold at Miller Park. In partnership with Philadelphia Gas Works and the Pennsylvania Horticultural Society, the Phillies also plant a tree for each homer hit by their players. The Phils have planted more than 700 trees since the program's inception in 2012. Oakland's ballpark was the first MLB venue to implement a composting program and use compostable bioplastic cups.
The Rays make financial contributions to Tampa Bay Watch as part of the "Break a Bat, Plant a Ball" program, funding the construction of an oyster ball per game in which a bat is broken. Also called Reef Balls, oyster balls help replace oyster populations in struggling habitat areas. By being placed along seawalls and shorelines, the domes minimize shoreline erosion and restore hard bottom habitat. The Twins support "Roots for the Home Team," an innovative salad enterprise that partners with youth garden programs in the Twin Cities to give multicultural teens valuable business and entrepreneurial skills. The White Sox utilize the first environmentally friendly parking lot to be used by a Major League sports facility, unveiled in 2008.
May 4-6 will mark the eighth annual PNC/Reds E-Waste Recycling Drives, always a big deal in Cincinnati. The Mariners have a 90 percent conversion rate of recycling all waste at Safeco Field, diverting 713 tons of recyclables from landfills in 2016. Other notable efforts include the Orioles, who recycle 600,000 pounds of materials each year; the Royals, who recycled more than eight tons of glass in 2016; the Twins, who composted and recycled about 765 tons of trash in 2016; the Cardinals, who recycle an average of eight tons per game; and the Phillies, who utilize "Phil the Can," an interactive robot and the official "spokescan" of the team. Oil used for food at Guarantee Rate Field, Wrigley Field and Yankee Stadium is recycled.
Clubs are also conscious of their water consumption, with teams like the Mets offsetting 100 percent of their usage in addition to a commitment to restore 1,000 gallons for each pledge a fan makes to the Change the Course Campaign. The Braves implemented an irrigation program that projects to capture and reuse 50 percent of water used at SunTrust Park. This initiative helps restore flow to streams, protect natural habitats and support healthy communities.
Ten clubs utilize solar power at their ballpark: the D-backs, Red Sox, Indians, Rockies, Royals, Mets, Phillies, Giants, Mariners and Cardinals. The Mets, Phillies and Yankees purchase millions of kilowatt hours of Renewable Energy Certificates (RECs) year to match 100 percent of electricity usage with wind and solar generation. The D-backs also utilize vehicle charging stations at Chase Field.
Six ballparks are LEED certified in various aspects of their operation: AT&T Park, Comerica Park in Detroit, Marlins Park, Nationals Park and Target Field.
The Red Sox observed Earth Day during their home game against the Rays on Monday by offsetting all carbon emissions and sorting waste from the game to recover recyclables and food waste. Renewable energy credits were purchased from local solar installations.
Many additional clubs have made considerable ballpark improvements to their kitchen, bathroom, office spaces and food prep areas in an effort to reduce waste, energy usage, water usage and enhance recycling efforts.
MLB will continue to support sustainable efforts during All-Star Week, which will be July 6-11 in Miami. MLB will partner with the University of Miami, along with the University of Minnesota for the fifth consecutive year, to activate Green Teams, a group that supports environmental efforts during MLB All-Star events. Many other initiatives are planned to less the carbon footprint there, as will be the case during the World Series.
MLB and FOX Sports U have partnered to support a Sustainability & Public Relations undergraduate course at DePaul University in Chicago. Students at DePaul will learn about the league's sustainability efforts, and assemble hypothetical PR campaigns.
SustainU, a leading producer of apparel using fabrics from 100 percent recycled materials that are manufactured in the USA, has extended its licensed partnership with MLB for the 2017 season. Fans who join the SustainU T-Shirt Club today receive a special "20% on the 20th" Earth Day promotion, for 20 percent off their merchandise.
About 35 front-office employees at MLB, MLB Network and MLB Advanced Media will volunteer at the New York Cares Spring Day at Lincoln Terrace Park in Brooklyn, N.Y. Volunteers will be tasked with removing invasive seedlings, composting, planting ground covers and clearing the park of debris. The event will occur from 9:30 a.m. to 2 p.m. ET.
Mark Newman is enterprise editor of MLB.com and a baseball writer since 1990. Read and join other baseball fans on his MLB.com/blogs hub.