As races hit peak, MLB.TV has every pitch free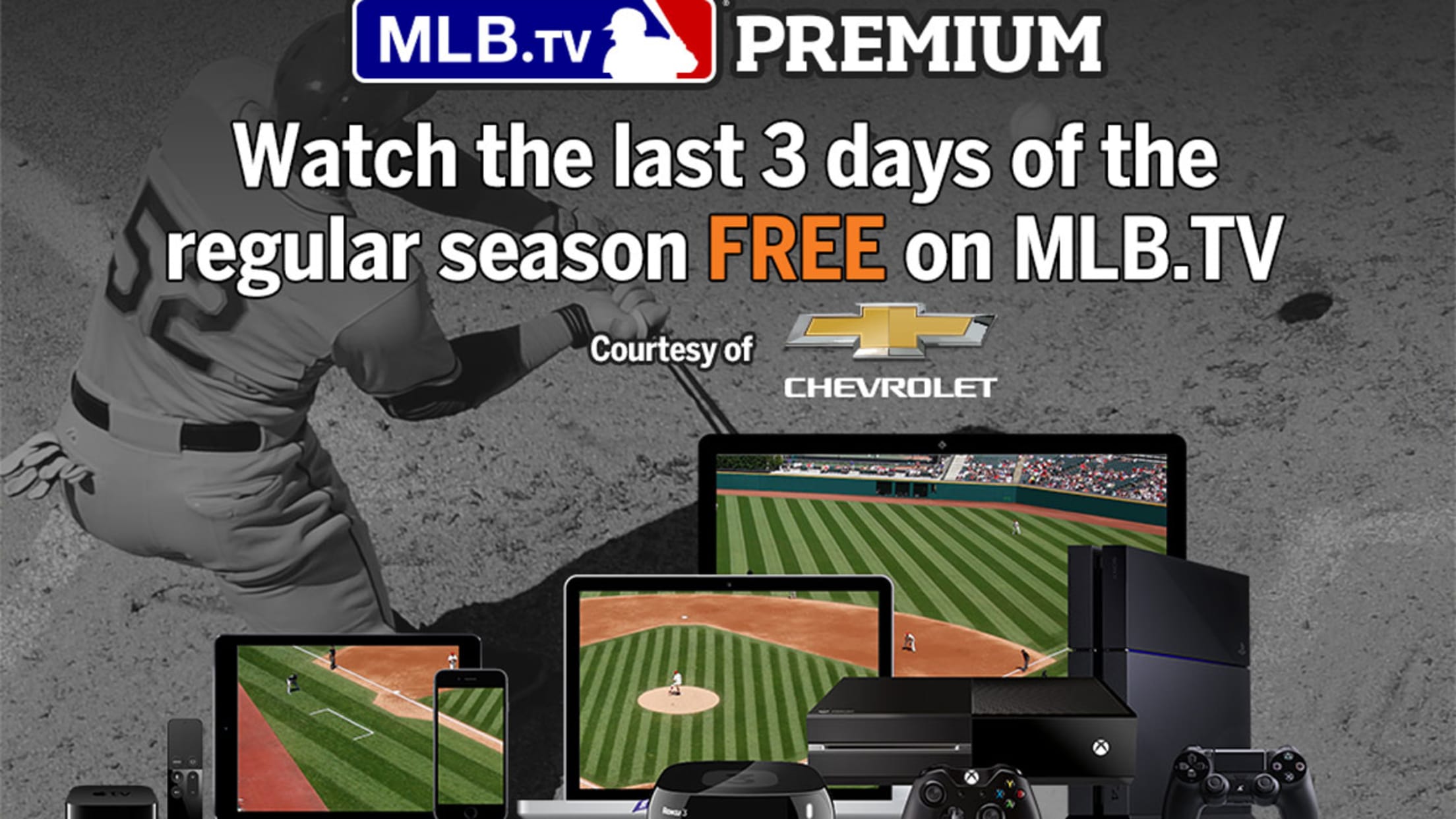 There are at least 45 games left on the Major League Baseball regular-season schedule, and Major League Baseball Advanced Media announced on Friday that all of those live, out-of-market MLB.TV Premium streams will be FREE to fans over more than 400 mobile or connected devices, courtesy of Chevrolet and the
There are at least 45 games left on the Major League Baseball regular-season schedule, and Major League Baseball Advanced Media announced on Friday that all of those live, out-of-market MLB.TV Premium streams will be FREE to fans over more than 400 mobile or connected devices, courtesy of Chevrolet and the No. 1 sports technology.
It's Fan Appreciation Weekend right here, so all of these remaining regularly scheduled games are basically the MLB.TV Free Game of the Day. Make sure the MLB.com At Bat app is fired up on your device and get ready for a big finish in 60 frames per second. Here are 10 things to watch:
1. Sunday simulchase. For the second year in a row, MLB is winding up the regular season with 30 teams playing at the same time: 3:05 to 3:15 p.m. ET starts. You need MLB.TV for that, because it is the most manageable way to monitor 15 games. And if you're going to be in one of those ballparks, you probably will need MLB.TV to keep up with other games.
• Up-to-the-minute standings
2. American League closure. It's time to determine the AL Wild Card Game, which will officially open the postseason on Tuesday. While Toronto, Baltimore and Detroit are all on the road, you might want to keep an eye on a Seattle team that finishes at home against Oakland. The Blue Jays play at Fenway Park, where the Red Sox are going to be motivated by a push for postseason home-field advantage as well as …
3. David Ortiz's last regular-season game. Sunday will not be the last time Big Papi steps up to the plate, but the love is going to be 34-large at Fenway Park.
4. National League closure. The mighty Cubs start their postseason next Friday at Wrigley Field against a Wild Card team, and the opponent is the question. Three teams are in that chase. The Mets finish at Philadelphia, while the Giants are at home against the Dodgers and the Cardinals are home against Pittsburgh. The Nationals and Dodgers have to decide home-field advantage in their NL Division Series that starts next Friday, and any tiebreaker would go to Los Angeles.
5. Goodbye to Vin Scully. After 67 years in the booth, the legendary broadcaster signs off Sunday at AT&T Park as he (fittingly) calls one more Dodgers-Giants showdown. As Vin would say, it's going to be a wonderful day for baseball.
• Bid farewell to Scully's Dodgers career with his most enthralling stories
6. Goodbye to Turner Field. As SunTrust Park awaits for Opening Day 2017, the Braves will play their final series at the home of so many October postseason runs and Tomahawk Chop chants. Just think of all those glory years with Chipper Jones, Tom Glavine, John Smoltz, Greg Maddux, Bobby Cox and more. It might be a significant finale, too, because Justin Verlander (16-8), coming off two vintage starts, is Detroit's scheduled starter in an Interleague matchup.
Mike Trout: Can he reach 30-30 again? The Angels' superstar has 29 home runs and 27 stolen bases. While you're at it, take a good, last look at the players who captivated you this summer -- think of Ichiro's 3,000 chase -- and will not be part of the postseason.
8. NL batting race. It's DJ LeMahieu of the Rockies vs. Daniel Murphy of the Nationals for the crown, and this one could deal in decimals. Follow all the stat races in the free finish.
Will Max Scherzer win 20? That aforementioned Nationals-Dodgers battle for NLDS home-field advantage could come down to Sunday. Slated to start in the regular-season finale, the NL Cy Young Award candidate would still get four days of rest before the NLDS opener next Friday. But if Sunday's game means nothing in the standings, does the Nationals' ace still start?
10. "It's redefined the way to follow a game," said Smoltz, the Hall of Fame pitcher who uses MLB.TV to help prepare for his MLB Network and FOX Sports analyst assignments during the races. "I couldn't do this at all if I wasn't able to watch video."