Got pennant fever? MLB.TV is on sale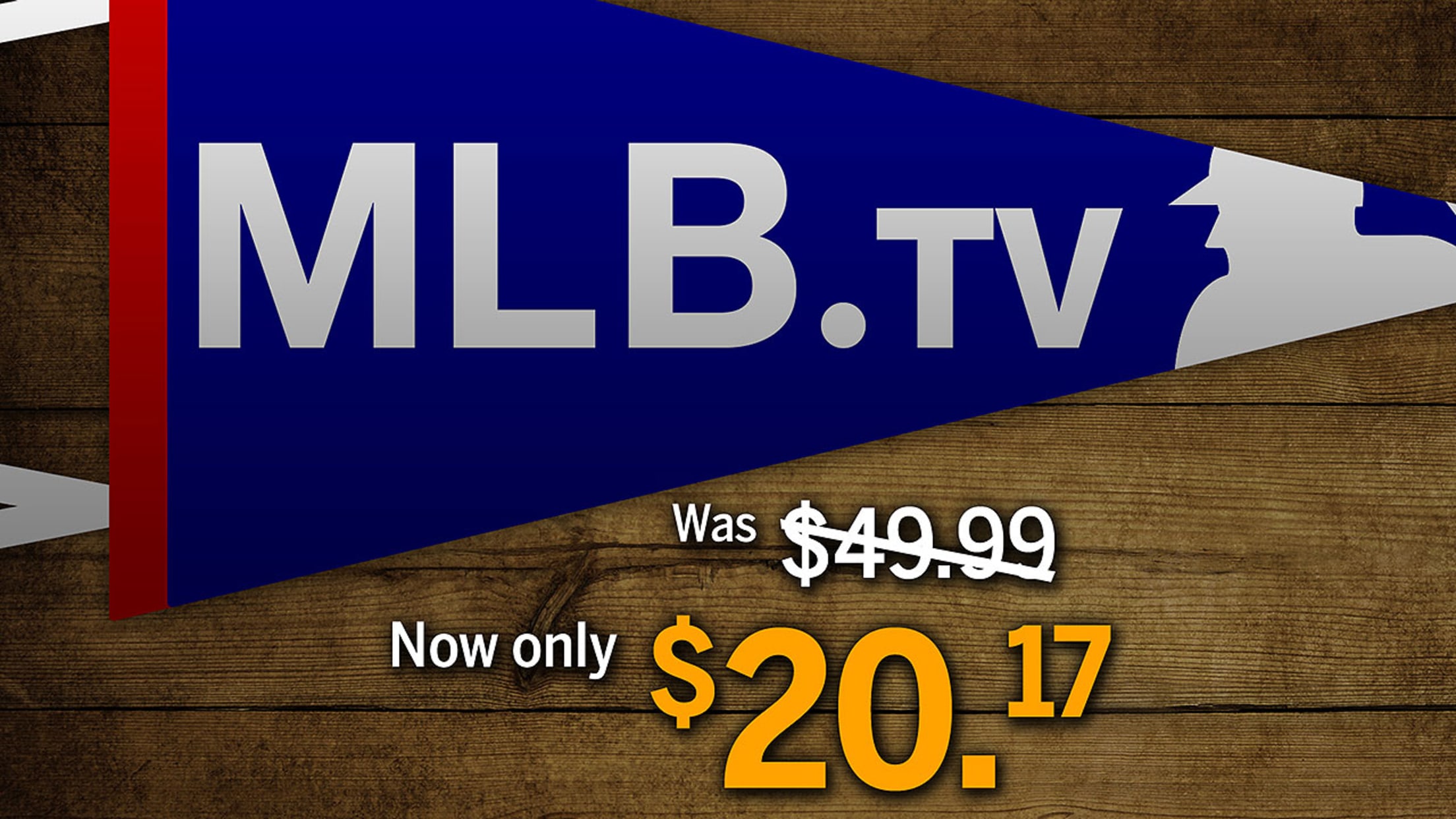 Major League Baseball is ahead of the historic 2016 season's pace in terms of pennant-race inclusivity, with 21 clubs currently either in postseason position or within no more than 6 1/2 games of a berth. That makes this an auspicious time to introduce an MLB.TV Pennant Race Sale on yearly
Major League Baseball is ahead of the historic 2016 season's pace in terms of pennant-race inclusivity, with 21 clubs currently either in postseason position or within no more than 6 1/2 games of a berth. That makes this an auspicious time to introduce an MLB.TV Pennant Race Sale on yearly subscriptions for $20.17 through this weekend.
At the most comparable date last year, there were 19 teams within 6 1/2 games approaching the season's three-quarters mark. The prevalence of three runaway division leaders (Dodgers, Nationals and Astros) for much of this season may give some the impression of relatively less pennant-race drama, but anyone watching the live out-of-market streams on MLB.TV can see that it is even more widespread.
In the American League, there are 13 of 15 contenders within six games of a postseason berth, including the whole East. In the National League, there are eight of 15 contenders either in control or no more than three games out of postseason position. So two-thirds of MLB fans still have rooting interest in the possibility of meaningful October baseball, and the far-flung chases mean there is going to be a lot of scoreboard watching with 10 playoff spots to fill.
Just like last year, 14 of the 15 series during the MLB.TV Pennant Race Sale weekend feature games that involve clubs still thinking postseason. Highlights to see via the world's longest-running and most successful live streaming sports product include:
• Red Sox at Yankees: Start with one of the best rivalries in sports history. Boston's eight-game winning has it 4 1/2 games ahead of New York. The Yankees started 6-3 against Boston this season, prior to this series, but then again, the Red Sox contained rookie sensation Aaron Judge better than any other AL club, holding him to a .194 average and .306 slugging percentage, with one home run and two RBIs in his first nine games against them.
• Rockies at Marlins: At last check, "Chuck Nazty" was the second hottest jersey as fans chase down those Players Weekend items that will be worn in all games from Aug. 25-27. Charlie Blackmon continues to lead Colorado in that fight with Arizona for crucial home-field advantage in a potential NL Wild Card Game matchup, and this also is a chance to watch Giancarlo Stanton just pulverize baseballs (MLB-best 40 homers).
• Indians at Rays: There are some possible postseason previews during the MLB.TV Pennant Race Sale weekend, and here's one of them. Tampa Bay is in the mix in the AL Wild Card standings. Chris Archer (189) and Corey Kluber (183) rank third and fourth in the Majors in strikeouts, and their starts are Saturday and Sunday, respectively. What Kluber has done despite missing a month has him in Cy Young contention.
• Pirates at Blue Jays: Pittsburgh is just three games back in the NL Central after Felipe Rivero shut down Detroit's rally in the ninth on Thursday. Four teams are now bunched up in the Central, with the Cubs still not pulling away from the pack. Meanwhile, don't sleep on Toronto, which is part of a massive AL Wild Card race. But the Blue Jays must find ways to win without shortstop Troy Tulowitzki.
• Angels at Mariners: Both teams are in the AL Wild Card hunt. With an MLB.TV subscription for the rest of the year, you can watch every one of Michael Trout's games, and see if he can average at least 4.09 plate appearances over the Angels' final 47 games to end the season as a qualified batter. His numbers are pretty incredible again, despite missing 39 games. JC Ramirez, who alternates a win and a loss in almost every start, takes the mound Friday for the Angels, while Marco Gonzales takes the hill for Seattle.
"I always use MLB.TV to replay my starts and/or evaluate how I will approach a particular team," said Cardinals right-hander Carlos Martinez, who goes after his ninth victory on Saturday for a St. Louis team that is scratching and clawing its way toward the top of the NL Central standings. "The picture quality and functions of the app are incredible. It's also a great way for my family and friends back home in Dominican Republic to watch my games live."
All-access features also include home and away feeds, allowing you to watch either TV broadcast feed live, including Spanish-language audio overlay on supported devices. Portability remains a hallmark, because with a single subscription, you can watch live out-of-market games on all supported connected devices, smartphones and tablets.
Revolutionary 60fps live streaming video is available to MLB.TV Premium subscribers. This HD technology also will be available in 2017 on supported iPhones, iPads and Apple TVs as well as Chromecast, PlayStation 4, PlayStation 3, Roku, Xbox One and Xbox 360.
"Alexa, open MLB" is a reality in 2017 for the first time, as MLB.TV Premium subscribers can listen to live games without blackout restrictions using the new MLB skill on the Amazon Echo platform. You can find MLB.TV on more than 400 devices, and subscribers have free access to all premium features in MLB.com At Bat (a $19.99 value), including home and away radio broadcasts, exclusive highlights and more.
While we settle in for the pennant-race heat to come, don't forget that FOX's telecast of the 113th World Series will be available to authenticated subscribers on MLB.TV.
"It's redefined the way to follow a game," said Hall of Famer John Smoltz, who uses MLB.TV to help prepare for his upcoming MLB Network and FOX Sports analyst assignments during the races. "I couldn't do this at all if I wasn't able to watch video. I watch the [MLB.com At Bat] app to get ready for my games just because it's the only way I can catch up. The numbers are numbers. I can look up every number in the world. I can look up statistics that can tell the story. But when I get to see video, when I get to see actual footage, that's a difference-maker for me."
Mark Newman is enterprise editor of MLB.com and a baseball writer since 1990. Follow him @Marathoner and read and join other baseball fans on his MLB.com/blogs hub