Bautista deal evidence of shifting market
Players Association director Clark says offseason valuation of veteran sluggers 'something we're keeping an eye on'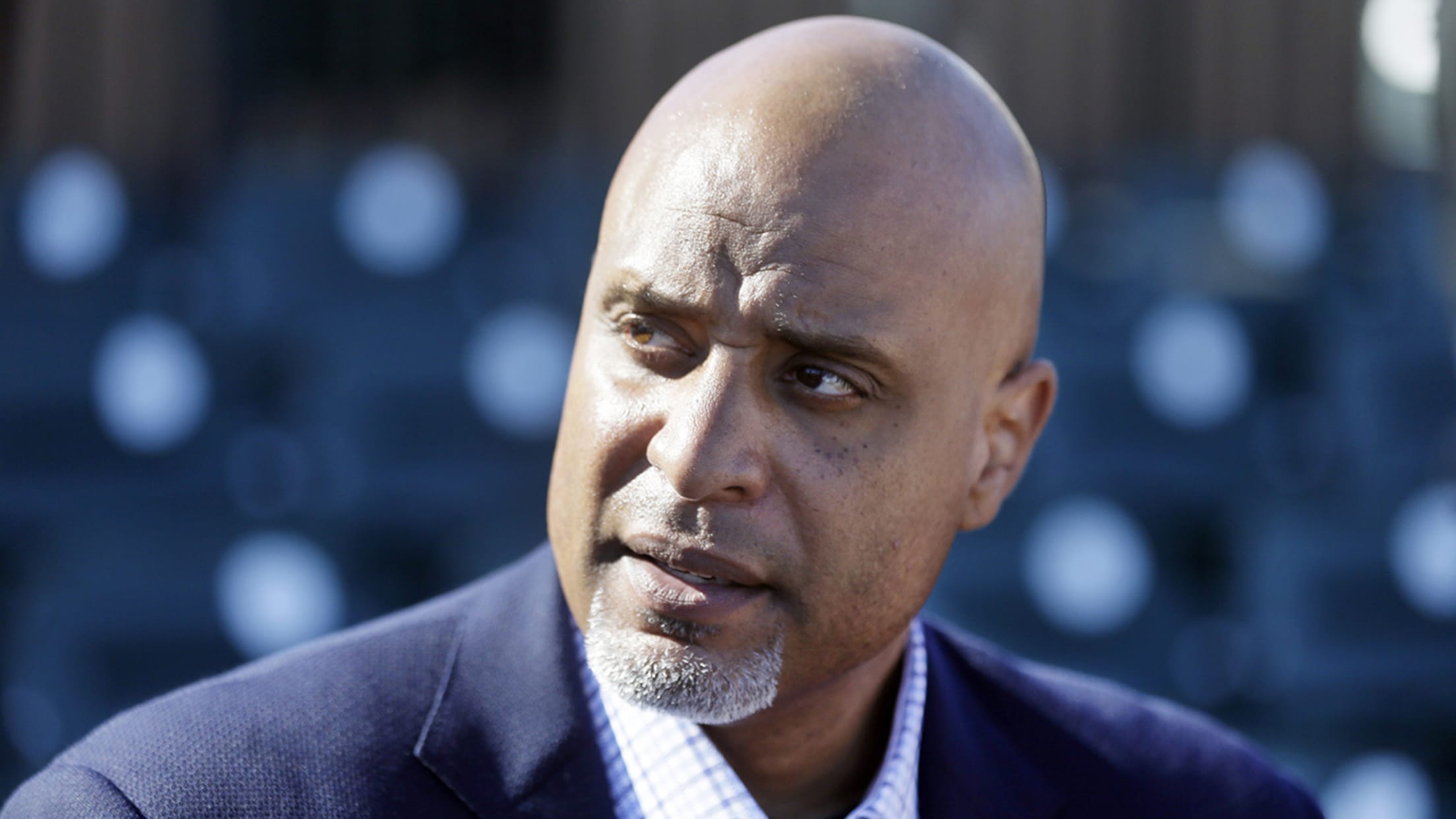 During a visit to Jays' camp Friday, MLBPA executive director Tony Clark said he remains 'hopeful that our industry values the experience both on and off the field that a veteran can bring.' (Carlos Osorio/AP) (Carlos Osorio/AP)
DUNEDIN, Fla. -- A year ago, the Blue Jays couldn't be sure they'd have centerpiece slugger Jose Bautista back this season. After all, he was going to become a free agent, and numbers like $150 million were floating in the tropical breeze.But the market for veteran home run hitters (including
DUNEDIN, Fla. -- A year ago, the Blue Jays couldn't be sure they'd have centerpiece slugger Jose Bautista back this season. After all, he was going to become a free agent, and numbers like $150 million were floating in the tropical breeze.
But the market for veteran home run hitters (including Edwin Encarnacion, Chris Carter and Mark Trumbo) turned out to be far less robust than anticipated. Bautista ended up returning to Toronto on a one-year, $18.5 million deal.
Tony Clark, executive director of the Major League Baseball Players Association, was at Florida Auto Exchange Stadium on Friday morning for a two hour and 20 minute meeting with the Blue Jays. In a wide-ranging interview afterward he touched on a variety of subjects, including the fact that big bucks weren't being thrown at power hitters as freely as in the past.
Clark noted that every year is unique and that he isn't going to acknowledge a trend after just one offseason. "Each market tends to be a little different. Each market has different players in it. Each market has different numbers of players in it," he pointed out.
It's possible, he added, that teams are simply evaluating players differently. "You look through the history, and the truth is you have a window of time where the game and the interest and the value may be placed in one place. Then for whatever reason that tends to shift," he said. "It's possible that this pendulum has swung too far one way and it will work its way back."
• Spring Training: Info | Tickets | Schedule
Clark was also asked about a reported rules change that allows pitchers to issue an intentional walk by simply waving the batter to first base rather than requiring the pitcher to make four pitches.
"You have conversations about a particular rule where you have guys on one end, you have guys on the other and you have some who are in the middle," he said. "The vast majority of those we spoke to were in the middle. That's why we were willing to agree to what we agreed to."
The Players Association will consider further proposals on a case-by-case basis. "There has been a lot of discussion about it. And this is not the first offseason that there has been," he said. "We appreciate whatever the metrics may be saying. We understand the interest from all involved. And I'm hopeful that when the dust settles the industry moves forward in a manner that's beneficial to everyone."
Paul Hagen is a reporter for MLB.com.