Predicting Nats' 2021 Opening Day roster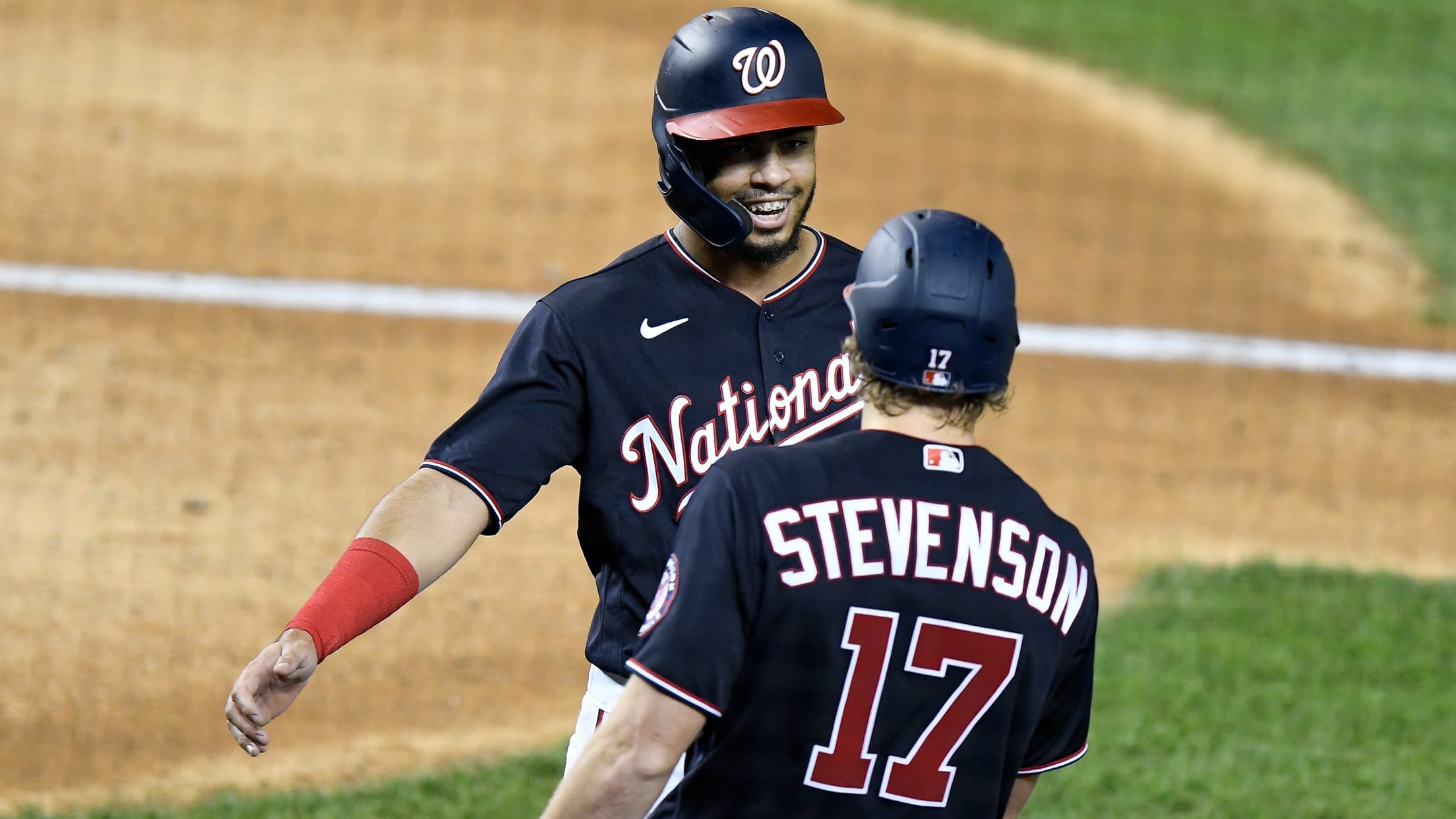 With the 2020 season in the books and Opening Day '21 about five months away, let's take a look at who could make up the Nationals' roster next year. This group is likely to look different than seasons past, with key players from the 2019 World Series championship squad becoming
With the 2020 season in the books and Opening Day '21 about five months away, let's take a look at who could make up the Nationals' roster next year.
This group is likely to look different than seasons past, with key players from the 2019 World Series championship squad becoming free agents. That opens the door for new faces to join the team through trades, free-agent signings and the promotion of prospects.
• Offseason checklist: Nats' needs and moves
The Nationals' roster also will be impacted by whether the universal designated hitter rule is implemented again next year. Take a player like Howie Kendrick, for example. He is a free agent mulling whether he wants to retire or play in his 16th season, and he would be a fit for Washington if there was a DH role again.
While the offseason has just begun and there's months ahead for the 26-man roster to take shape, here is an early projection of the Nats' 2021 Opening Day squad.
Catcher (2): Yan Gomes, trade/free agent
Who will join Gomes behind the plate next season? That's the question as fellow veteran Kurt Suzuki enters free agency. J.T. Realmuto headlines the market behind the plate, but if the Nats don't want to take on a mega-salary at that position, they could explore other free-agent/trade options. Should Washington fill the role from within the organization, No. 19 prospect (per MLB Pipeline) Tres Barrera and No. 27 prospect Raudy Read could be called upon.
First base (2): Trade/free agent and trade/free agent
This season, the Nationals approached first base with a "by committee" approach. Now, there is a hole at the position with Asdrúbal Cabrera, Kendrick and Eric Thames becoming free agents. Ryan Zimmerman, who elected not to play in 2020, has been a mainstay of the organization and could return in a platoon role. The Nats still would need a player (or players) to share the time at first.
Second base (2): Starlin Castro and Luis García
When Castro sustained a season-ending right wrist injury, the rookie García stepped up. At only 20 years old, García started 35 games at second base. (He even became the first player born in the 2000s to hit a home run.) The Nationals have the luxury of depth at this position -- a proven veteran in the final year of his contract and an emerging young talent who already got a crash course on Major League competition.
Third base (2): Carter Kieboom and trade/free agent
Third base was a question heading into 2020, and it remains one for '21. Kieboom shared the hot corner with Cabrera (a free agent), and he spent time developing at the alternate training site during the year. With another offseason to hone his defense at the position, could the 23-year-old Kieboom man third base consistently? While the Nats weigh that decision, adding another veteran to platoon or back up third would give them options throughout the season.
Shortstop (1): Trea Turner
Turner is locked in as Washington's shortstop. Two seasons after appearing in all 162 games, he played every game but one in 2020 while pacing the Nationals in hits (78), RBIs (41) and stolen bases (12). Turner, 27, was lauded in his sixth season by manager Dave Martinez for embracing the role as a team leader.
Outfield (4): Victor Robles, Juan Soto, Andrew Stevenson and trade/free agent
The outfield is likely to have a different look with starter Adam Eaton and backup Michael A. Taylor becoming free agents. That's not even to say the returning players will defend the same position next season -- the Nats took a look this year at Soto in right field. Whether it's right or left, Washington has a starting role to fill and there are outfielders with bats available on the market. Stevenson also made a case for increased playing time after finishing 2020 on a 12-game hitting streak.
Utility (1): Josh Harrison
When it comes to the "do-it-all" kind of players Martinez likes, Harrison exemplified that role this season. The Nationals already signed the veteran Harrison to a one-year deal for 2021, and he can slide into both infield and outfield positions.
• Nationals decline options on Eaton, Sánchez
Starting pitchers (5): Max Scherzer, Stephen Strasburg, Patrick Corbin, Joe Ross and trade/free agent
With the Nationals expecting Strasburg to be ready for 2021, the first three spots in the starting rotation are set. The changes likely are to come at the Nos. 4 and 5 spots, where Aníbal Sánchez became a free agent and Austin Voth struggled in his first year as a starter. Ross had been the top candidate for the No. 5 job before electing to not play this season, and he is under contract for '21. The pitcher who rounds out the rotation could be a new face on the Nats.
Relievers (7): Daniel Hudson, Will Harris, Tanner Rainey, Wander Suero, Kyle Finnegan, Erick Fedde and Austin Voth
A taxed bullpen would get two arms back if Fedde and Voth return to reliever roles in 2021, and this list reflects those under contract for next season. With Sean Doolittle becoming a free agent, watch for Rainey to see even more late innings, especially as Martinez has described the 27-year-old right-hander as "potentially our future closer." Spots on the Opening Day roster will be competitive, though. In addition to options in the free-agent/trade market, the Nationals have pitchers in their system who made cases for Major League playing time this season, including No. 3 prospect/right-hander Wil Crowe (three starts in '20), No. 23 prospect/left-hander Ben Braymer (five scoreless innings in his first career start) and righty Kyle McGowin (16 strikeouts in 11 innings).