Nats play host to Pitch, Hit & Run competition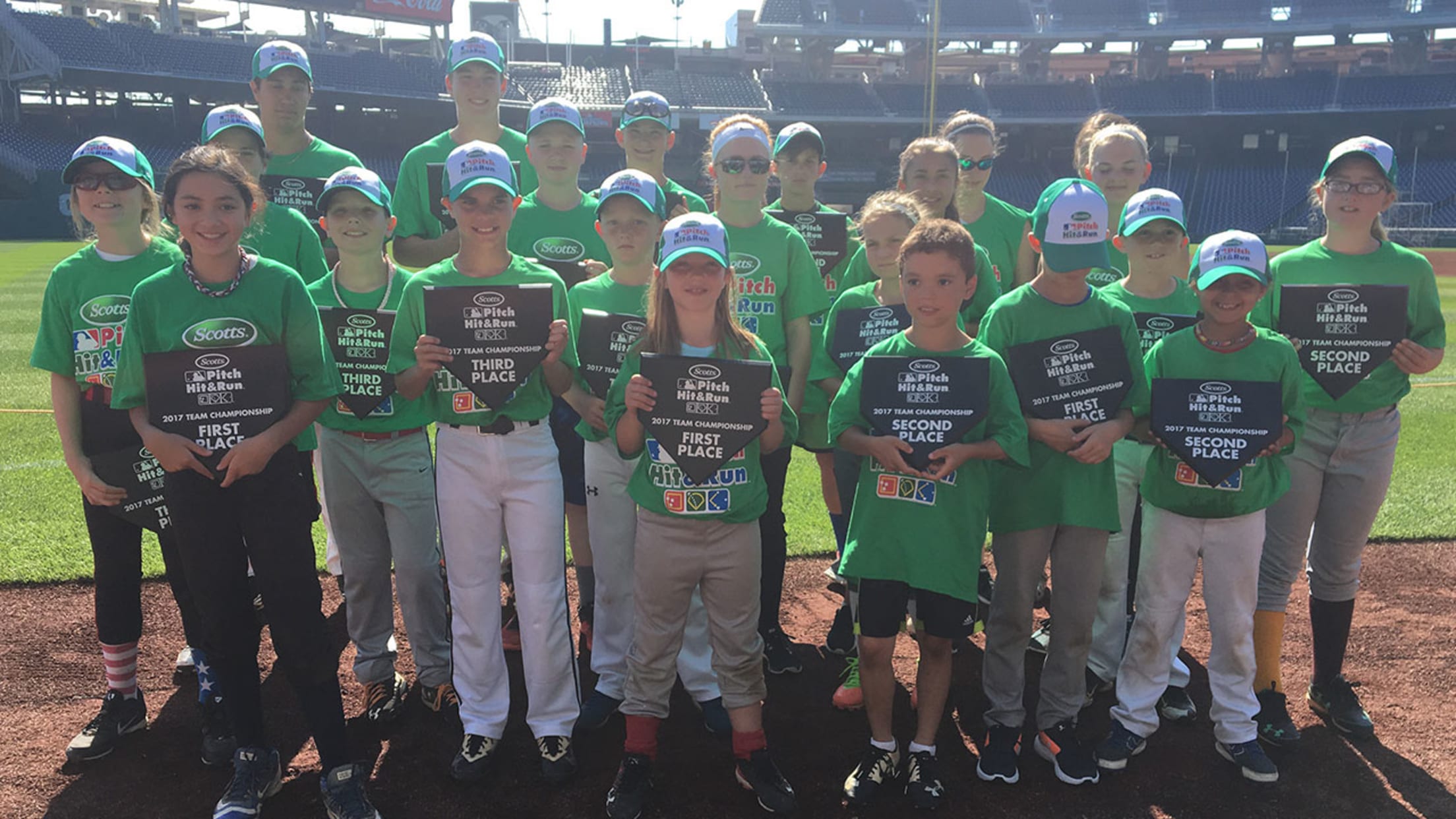 After winning sectional competitions in Washington and Virginia, kids of all ages had the chance to showcase their skills at Nationals Park on Sunday. (Nationals)
WASHINGTON -- Joshua Prinzel studies Bryce Harper's batting stance and is inspired by the plays he makes in right field.So the day after Harper scored a run and darted a 98.2-mph throw to home plate in the Nationals' game against the Rangers at Nationals Park, Prinzel mimicked his idol on
WASHINGTON -- Joshua Prinzel studies Bryce Harper's batting stance and is inspired by the plays he makes in right field.
So the day after Harper scored a run and darted a 98.2-mph throw to home plate in the Nationals' game against the Rangers at Nationals Park, Prinzel mimicked his idol on the same field with his skill set. He won the age 13/14 baseball division during the Pitch, Hit & Run competition Presented by Scotts on Sunday morning, smacking two of the farthest hits of the day during the hitting portion.
Pitch, Hit & Run, the "Official Youth Skills Competition of Major League Baseball," invites kids to demonstrate their pitching, hitting and running abilities in baseball and softball. The competition coincides with the "PLAY BALL" initiative between Major League Baseball, USA Baseball and USA Softball, which encourages widespread participation in all forms of baseball/softball activities among all age groups.
Prinzel was one of the 23 baseball and softball players ranging from ages 7-14 playing for a chance at a trip to MLB All-Star Week in Miami next month.
"The kids always love getting out there," event coordinator Jason Bethea said. "It doesn't matter which stadium. It's always fun for them."
The participants qualified for Sunday's event after winning their local and sectional competitions in Washington and Virginia. Of the champions in the 30 Major League ballparks, the contestants with the three best scores in each age group will win a free trip to Miami for All-Star Weekend.
Most youngsters are nervous entering the event due to the high stakes, but upbeat songs such as "Happy" by Pharrell Williams and "Shake It Off" by Taylor Swift lightened the mood as they blared on the ballpark's speakers throughout the competition.
The event featured throwing a ball at a target six times, hitting a ball off a tee three times and racing to home plate from second base. In addition to Prinzel, the winners, who will be honored before the Nationals' game against the Rangers on Sunday at 4:05 p.m. ET, included Abigail Galupo (age 7/8 softball), Daylen Linton (7/8 baseball), Emily Keefe (9/10 softball), Sam Rosand (9/10 baseball), Jaylan Powroznick (11/12 softball), Eli Foutz (11/12 baseball) and Rachel Blumenschine (13/14 softball).
Bethea said about 650,000 children compete at the local level across the country.
Sunday was the third year Blumenschine played at Nationals Park for Pitch, Hit & Run. Even though she's unsure about her chances to qualify to attend the All-Star Game, she hasn't taken the experience for granted.
"It's been pretty fun, just going around starting from the districts and coming up here," Blumenschine said. "It's just a fun experience to do and be able to play where professionals play."
Meanwhile, Harper has received the most National League All-Star votes through two voting updates, and Prinzel hopes he'll join the superstar at Marlins Park.
"It's a dream come true to be flied out, them and a parent," Bethea said. "We tell them all once they get there, you've already won, you're here, enjoy it. It's a really cool experience for the kids."
Kyle Melnick is a reporter for MLB.com based in Washington.